Joela-Abiona Rivera 
Abolitionist, Educator & Reolutionary
Joela, 21, is the founder of the Stonewall Protests – a collective of organizers who center Black Trans Liberation by working towards the expansion of mutual aid, abolitionist teaching and anarchy. She is also a social media educator, creating posts that spread the truths we were not taught.
Joela's passion for abolition is not only rooted in the experiences she had being born and raised in the Bronx but by the wisdom she received being raised by her Puerto Rican and Trinidadian parents. 
She began her revolutionary work in the wake of George Floyd's murder and the rebirth of the Black Lives Matter Movement – with her central message being "abolition is liberation." 
Through her work as an abolitionist, she found the strength and freedom to begin socially and medically transitioning. This freedom is what fuels her drive to spread radical love, hold people accountable, be compassionate, remain in humility and work towards the abolishment of police, militaries, governments and capitalism.
"Being Black and Trans is an act of Abolition"
Full transcript 
00:00:00:12 – 00:00:20:10
Sage Dolan-Sandrino (SDS)
Who are you; How do you show up and how would you best describe your work and identity as a changemaker and community leader?
Joela Rivera (JR)
Hi I'm Joela and I'm a black trans woman from the Bronx and I'm a student of abolition. Being a black transwoman, being black and trans, is an act of abolition, because you're literally going against the binary, you're going against the systems that were made to suppress you, your transness and your blackness. I'm @missabolition on social media. It's a title I definitely gave to myself, just because once people see the name and they see the word abolition, that is already life changing. They're going to be turned off by it, absolutely. And I think that's why it's so important that I make the videos I do. Sometimes you have to do more for people. A lot of people aren't going to do the work, but I'd rather take that next step just so that nobody has an excuse for their ignorance.
00:00:48:20 – 00:01:18:10
SDS
What does the concept of "giving flowers" mean to you? 
JR
Giving flowers means to me, acknowledging the people that are around me, the world, being able to acknowledge black trans people and their contribution to this world. And also it's a sense of accountability as well. Why haven't we been getting our flowers? Why is it now taking this new album, Beyonce just dropped for everyone to see the impact that we've had on the world. 
00:01:19:06 – 00:01:47:15
SDS
What do you find yourself needing in order to feel happy, whole, and healthy-ultimately what is required in order for you to thrive.
JR
Actually being in spaces and having people in my life who love me down, I know that that's something I need and that's something that helps me. Like Raquel Willis actually gave me one year free for Folx Health and that's actually how I started doing hormones. In order for me to thrive, I need health care. I need community and love and care, compassion, all that. 
00:01:47:23 – 00:02:11:22
SDS
When did you know this work is what you were meant to do?
JR
When I saw a video of a man [murdered by] the police and that was just how graphic… I actually didn't even watch. It was just the image that you saw was like this man's face melting on the pavement with a knee on his neck and that's when I was like, "okay, this is not something to just scroll past." And I've never witnessed something, I think none of us ever really, witnessed something as big as 2020, just this year alone. And I started coming out, and in those days I was giving Butch Queen—quiet, shy, just there just to be a part of this. I couldn't ignore something so real, something that I've experienced and then watched my father experience. And then when I saw the transphobia and the homophobia that was within the Black Lives Matter movement, that's when I was like, I also can't look past this. And that's when I started opening my mouth.
00:02:42:05 – 00:03:14:23
SDS
What resources, supports, and cultural systems are missing/inhibiting you from taking the next steps in your work? 
JJ
I'd rather have five people behind me than millions of people, because as we saw in 2020, where's everybody at now? Systemic racism is a very real thing. What we are missing [is] housing, health care, education, means of public safety, that don't involve oppression, that don't involve the police. Stop tricking our people into becoming a part of the military. Stop having the military outside of schools waiting. Somebody gets a bad test, and then it's like, you can just go and kill some innocent children in another country. I think, though, what would be nice, what would make my life easier, aside from the abolishment of systemic racism, is genuine effort and of course, lead with love and like that is so like blasé blah.
But like once you actually understand love, once you actually experience love, and once you understand that it's going to take love and love is one of the biggest aspects of abolition, you'll be good. 
SDS
Who are some folks you want to #GiveFlowers?
JR
First Jordan,  Miss Kamkorderz, my sister. She is everything, talented, kind, so kindhearted. My parents who have been very supportive and my little sister, love of my life.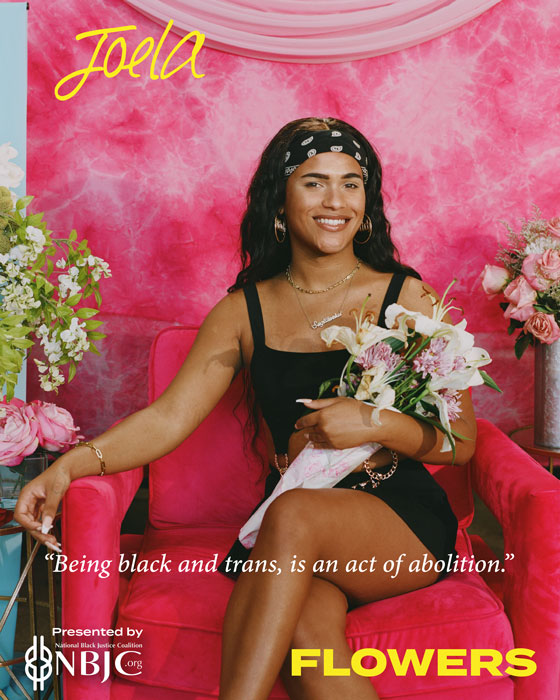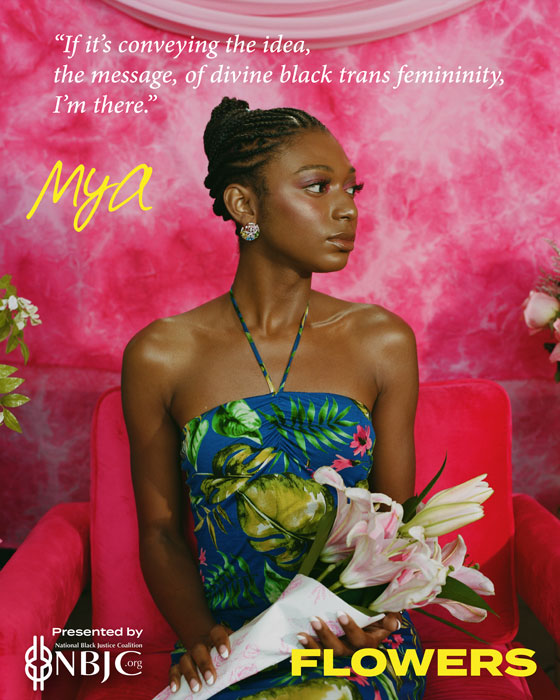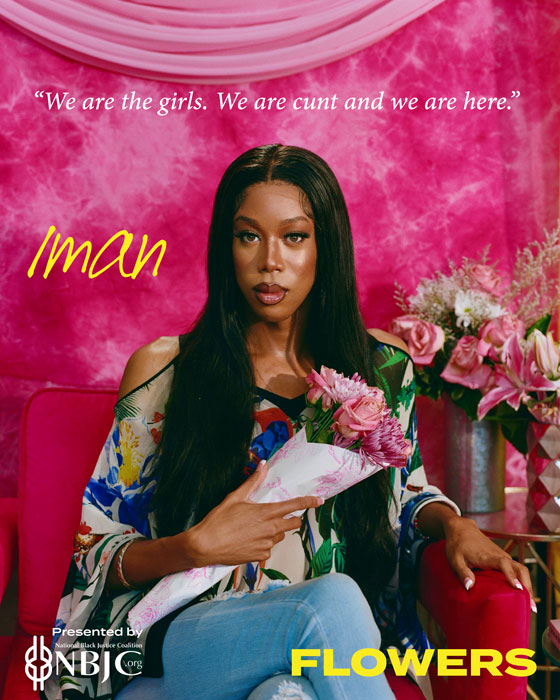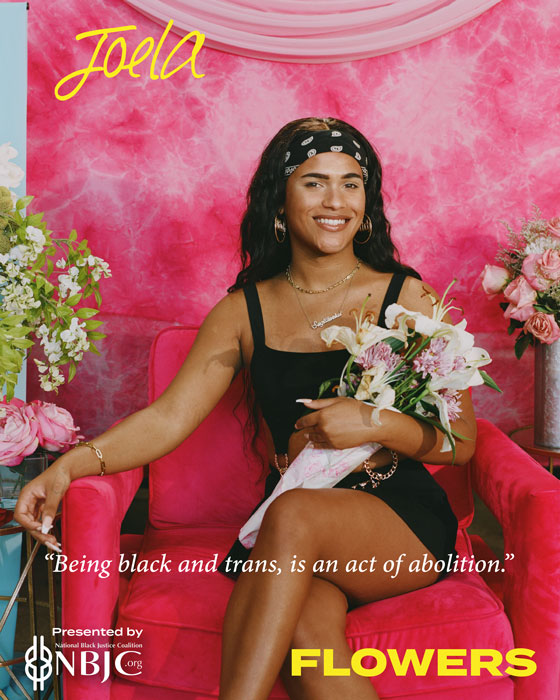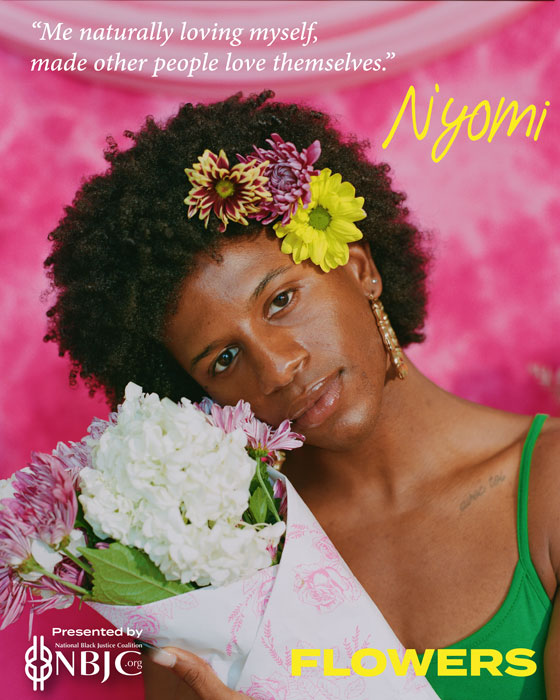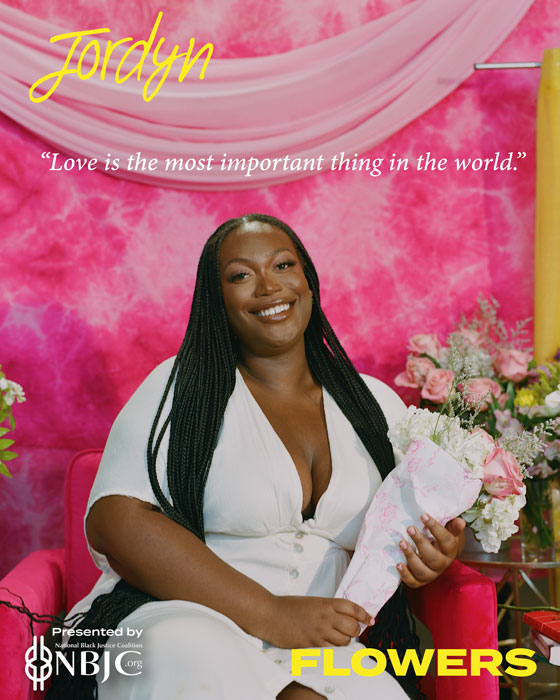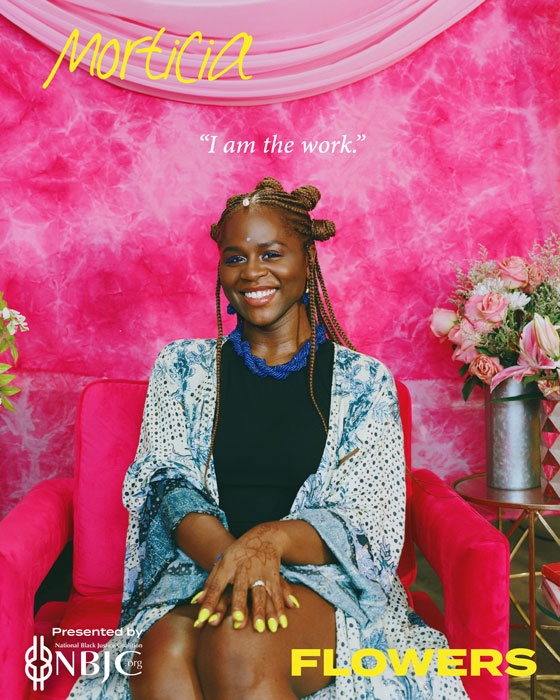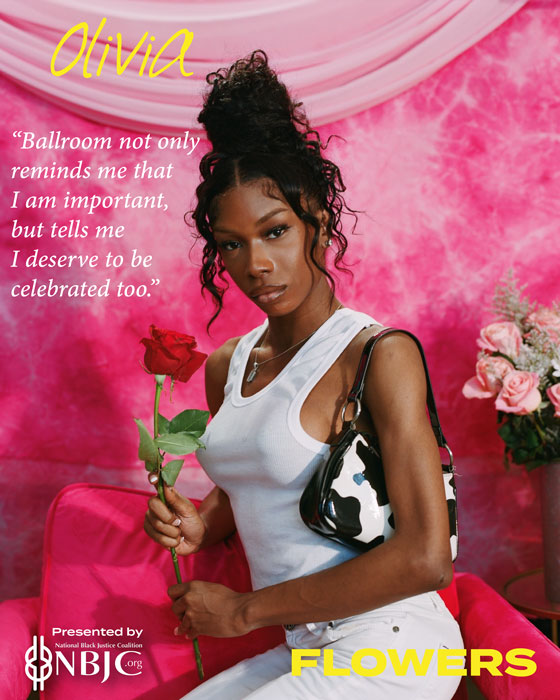 Share Your Flowers On Social Media
Using The Hashtags #NBJCFLOWERS #GivingFlowers
Make Sure To Tag @NBCJOnTheMove So We Can Repost And Share
The words we use matter. Learn more about language and understand your impact by downloading NBJC's Words Matter Gender Justice Toolkit. Equip yourself with the language necessary to start informed conversation today and contact your local congress member in support of the Equality Act to ensure ALL of our siblings are protected against illegal discrimination and harassment. Call the Capitol Switchboard number is (202) 224-3121 and encourage your senator to vote yes on the Equality Act.