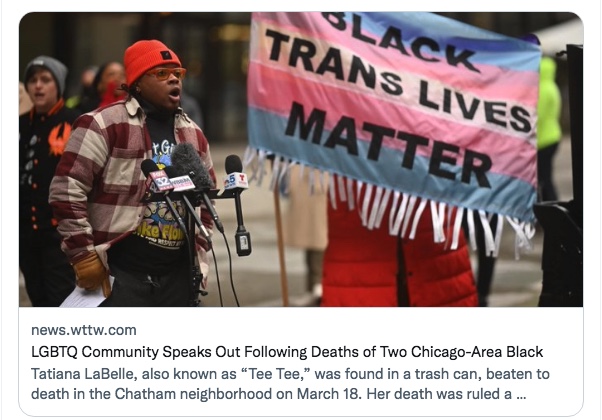 NBJC Calls for State of Emergency in Illinois to Trigger Resources and Dollars to Save Trans Lives
The National Black Justice Coalition, a Black LGBTQ+ civil rights organization, says "the Chicago-area is experiencing an anti-trans violence crisis, one that is only getting worse."The organization's Deputy Executive Director Victoria Kirby York says Illinois should issue a state of emergency."In Puerto Rico last year, they noticed that the numbers, similarly to Chicago, were building up in their community, and the governor there decided to do something that I think is needed in the state of Illinois and especially in the Chicago region, not only in the city, but all of the adjacent counties as well, and that is to declare a state of emergency," said Kirby York.Puerto Rico's governor, Pedro Pierluisi, declared a state of emergency in January of last year for gender-based violence."The importance of a state emergency is that resources, dollars, connections in the bringing together of multiple governments, working together with community groups to really make a real meaningful change when it comes to these numbers for prevention," said Kirby York.
Watch Victoria Kirby York, MPA on WTTW.com
.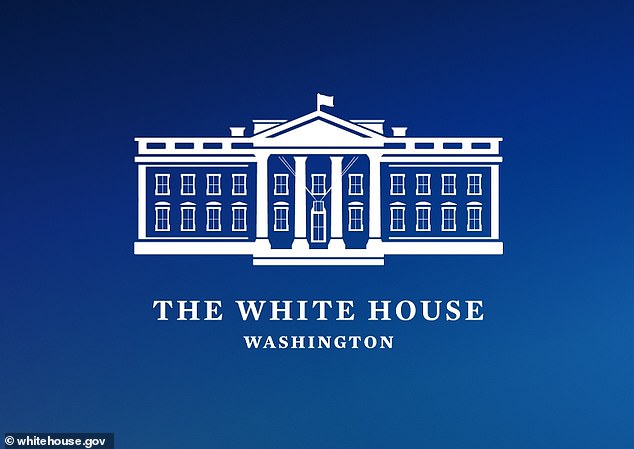 President Biden's Memorandum on Advancing the Human Rights of LGBTQI+ Persons Around the World
The Biden administration has released a progress report on the "Memorandum on Advancing the Human Rights of LGBTQI+ Persons Around the World." This effort aims to improve LGBTQ+/SGL rights in the U.S. and foreign countries and promotes and protects the human rights of LGBTQ+/SGL people around the world through diplomacy and foreign assistance.
The initiatives encompass increasing social, political, and economic rights of the LGBTQ+/SGL community including housing refugees from the Russian-Ukrainian conflict, increasing funding for and creating new LGBTQ+ rights groups like the "Global LGBTQI+ Inclusive Democracy and Empowerment (GLIDE) Fund," and working on internal bias in U.S federal agencies.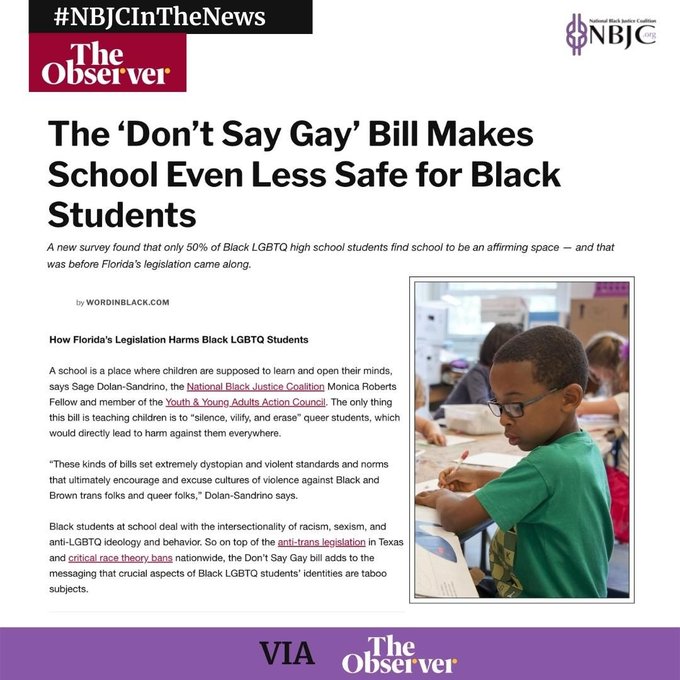 Lawmakers in Ohio and Louisiana have filed legislation that mimics the Florida laws, signed by Gov. Ron DeSantis last month. In Texas, Lt. Gov. Dan Patrick said he would make his state's version of the bill a top priority in the next legislative session.
State lawmakers have proposed a record 238 bills that would limit the rights of LGBTQ+/SGL Americans this year — or more than three per day — with about half of them targeting transgender people specifically.
NBJC was on the front lines of championing Judge Ketanji Brown Jackson during her nomination, hearings, and Senate confirmation.
In the words of Executive Director David J. Johns, "…Justice Jackson has the educational, lived, and professional experiences that make her a critically important addition to the U.S. Supreme Court, especially during this moment in history. Justice Jackson understands how the law affects everyday people's lives and the importance of a legal and constitutional commitment to justice and equity.  We urge those who believe in civility, equity, and strengthening our country to call and thank the members of the U.S. Senate who voted to confirm her, today. "
Thank you for standing with us in this historic confirmation!
New Ideas for a
New Era of Opportunity
We have entered a new era of opportunity in the global movement for Black lives as more people come to awareness about the threats that anti-Blackness presents. Honoring that Black LGBTQ+/SGL people have always led from the frontlines of efforts to advance justice in all its forms, NBJC supports members of our community in Owning Their Power by naming barriers to thriving and organizing to move those barriers out of the way.
Thankfully, people are finally understanding what our community has been saying for over a century: that intersectional identities matter, especially when we are creating policy and shifting practice. We are excited to contribute to this new era of compassion, awareness, and national reimagining by centering Black LGBTQ+/SGL stories, educating and cultivating accomplices, and expanding civil rights protections that afford us all the opportunity to thrive.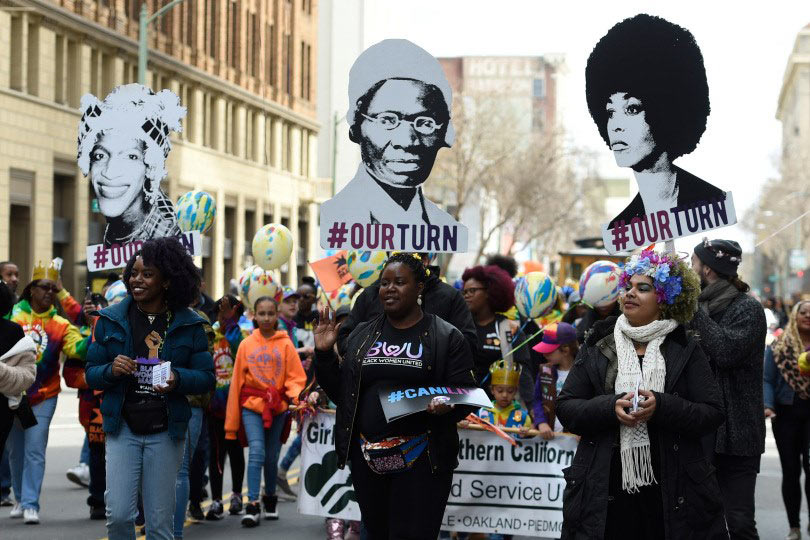 Policy Agenda
Our Power and Policy work includes a robust policy agenda designed to highlight the importance of intersectional advocacy that ensures everyone is able to thrive in our nation. It is a great tool to leverage in conversations with decision makers in Congress and at the White House. Additionally, many of its issues and themes also have importance for state and local policy advocacy.
Census2020
Even though the year has changed, Census 2020 work is still ongoing. We must ensure that Census data is used fairly, equitably, and inclusively to dole out the nearly $1.5 trillion given to publicly funded programs as well as in its use to redraw legislative districts at all levels of government. The data is also used for civil rights enforcement and we will continue to monitor to ensure our people know their rights and the process to file a grievance when experiencing discrimination. Our Census2020 page will continue to be a place where you can go to get more information as it develops including the push to include a question on the 2030 Census that asks about LGBTQ+ identities directly.
Out on the Hill
Out on the Hill is one of our annual signature events connecting members of our community with members of Congress from across the country. This year we will be virtual so bookmark this page and sign up for our monthly newsletter to stay abreast of updates as they happen.
Protest to Policy
Advocacy takes a number of forms from kneeling to protesting to boycotting, to voting, to attending public meetings with decision makers, to the actual policy making process and many more. Our Protest to Policy page will be a place to learn more about opportunities to sharpen your skills and knowledge on the various tactics and tools available to make change and maybe even create new ones while we're together. Bookmark this page to ensure you're the first to hear of new opportunities to take our collective power building to the next level.