Donate with PayPal Giving Fund_
100% will go to NBJC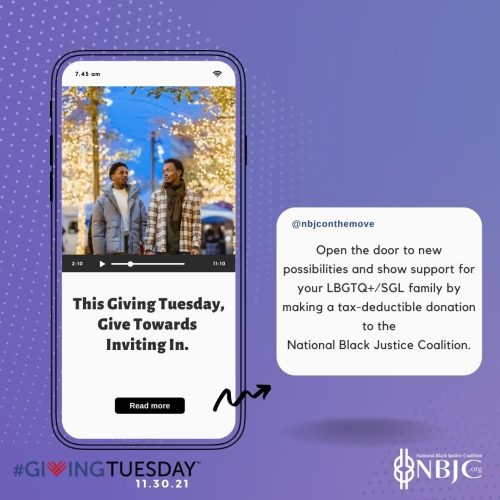 The National Black Justice Coalition is a civil rights organization dedicated to the empowerment of Black lesbian, gay, bisexual, transgender and queer people, including people living with HIV/AIDS. The mission of NBJC is to end racism, homophobia, and LGBTQ bias and stigma. As the leading Black LGBTQ civil rights organization in the U.S., NBJC has accepted the charge to lead Black families in strengthening the bonds and bridging the gaps between the movements for racial justice and LGBTQ equality.
PayPal covers all fees
Your donation will be made to PayPal Giving Fund, a 501(c)(3) charity.
Donate with Mighty Cause_
Create your own fundraiser to support NBJC.
NBJC connects the grass tops to the grassroots, authentically. The organization is equipped with targeted messaging and data that brings voice, builds networks, and takes action on behalf of the Black LGBTQ/SGL community. NBJC's strategic advocacy efforts have historically focused on the impact of federal public policy on the lives of Black LGBTQ/SGL people and Black America as a whole. The organization's cornerstone issues are health and wellness, HIV awareness and prevention, safe and inclusive schools, employment non-discrimination, relationship and family recognition, anti-violence and economic justice.
NBJC Collabs with Bonfire_
All Black Lives Matter!

The National Black Justice Coalition (NBJC) is the nation's only civil rights organization unapologetically and intentionally dedicated to the empowerment of Black lesbian, gay, bisexual, transgender, queer (LGBTQ) and same gender loving (SGL) people. Since 2003, NBJC has provided leadership at the intersections of racial equity and LGBTQ/SGL equality—advocating for the unique challenges and needs of the Black LGBTQ/SGL community that are often relegated to the sidelines. We're thankful for everyone who has invested in radically inclusive social justice whether marching in a protest, helping to educate progressive leaders, or making a contribution to social justice organizations like NBJC. With the support provided by investors in our work this year, we prioritized: Responding to COVID: COVID & HIV Support youth and young adults Thrive Protecting Democracy GOVT & CENSUS.