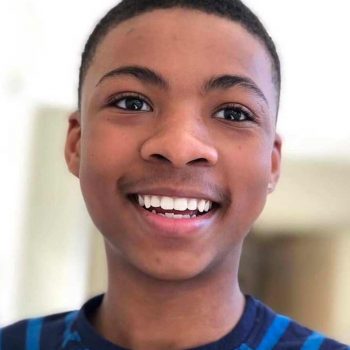 Nigel Shelby_
On April 18, 2019, 15-year-old Nigel Shelby died by suicide in response to constant homophobic bullying at school. His mother, Camika Shelby, has retained nationally renowned civil rights attorneys Benjamin Crump and Jasmine Rand to investigate the circumstances involving her son's death, the bullying he experienced at Huntsville High School, and his school administrators' role in his decision to take his life. Crump and Rand are well known for their work representing the family of Trayvon Martin. Camika Shelby is working with the National Black Justice Coalition to raise awareness about the often unmet mental health needs of Black lesbian, gay, bisexual, transgender, queer, and same gender loving (LGBTQ+/SGL) students in schools and to disrupt the stigma that too often prevents Black people from discussing the beautiful diversity that has always existed within Black communities.
David Johns Black Youth Suicide and Mental Health Testimony
In November 2019 ordinary people joined NBJC in doing the extraordinary work of helping to raise awareness about Nigel Shelby by posting across social platforms using #IAmNigelShelby and #MyBrothersKeeperMeansNigelShelbyToo. The campaign highlighted the unique challenges that Black LGBTQ+/SGL students face in schools and reminded everyone that, in the same way we care about our brother Trayvon Martin, we should care about Nigel Shelby too. We encourage you to post a video and images raising awareness, disrupting stigma, and encouraging other young people to talk about the challenges they sometimes face alone and in silence. To purchase your own #IAmNigel shirt visit @LongLiveNigelShelby via Instagram.
Suicide Prevention
In the last 25 years, suicide rates have increased among Black children aged 5 to 11 years and decreased among white children of the same age. This is an overlooked national emergency, according to a task force convened by the Congressional Black Caucus on the eve of Mental Health Awareness Month in 2019. Chaired by Congresswoman Bonnie Watson Coleman (D-NJ), the CBC Task Force on Black Youth Suicide and Mental Health brought together experts, including Executive Director David J. Johns and Director of Education Programs and Research, Dr. Kia Darling-Hammond, to raise awareness among members of Congress and staff, and to identify legislative recommendations to address this mental health crisis.
NBJC led the policy workgroup to ensure that the report provided to the CBC included the perspectives and recommendations of Black LGBTQ+/SGL students and LGBTQ+/SGL students of color, more generally. You can read Executive Director Johns' Congressional Testimony here and learn more about the taskforce here.