HBCU's Matter_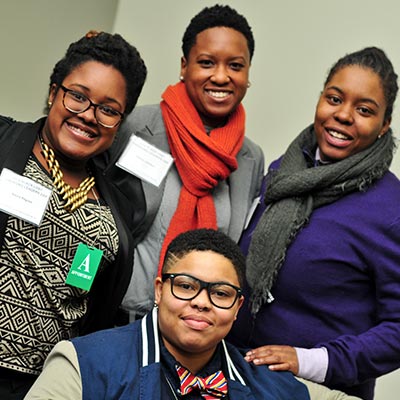 HBCU LGBTQ Equality Initiative_
The creation of NBJC's HBCU LGBTQ-Equality Initiative was inspired by the Arcus Foundation-funded Audre Lorde Black Lesbian Feminist Project, 2006-2011, at Spelman College. The overall objectives of the Audre Lorde Project were: to increase public awareness and understanding about African American LGBTQ experiences at HBCUs; to increase awareness about the marginalization of racial issues in the LGBTQ movement and queer studies; and to facilitate a climate of institutional change that acknowledges, values and respects difference, especially within particular academic contexts.
Beverly Guy-Sheftall, Ph.D. of Spelman College, and Anika Simpson, Ph.D. of Morgan State University serve as co-chairs of the Initiative's Advisory Council, which offers strategic guidance around designing. welcoming, nurturing, and affirming environments for the LGBTQ+ community at HBCUs. As part of the effort, the Council advises on policy that ensures people can participate safely, openly, and honestly within their campus community, regardless of race, class, religion, disability, gender identity/expression or sexual orientation.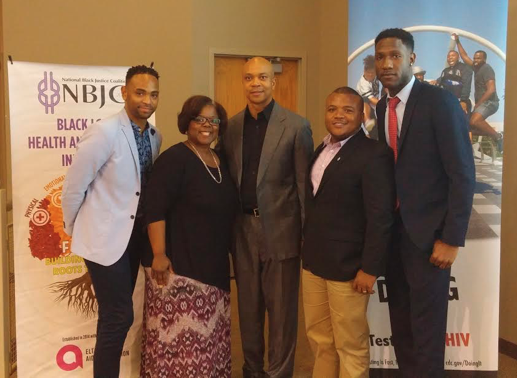 L to R: Isaiah Wilson, External Affairs Manager, NBJC; Sharon Lettman-Hicks, Executive Director/CEO, NBJC; Pastor Delman Coates, Mt. Ennon Baptist Church in Clinton, MD; Venton C. Jones Jr., Program Officer, LGBT Health and Wellness Initiative, NBJC; Darwin Thompson, Executive Director, NAESM, Inc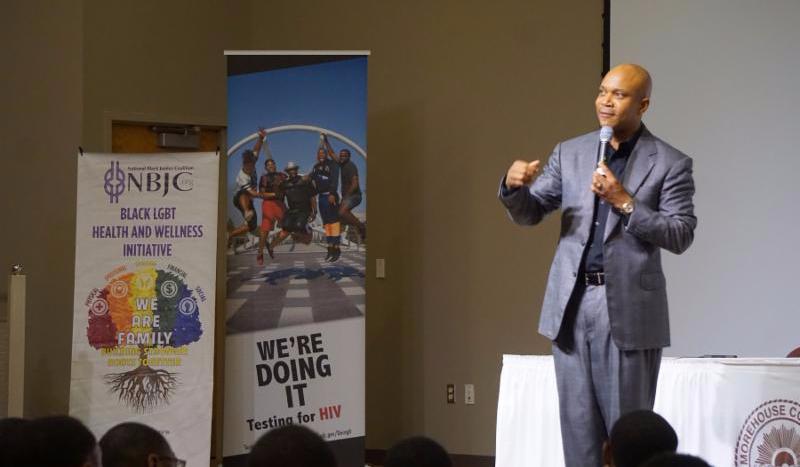 Pastor Delman Coates during the NSO student leaders training.
During the 2015-2016 academic year, NBJC kicked off its HBCU LGBTQ+-Equality Health and Wellness Tour to bring greater awareness and visibility to issues impacting the LGBTQ+ community at HBCUs, and to foster LGBTQ+-inclusive cultural competency.
In August 2016, NBJC launched its 2016-2017 HBCU tour schedule with a return to Morehouse College in Atlanta, GA. At the invitation of Dr. Timothy Sams, Vice President for Student Development, and Harry Wright, Associate Dean of Student Services, NBJC conducted three trainings during New Student Orientation (NSO) Week for the Athletics Department, faculty/staff members, and more than 100 NSO student leaders. NBJC was honored to play such a critical role in advancing the conversation and competency of key leadership at Morehouse College. The institution is committed to creating an inclusive, welcoming, and affirming campus and has demonstrated that commitment through enforcing mandatory attendance during the cultural competence training.
During the tour, Pastor Delman Coates, Senior Pastor of Mt.Ennon Baptist Church in Clinton, MD and a Morehouse Alum, led an important dialogue on an LGBTQ+-affirming interpretation of the bible, as well as the responsibility of "Morehouse Men" to be leaders who excel and carry out the mission of the institution. In addition, the Centers for Disease Control and Prevention (CDC) was present to engage Morehouse student leaders on the importance of HIV/AIDS prevention and treatment. NBJC will be partnering further with Morehouse College to create a service project for the NSO leaders interested in becoming PrEP Ambassadors to help students access the daily pill that significantly reduces a person's chances of contracting HIV.
26%
According to the Campus Pride Index, only 26% percent of HBCUs have active university-sanctioned LGBTQ-specific organizations on their campuses.
Distress
Many LGBTQ+ students face alienation and emotional distress in campus environments governed by fearful silence and passive intolerance.
Barriers
"Counselors are not often trained to deal with matters concerning LGBT students. In addition, students may not feel comfortable talking to someone who they believe cannot relate to what they are going through." (Kirby York, V. (2010). The Black Closet)
41
41 HBCUs include gender identity/expression in their nondiscrimination statements. (Source: Campus Pride Index)