Originally from Jacksonville, FL, Jordyn Jay (she/her) is a community organizer, arts advocate, and producer based in Brooklyn, NY. She is the Founder and Executive Director of the Black Trans Femmes in the Arts Collective (BTFA). Before founding BTFA, Jordyn received her Master's degree in Art Politics from NYU Tisch School of the Arts. Jordyn is a firm believer in the power of art to inspire radical sociopolitical change and is dedicated to using that power for Black trans liberation.
"Love is the most important thing in the world."
Full Transcript
00:00:00:21 – 00:00:24:05
Sage Dolan-Sandrino (SDS)
Who are you; How do you show up and how would you best describe your work and identity as a changemaker and community leader?
Jordyn Jay (JJ)
I am Jordyn Jay, I'm the founder and executive director of the Black Trans Femmes in the Arts Collective, also known as BTFA. As a founder and executive director. I do a lot of work within the community to help mobilize resources for black trans femme artists and just support my girls however I can. Outside of my role as a founder I'm also a sister, I'm also a niece, and an auntie to the community as well.
00:00:24:23 – 00:00:47:18
SDS
What does the concept of "giving flowers" mean to you? 
JJ
To me, giving flowers means paying homage to those who have helped create the contexts for you to thrive. So that can look like giving resources. That can look like giving a shout out. There are so many ways that we can give flowers, and I think that it's so important to be able to celebrate those who have paved the way for you.
00:00:47:21 – 00:01:07:14
SDS
When do you feel most celebrated?
JJ
I feel most celebrated when I am doing what I love, when I'm giving the opportunity to be surrounded by black trans femme artists and realizing that my work has created a space for black trans femme artists to thrive. I feel like I'm thriving the most when I'm surrounded by people that I love. I think love is the most important thing in the world.
00:01:07:14 – 00:01:27:08
SDS
Love, as I understand from you,  is the most important thing in the world. I resonate so deeply with that sentiment. Would you expand more on that? 
JJ 
I think [love] is what makes the human experience worth it. And so any time I'm surrounded by family, by friends, and by people who share the love for the things that I do, I feel like I'm at my best.
00:01:27:15 – 00:01:45:02
SDS
When did you know this work is what you were meant to do?
JJ 
I knew that the work I'm doing was important and was needed in the community. When I looked around and I saw that I was the only one. I have never been someone who likes to be the only one like me in a room. I always say, if you're the first and you die the last then you haven't done your job. I was at NYU studying to get my master's degree in art politics, and I realized that there was a silence around black trans femme artists and black trans femme cultural makers. I wanted to help fill that gap and to find other black trans femmes who were interested in filling that gap as well. 
00:01:45:09 – 00:02:05:07
SDS
What do you feel the next step in your work is? What resources, supports, and cultural systems are missing and inhibiting you from taking those next steps? 
JJ
There are some institutional changes that have to happen in order for the work that BTFA is already doing to make its best impact. I think that we are doing the work of fill in the gaps, where the art world has not provided resources and support to black trans femmes. But that onus should not be on us. It should be on the institutions that make up the artistic ecosystem of the world. I think the Black Trans Femmes have contributed so much and been given so little and for us to be the only ones giving back to ourselves is a shame. These institutions should be shifting the way that they understand what makes art valid, what makes art beautiful, and what makes artists themselves worthy of producing art, so that Black Trans Femmes are part of that narrative and that organizations like BTFA don't have to exist because we're already included in the framework of what it means to be an art maker.
00:02:38:16 – 00:03:06:23
SDS
Who are some folks you want to #GiveFlowers 
JJ
I would love to give flowers to the Femme Queens who came before me, the Femme Queens of the ballroom scene who have shown me what it means to show up with so little but make it beautiful and do it in such a way that's confident and inspiring to future generations. So for me, that's Sinia. That's Shanice, Lola Ebony, Meeka, so many Femme Queens that I can't even name, but who have made me understand that my femininity can be a form of power. I'd also like to acknowledge my Aunty Courtney Balenciaga for her support, my niece Mya Lynn (Mya Mirari) for always being there for me and for supporting me through this journey of starting BTFA. I'd like to give flowers to the founders who came up alongside me, Asanni, Ianne, Devin, Qween Jean and so many black trans culture shifters and world makers who are really changing the landscape for a future black trans generations, and also so many of the artists who are part of BTFA and to Kiki Williams to Mojo Disco, B. Hawk Snipes, Daria D, Iconick, Eve Harlowe and so many more that I can't name but are all featured on the list on BTFA's website.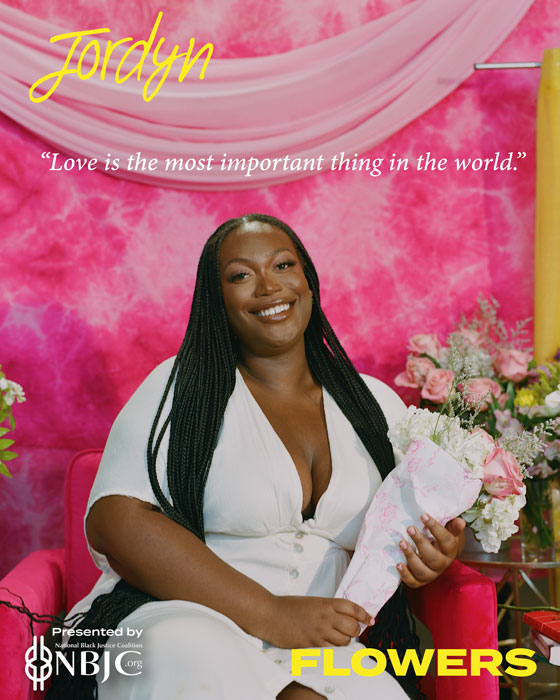 Share Your Flowers On Social Media
Using The Hashtags #NBJCFLOWERS #GivingFlowers
Make Sure To Tag @NBCJOnTheMove So We Can Repost And Share
The words we use matter. Learn more about language and understand your impact by downloading NBJC's Words Matter Gender Justice Toolkit. Equip yourself with the language necessary to start informed conversation today and contact your local congress member in support of the Equality Act to ensure ALL of our siblings are protected against illegal discrimination and harassment. Call the Capitol Switchboard number is (202) 224-3121 and encourage your senator to vote yes on the Equality Act.