N'yomi Stewart 

Actress | Writer | Multi-hyphenated Creative | Rising Ballroom Star
N'yomi also known as "Omi Juicy Couture," is the first trans actress to graduate from the prestigious North Carolina School of the Arts with a B.F.A. in Acting. Recently, she appeared in the Public's 60th anniversary season of Shakespeare in the Park alongside Danai Gurira in Richard III directed by Tony nominated Robert O'Hara. Omi is also a sister to her community through dance. An active member in the NYC's ballroom scene, she is a part of the Iconic House of Juicy Couture, named one of the best houses in Kiki Ballroom history and was the first Kiki house to win HBOMax's Legendary (Season 3). 
It was the black queer community that led N'yomi to her mission as a working artist and public figure: to represent black trans womanhood in a way that illuminates the full scope of humanity within transition. A recent participant of the New York Theater Workshop (NYTW) Artists Residency program, she was given the space to continue developing her freshest work which will propel her further towards the goal as a creative: being the maximum version of herself creating intentional inclusive work that will have innovative impact.
Currently she is in the first ever Off-Broadway production of A Raisin in the Sun in NYC at the Public Theater starring Tony award winner Tonya Pinkins and directed by Robert O'Hara. She will be the first trans woman to play "Beneatha" if she goes on in this timeless American theatre classic.
"Me naturally loving myself made other people love themselves
.

"
Full transcript: 
00:00:00:23 – 00:00:23:10
Sage Dolan-Sandrino (SGDS)
Who are you? How do you show up?
Ny'Omi Stewart (NS)
Hi. My name is Naomi Stewart or Omi, a.k.a. the one and only Juicy Couture, get you a straw. But how do I show up? I mean, I just do it. I mean, I don't know. Like, there's no real way for me to really think about it. I don't have time to really think. I just wake up and keep it pushing. 
00:00:23:10 – 00:00:43:22
I'm triple Leo so, I have a lot of goals, I have a lot of things I want to accomplish in my life. So to wake up and stress happen sometimes, but like I've just got to do it. How I show up as a leader and as a change maker is pretty natural to me. Once I got to college, it kind of shifted and it became me being myself [and that] made other people be themselves.
00:00:44:06 – 00:01:01:09
SGDS
How did that shift in your leadership manifest and connect to your shift in understanding as it relates to your identity as a trans woman? 
NS 
I would say in college is where I really started to become a mother. And then I started to think of my life as service. What can I contribute to myself? Me naturally loving myself [made] other people love themselves. That's manifested even in New York City since I just moved to like a year ago. In that year, I now have seven kids who text me, call me, reach out to me when they're sad, if a boy breaks the heart, if a girl breaks the heart. And for me, I love being a mother. I have so much love to give, so why not give it to people who literally want to receive it? 
00:01:17:01 – 00:01:35:03
SGDS
What does it mean to you to "#GiveFlowers?" 
NS
The concept of giving people their flowers has always meant something to me because, especially being a black trans woman, we're only celebrated when we're no longer here. We're only addressed when there's an article attached to our death or us being injured—but it's like we do so much now. We give so much love, we create dope shit. We need to be celebrated every day like everybody else is celebrated every day. 
00:01:35:11 – 00:02:00:21
SGDS
When do you feel most celebrated?  
NS
I feel most celebrated, I think through laughter, and moments like this where I get to be seen. I love being in spaces that are led by black trans women, you know what I mean? [Being in spaces with women] who are like trying to elevate everybody because that's the goal, right? To continue to elevate and become the change. 
00:02:00:21 – 00:02:24:11
SGDS
What do you find yourself needing in order to feel happy, whole, and healthy-ultimately what is required in order for you to thrive?
NS
What is required for me to thrive? People. And to be more specific, my family. Moving to New York and just transitioning in general is hard. You feel isolated, you feel alone, you feel like nobody's going through what you're going through—even though you might know somebody [who] is. It's still easy to be self-deprecating and I did a lot of that until I moved to New York City and I met the people who really showed me what it is to support someone when they're in transition, when they're in the most vulnerable state of their life.
00:02:40:17 – 00:03:00:00
SGDS
When did you know this work is what you were meant to do?
NS
I mean, the moment I knew honestly that this was for me… I would say [there are] two moments. The first moment was when I made this [theatre] piece in college when I was a junior and I was like, "I have no idea who I am, what I am." So, I made this short play with three [characters] and I think that [relresented] me, who I was, who I am who I was in that moment, and then who I wanted to be. And like people came up to me after they were like in tears. They were like, "I don't even know what to say, this was incredible, thank you."  And that was kind of like my first real vulnerable offering of any kind of artistic piece. So that was the first moment. And then the second moment I think that solidified me in the work was when I met my first child, Jada. And she told me we were sitting down after a vogue class—she was like "you're going to be my mother." And she looked beside her and said "this is your son Kayden, and I'm your daughter, Jada." And I was just kind of gagged. And I was like "what? Like, I just joined the scene."  So I called my girlfriend and I was like, "can I do this?" They were like, "well, if it's the scene, then, you know, you're young. But if it's life, if it's the scene, ballroom, and beyond, you're fully capable sis." So then we walked and we sat on a stoop and she [Jada] said, "I feel like my life is like I feel like my life just changed, I'm going to go home and cry." And I think it was that moment that solidified Omi in the work, Omi as a mother, Omi as a creative, Omi as not an influencer, but a person of influence. 
00:04:04:19 – 00:04:28:12
SGDS
Who are some folks you want to #GiveTheirFlowers?
NS
The folks that I want to #GiveTheirFlowers, I have a long list. Off the top of my head one I have to give my flowers to my mother Gia Love my other mother, Morticia Godiva, my grandmother, Courtney Topanga Washington, the Queen of Brooklyn Mother Juicy.  My girlfriend Aqua, who taught me how to vogue. She's like my mother-sister, like we would facetime and I was in North Carolina and she was in New York and we would vogue over face time—that was the first time I've actually vogued with another person. So she's like my mother and my sister in a sense. Sage, Olivia, Bunny, and Amaris. I would say those are women who have changed my life, made me feel beautiful when I don't feel beautiful, led me in the right direction. There's so much more. And I would say the last person would definitely have to be Mya Lyn—She's my good sis, I love her. But in addition to that, there's so many other people and other black trans femmes who have had an imprint in my life. I've met so many people who have helped me transform and help me evolve.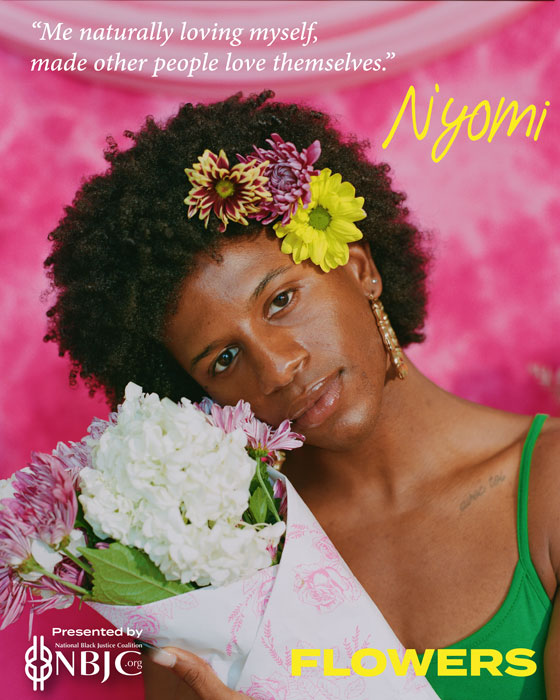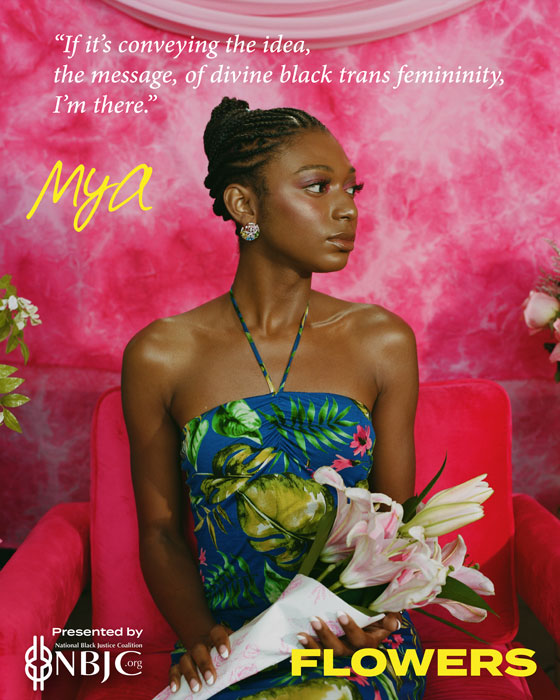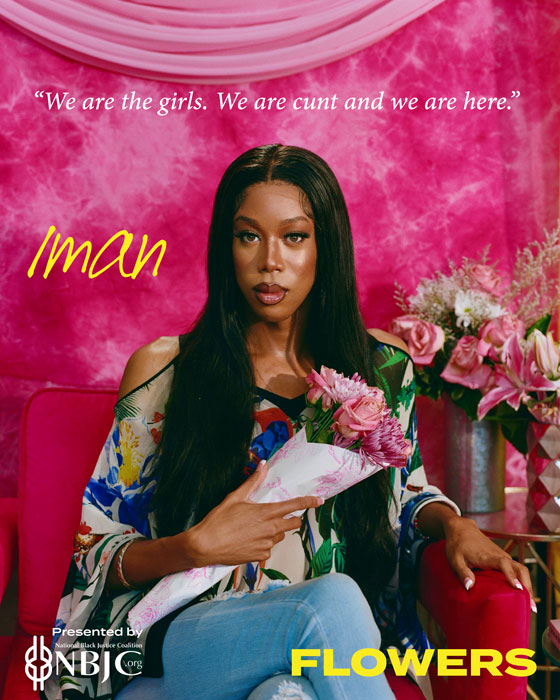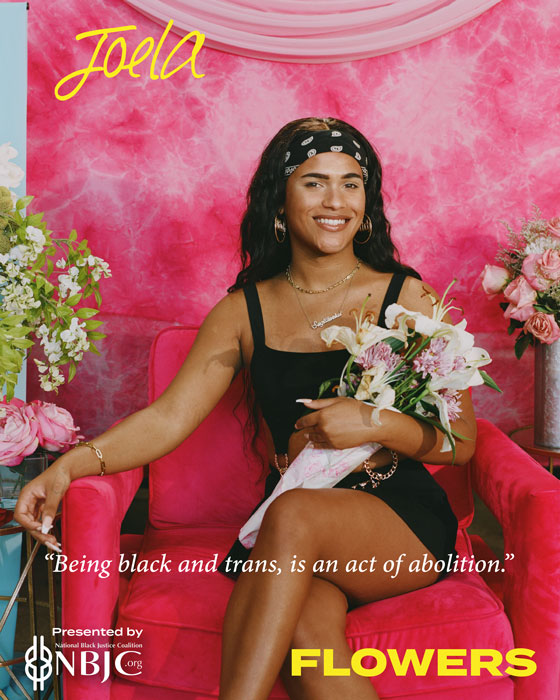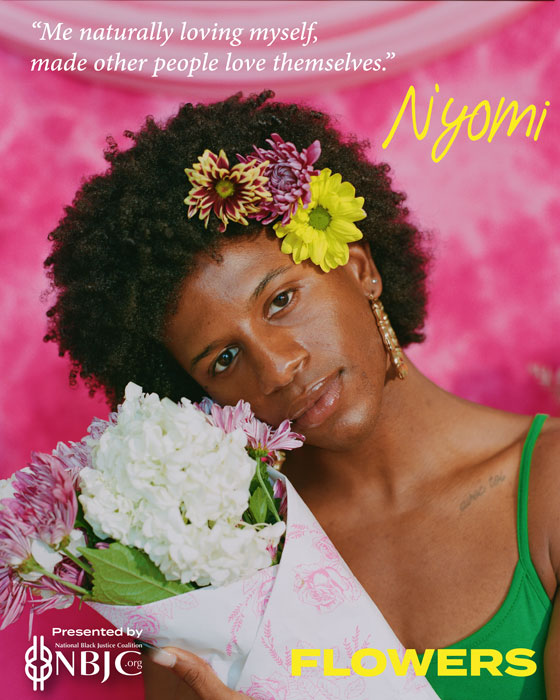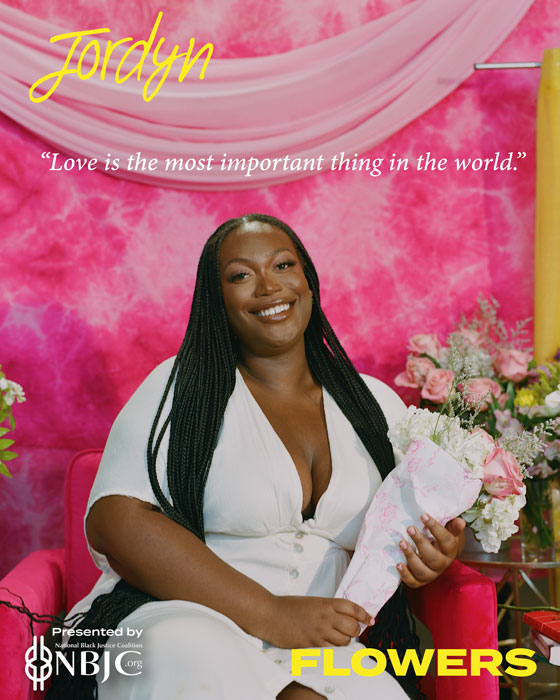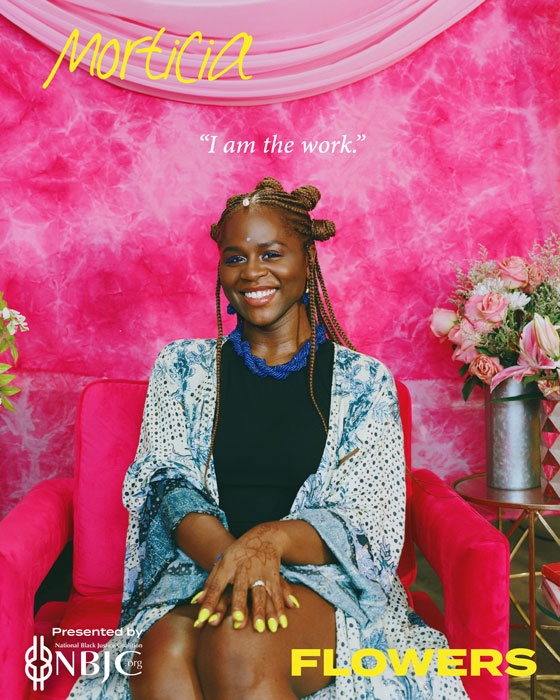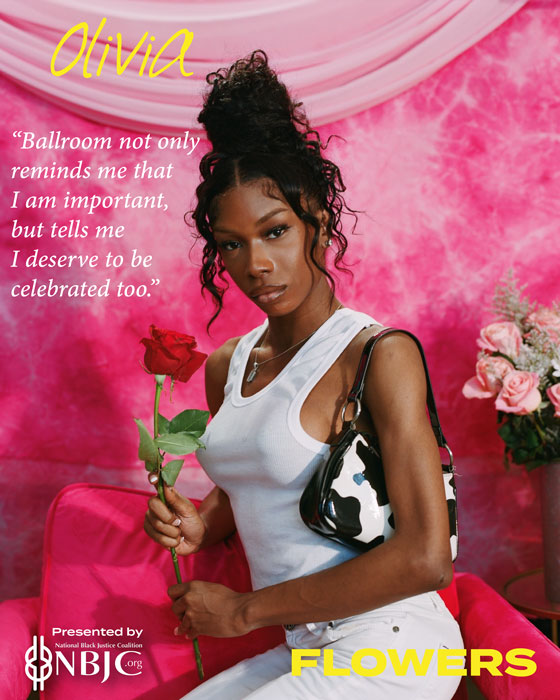 Share Your Flowers On Social Media
Using The Hashtags #NBJCFLOWERS #GivingFlowers
Make Sure To Tag @NBCJOnTheMove So We Can Repost And Share
The words we use matter. Learn more about language and understand your impact by downloading NBJC's Words Matter Gender Justice Toolkit. Equip yourself with the language necessary to start informed conversation today and contact your local congress member in support of the Equality Act to ensure ALL of our siblings are protected against illegal discrimination and harassment. Call the Capitol Switchboard number is (202) 224-3121 and encourage your senator to vote yes on the Equality Act.