Olivia Jo 

Model, Stylist, Rising Ballroom Star
Olivia Jo, is a Flatbush native who has created a career being a face of black trans beauty by way of modeling and hairstyling.  She is among a young cohort of creatives and artists making changes in the media in the name of black trans excellence. As a member and participant of the underground ballroom scene she strives to shine an authentic light on the innovative community in all of her work. Some of this work includes editorials and features that can be seen in publications such as Interview Magazine, Office Magazine, and The Team Mag. Looking towards the future, Olivia hopes to cultivate a platform that gives access to black trans youth like hers.
"Ballroom not only reminds me that I'm important,
but it tells me that I deserve to be celebrated too."
Full transcript 
00:00:02:12 – 00:00:26:21
Sage Dolan-Sandrino (SDS)
Who are you? How do you show up as a creative, community member, and changemaker? 
Olivia Jo (OJ)
My name's Olivia Jo. I'm a hairstylist and a model, and I'm all of those things. But I'm also none of those things because without putting a label to any of those identities, I'm still the girl that's here, trying to make it like everybody else that deserves to be celebrated like everybody else.
SDS
What does it mean to you to #GiveFlowers? When do you feel most celebrated? 
OJ
Giving flowers is about resources, no shade. When I think about giving flowers, I think about not just verbal recognition, give people a platform, give the girls the money to thrive. Like, it's hard [being us]. Like my sister [Sage] put me here, [to] give me my flowers, like, actually talk about what I do for the girls. Giving flowers to the girls is not just about a little parade. It's not about a pride month.  Giving flowers is really about putting the girls in positions [to thrive], whether that's housing, whether that's resources, whether it has the money, whether it's the bookings [jobs]. I'm getting my flowers today. I feel most celebrated when I'm with my sisters, when I really feel seen, when it's not even about a performance of gender, it's not a performance of politics.It's just us being us. Whether that's [just being] the girl or how we call it, we "being divas." That's when I feel seen the most. I feel seen the most also at a function when I'm walking, when the girls are on the sidelines and they going up for me because it's not every day I experience that. 
00:01:01:16 – 00:01:19:07
SDS
You speak of the ways ballroom celebrates you a lot. How has ballroom contributed to your journey as a trans woman and Fem Queen? 
OJ
Honestly, besides the competition aspect of ballroom, ballroom has really been a place for me to go and be unapologetic in who I am. It's not everyday as a black woman, as a black trans woman, you can be loud and you can be abrasive in a way that people don't like. And you could be abrasive about your confidence and about what you know you can do. So ballroom is the space that I kind of fell into where I could just be all of those things that might be "too much" for everyday, but it's just enough for the girls. When I was talking about not being fed every day, like not being fed every day and literally like is hard to eat. And sometimes, you know, you scrap your little coins together to walk, the balls put on your fashions and when you walk, you feel like you have nothing else to worry about in the world. That's what I mean when I say ballroom feeds me. Ballroom not only reminds me that I'm important, but it tells me that I deserve to be celebrated too.
00:02:03:14 – 00:02:23:02
SDS
You said you show up as the glamour girl, how did you know the work was your calling? 
OJ
I mean, simply put, like I show up as the glamour girl, like, I'm really here to make everything pretty. And that is my job, literally but also, I think that's the vibe I give off. That is my job, my duty as a being, in terms of a communal aspect. That's a funny question because you don't often think about how you show up until somebody asks you how you show up. And I do think, simply put I show up as the glamour girl, but the context that's not said is I show up as a glamour girl in adversity, beautifully. I think my presence shows, even in doing hair, even in modeling [that]  people that can be going through it boots boots and you can come out and you can make it look like you're having the time of your life. And I think that is a contagious feeling.  And I often give that when I come around it give, you know, the girls is going through it but the girls is outside, the girls is muggy, the girls are sitting and it's pretty. And I think often times that's what I want to give to people, even without saying it
00:03:03:08 – 00:03:26:01
SDS 
What do you feel the next step in your work is? What do you feel is missing in terms of resources, supports, and organizations? What do you feel is inhibiting you from taking those next steps? 
OJ
Girl, the next step to being the girl in the picture is I need to be paid like the girl in the picture, no shade. What's next? I think, not just for me, but for all the girls that's coming up with me, all the girls that I've seen, we was hitting the pavement together, hitting castings together, we need to be funded, we need resources, we need access, we need platforms. We don't just need a little pride booking, we don't need a magazine cover. Really fund the girls like have the girls eating. That's what's next.
00:03:26:01 – 00:03:46:17
SDS
Who are some of the folks you want to #GiveFlowers to? 
OJ
I definitely want to give my flowers to all the greats that came before me l because I could not be here today. The girls like Octavia Saint Laurent, Moldayvia LaBeija, the girls like Angie Xtravaganza. And the girls definitely here today, like my own mothers London Mulan Balenciaga . The girls in the scene that I live for, Iconick, Mya Lynn, Omi, all my sisters, Ky Ani. Sage, my sister that got me here today, my sister that gets me through every day. It's definitely important to give the girls their flowers while they still here not wait until the girls is gone. it's important to give the girls their flowers because we making strides, even when we're not in the building, not in the picture. All of the culture, that's fab because of the girls. So I think it's important. Don't wait until we gone, do it now.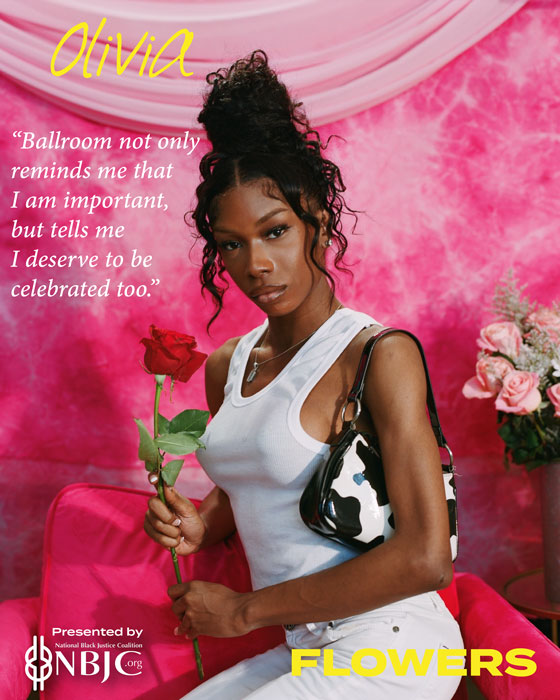 Share your flowers on social media
using the hashtags #NBJCFLOWERS #GivingFlowers
Make sure to tag @NBCJOnTheMove so we can repost and Share
The words we use matter. Learn more about language and understand your impact by downloading NBJC's Words Matter Gender Justice Toolkit. Equip yourself with the language necessary to start informed conversation today and contact your local congress member in support of the Equality Act to ensure ALL of our siblings are protected against illegal discrimination and harassment. Call the Capitol Switchboard number is (202) 224-3121 and encourage your senator to vote yes on the Equality Act.