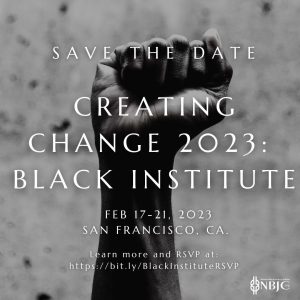 The National Black Justice Coalition (NBJC) will host our annual Black Institute at the National LGBTQ Task Force's Creating Change Conference on February 17th in San Francisco, California. 
Creating Change is the nation's foremost political, leadership, and skills-building conference for the LGBTQ movement and will take place from February 17th to 21st, 2023. 
This year's theme is "Winning Black The Future," and we are excited to work in the community to support meaningful and measurable political and civic engagement through the upcoming Presidential Election cycle. 
The day-long Institute will also hold space for Black LGBTQ+/same-gender loving community leaders and advocates from across the country to reflect, center response and wellness, and share knowledge. 
Let us know you are attending at  https://bit.ly/BlackInstituteRSVP. 
Register for Creating Change at http://creatingchange.org.