Morticia Antoinette Godiva (her/shey)
Founder and Executive Director of the Black Trans Travel Fund
Actress, Writer, and Comedian
Morticia, 32, is Now and Evermore. Some of her work includes Feeling Like An Orchid and Boomerang. In the fall of 2021, Tony Award and Pulitzer Prize Winning, Long Wharf Theatre produced Poly Pockets; an afrofuturist stage play that Godiva wrote. Morticia recently stepped into another role and conducted a very tender interview with Indya Moore for this year's issue of Spectrum. As an artist Morticia often engages in work that may intersect with her identity. She currently serves as the Director of Operations for the Black Trans Travel Fund; a black trans-led collective that works to provide mutual aid for Black trans women internationally.
Full transcript 
00:00:00:08 – 00:00:37:21
Sage Dolan -Sandrino (SDS)
Who are you; How do you show up and how would you best describe your work and identity as a changemaker and community leader?
Morticia Godiva (MG)
Who is Morticia? Morticia is a lover, an actress, an artist, a comedian, a femme queen, an icon. Morticia is now. My work as a change maker and a community leader is, I would say that it is, new, but when I think about the type of work that I've been doing, it's actually been something that I've been doing since before I moved to New York. I'm very interested in community building and sharing resources with folks and figuring out what it looks like to support, uplift, highlight, and encourage queer folks of the Black Diaspora. And that work has shown up in the work that I do with the Black Trans Travel Fund, and it's shown up in the work that I do outside of that, my writing and my livelihood, the way that I live, the way that I show up. And so I am the work. I am the work. 
00:02:20:10 – 00:02:57:10
SDS
Your work centers the safety of black trans folks, what does a truly sage space mean and look like? What's required for a space to be safe? 
MG
For a space to be safe, for a space to actually be a safe space, it has to start with safety at its core. And it has to be safe for the community in every way, before we're there, and when we're gone, and while we're there. It's important for us to be in a space and show up in a space as ourselves, to move freely as ourselves, to feel safe, to move in that space as ourselves, and to be able to leave the space comfortably and get to where we're going as ourselves, showing up as ourselves—I think all we want to do is exist. 
00:02:57:10 – 00:03:47:21
SDS
What does the concept of "giving flowers" mean to you? When do you feel most celebrated? 
MG
The concept of giving flowers and being celebrated to me entails exactly what you're doing, exactly what we're doing. Centering voices…highlighting voices that we don't hear. It's extremely important and vital to highlight trans stories, narratives, media, and news to be connected with outlets so that our messages […] are shared with our trans siblings across the globe. I feel most celebrated when I am sharing joy. When I'm sharing joy with siblings, with loved ones, with family I'm able to feel the celebration of life that I think we deserve. The pockets and the moments of joy and laughter are the things that bring me the most celebration.
00:04:32:11 – 00:05:35:18
SDS 
What do you feel the next step in your work is? 
MG
I continuously have to remind myself that I am my biggest wall, I am my biggest obstacle. And in order to continue my work, I have to simply dive in. 
00:05:37:00 – 00:05:49:20
SDS
Who are some folks you want to #GiveTheirFlowers?
MG
Some of the folks I want to give their flowers to are Kyym Savage of United Trans Creatives, Donique Givens, Mix, Shantay, Imani Edwards, Jordyn Jay, Sage, Miss Mojo, Mya, Iman Hill, Azuza. All of us deserve our flowers and those are just a few names that got me real emotional. But we all deserve flowers every day. Every single day.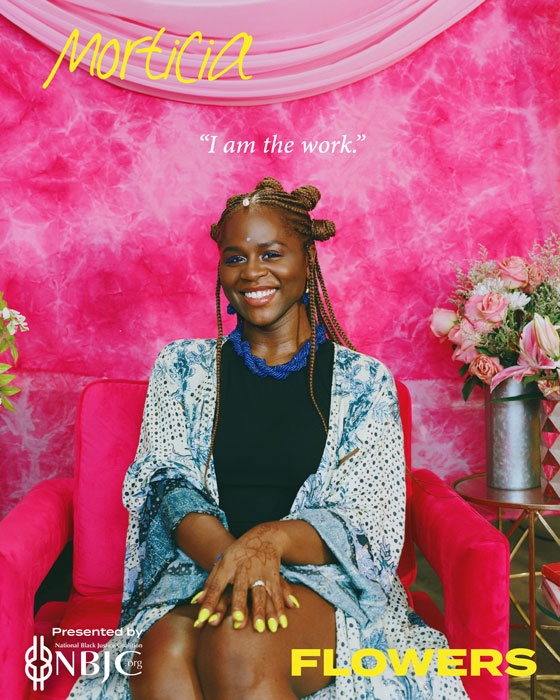 Share Your Flowers On Social Media
Using The Hashtags #NBJCFLOWERS #GivingFlowers
Make Sure To Tag @NBCJOnTheMove So We Can Repost And Share
The words we use matter. Learn more about language and understand your impact by downloading NBJC's Words Matter Gender Justice Toolkit. Equip yourself with the language necessary to start informed conversation today and contact your local congress member in support of the Equality Act to ensure ALL of our siblings are protected against illegal discrimination and harassment. Call the Capitol Switchboard number is (202) 224-3121 and encourage your senator to vote yes on the Equality Act.