Mya Donyale Mirari 

Creative and self described "Au Naturale Chameleon"
Mya Donyale, 23 is a producer, media personality, and performance artist. Using her unique charisma and flamboyant flare, Mya Donyale lends her production experience to break new  paths of black, trans, and queer empowered imagery. She pumps her elusive yet impactful nature into her works, always leaving behind an heir of influence. In 2022, the young maven founded Mirarivisions, a media production company committed to creating a visual vantage for black, trans, and queer dreams. "It's my passion to create an impactful picture. I produce projects that prompt power, responsibility, and urgency.  Whether it's a video, experience, or even an academic course. I am the helm of change and diverse storytelling across the digital media space."
"If it's conveying the idea, the message of divine black femininity, I'm there."
Full transcript 
00:00:00:23 – 00:00:41:13
Sage Dolan-Sandrino (SDS)
Who are you? How do you show up and best describe your work and identify as a leader and changemaker? 
Mya Mirari (MM)
My name is Mya Danielle Mirari (Mya Lynn), and I am a multifaceted, creative. I call myself the all natural chameleon because it's all about adaptability for me. The work that I engage in is aimed to cultivate change across the digital media space. So whether that's a concert music video event, print publication, whatever it be, if it's conveying the idea, the message of divine black trans femininity, I'm there.
00:00:42:18 – 00:01:16:13
SDS
What does #GivingFlowers mean to you? When do you feel most celebrated? 
MM
This concept is something that I grew up hearing, giving flowers, honoring and paying respects. Growing up in the household that I did, respecting your elders was imperative. It was the first form of respect. That's how you show your respect. And as I came into navigating my community and my identity and understanding that there were women before me who have walked, strutted, and ran through this path in six inch heels, it  was of second nature to pay homage and respect to every single woman that has come before me— whether I have known them personally or by way of media, which is where my intersectionality comes from as far as this space that I take up with my work. Oftentimes there is a disconnect or there is a distance between me and what I'm seeing. Especially growing up in a household that I did, I was very, very sheltered, so I was always on the outside looking in until I had the opportunity to jump in. However, by way of the women who were in, I learned. I learned what to do, what not to do. And of course, when you're in a situation, your better judgment comes up. 
00:02:00:08 – 00:02:20:19
SDS
What does #GivingFlowers mean to you? When do you feel most celebrated? 
Giving flowers for me is studying, loving and appreciating and recognizing the women who have come before me. And I do that with much, much, much respect and honor.
When I think of a celebration, I think of community. I don't think of solely myself. I think of those who I love and care about. And I think in order for that to happen, for folks to come together and celebrate one another, there has to be a sense of love. There has to be a sense of compassion.There has to be a sense of understanding and vulnerability. So when I am able to be my most authentic self in a room full of folks who are being their authentic selves, it creates a synergy, a sense of euphoria that everyone can just relish and the dopamines are up because baby Imma feel it.
00:03:08:20 – 00:03:52:09
SDS
What do you find yourself needing in order to feel happy, whole, and healthy-ultimately what is required in order for you to thrive?
MM
I need every bit an ounce of my peace because peace is directly correlated to the mind, body and soul. And as I'm pretty sure we all know, that must be protected at all cost. Because when we walk inside of a room, when we leave our houses, when we engage in anything that requires energy, it requires the energy that that you've taken, the time, the precious time.
And for me, I'm going to speak inwardly, the precious time that I've taken to sit with myself, solitude is so, so important to me. I don't understand why at first I was afraid of it. However, as I became more comfortable with sitting with myself and understanding my mechanisms and why I do things and how I handle things, it was peace that brought me all the way back where I could just sit back and breathe.
So in order for me to thrive, I need my peace. And I implore every single [being] on this universe to ask themselves what brings them peace and engage in that. Actively work towards that because there's so many distractions to take us away from that intentionally, take us away from our peace so we can be out here running around like chickens with no heads.
00:04:47:11 – 00:05:54:14
SDS
What does peace feel like for you? 
MM
For me, peace feels like completion. It feels responsible. It feels urgent, it feels ethereal. It's everything. I feel whole when I'm at peace. 
SDS
When did you know this work is what you were meant to do?
MM
The moment I knew this work was my calling was again, I'll preface with me navigating myself, my identity and coming to understand what groundwork has been laid out before me. And coming to the realization that a lot of my trans sisters, my trans ancestors, have not received this very bouquet that I have on my lap right now. And how could I sit here as a young person, a young, vivacious, black, queer, trans woman and not have a sense of responsibility to continue to work for myself? However, make sure I'm plugging and I'm uplifting those who have done the work before me. We're living in a time that I'm extremely grateful for because I understand that there were much more restrictive times. So many women before me, whether they're still with us or have passed on, are still fighting, scratching, clawing by any means necessary to chase their dreams or have even abandoned their dreams because we're living in a world that made them feel that it was not achievable. I feel it's my duty to be on the helm of digital media and the stories that we're telling.
00:06:58:19 – 00:07:32:18
SDS
What resources, supports, and cultural systems are missing/inhibiting you from taking the next steps in your work? 
MM
I feel as though access is missing and with access, opportunity is achievable. It's the key. And I see the work that I do as the key of opening many, many, many doors. And as I go to those doors, I'm leaving that door wide open, wide open for the girls to come through and storm in abundance.
00:07:34:05 – 00:08:04:06
SDS
Who are some of the folks you want to #GiveFlowers? 
MM
The women I love to #GiveFlowers to, would start then none other than the one woman who birthed me. My birth mother, Miss Loyda. She has been a formidable force in grounding the principles of being a good person in me. I'd love to #givemyflowers to the other women who have instilled in me what it means to walk in my shoes ever so cuntly. The first one being Gia, Miss Gia Love, the second one being Queen Muva Sinia B. Alaia, third one being Courtney ToPanga Washington, Iconick, and last but not least, Jordyn Jay. The last thing I want to say and leave here to live on in this historical moment is I actually need to give my flowers to someone else. Sage, you girl, come get your flowers. The work that you're doing is beyond integral. And I will forever be appreciative and grateful of not just what you have done or extended to me, but to the community at large. I see you, the world sees you, and God bless you. May you forever be in favor.
00:09:37:05 – 00:09:57:15
SDS
Any last messages to the kittens, the young trans girls, and to our peers? 
MM
You march to the beat of your drum. And if at any given moment you don't feel like drumming anymore that's fine too, baby, do you. You're gorgeous, you're beautiful. And it will always be in your favor. Because girls like us never go out of style.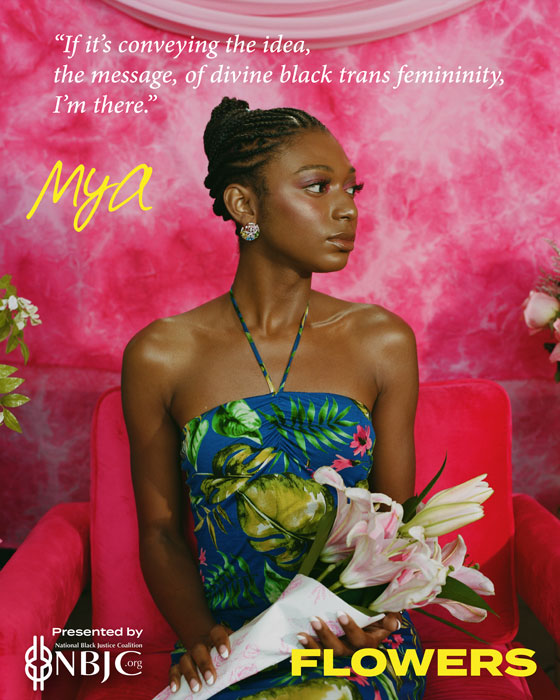 Share your flowers on social media, using the hashtag #NBJCFLOWERS.
The words we use matter. Learn more about language and understand your impact by downloading NBJC's Words Matter Gender Justice Toolkit. Equip yourself with the language necessary to start informed conversation today and contact your local congress member in support of the Equality Act to ensure ALL of our siblings are protected against illegal discrimination and harassment. Call the Capitol Switchboard number is (202) 224-3121 and encourage your senator to vote yes on the Equality Act.