National Black Justice Coalition Mourns the Death of Iris Santos
Santos Is One of At Least 23 Transgender People Murdered in 2021
CONTACT: Anna Zuccaro | anna@unbendablemedia.com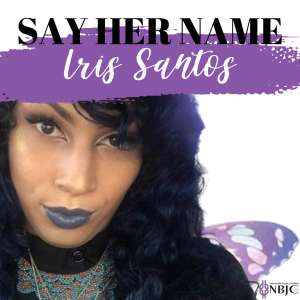 HOUSTON, TX — The National Black Justice Coalition (NBJC) mourns the loss of Iris Santos, a 22-year-old transgender woman killed in Houston, Texas on April 23, 2021. According to reports, Santos was shot to death while sitting on a bench outside of a Chick-Fil-A. 
Earlier this week, Santos' family gathered in prayer to mourn her death, with Santo's mom, Maria Carreaon saying "She was a beautiful soul… We just ask God to guide her to heaven." Santos' middle school theater teacher, Crystal Toussant said "She was determined. She knew what she wanted in life and she was not ashamed of who she was."
Houston police are now calling attention to a man, who was caught on surveillance video, a suspect in her murder and are asking the public for help identifying him.
Iris Santos is one of at least 23 transgender people murdered in 2021.
"This is a national crisis and we must treat it like one. With 2021 on track to be the deadliest year ever for transgender people we need urgent action to save lives and hold perpetrators accountable," explained Victoria Kirby York, deputy director of the National Black Justice Coalition. "We join Iris' family in mourning a beautiful life that was taken from the world too quickly. We also ask community members to do everything possible to assist public safety officials in identifying her murderer." 
To learn more about reducing gender based violence, look here and here. 
To learn more about changing local laws and increasing protections for trans and non-binary community members, look here. 
The NBJC Stolen Lives list of trans and non-binary siblings lost to violence and hate can be found here.