National Black Justice Coalition Remembers Tony McDade One Year After Murder by Police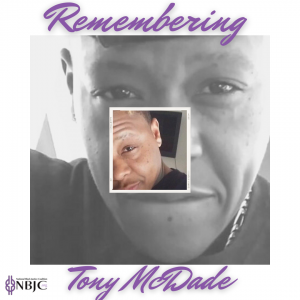 CONTACT: Anna Zuccaro | anna@unbendablemedia.com 
TALLAHASSEE, FLORIDA — To commemorate the one year anniversary of Tallahassee police killing Tony McDade, a Black transgender man, David Johns, executive director of the National Black Justice Coalition, a leading civil rights organization, issued the following statement: 
"As we continue to mourn and remember Tony McDade's life one year later, we also continue demanding accountability for his murder at the hands of the Tallahassee police department.
"Tony McDade was our brother. His unjust and tragic killing should remind us all that hate crimes against Black LGBTQ+/SGL loving people happen regularly, and often without public outcry.
"One thing is clear: Tony should be alive.
"We must keep raising awareness about the disparate challenges that Black LGBTQ+/SGL people face. Too often, society ignores violence against members of the Black and queer community. We must work to ensure that police officers understand that they do not have a license to kill Black people, period.
"We honor each of our siblings and say their names, including Nina Pop, Ahmaud Arbery, Breonna Taylor, George Floyd, and Tony McDade."