SUNDAY 12PM: National Black Justice Coalition, AARP Honor Legendary, Black LGBTQ+ Women Elders Award Ceremony & Virtual Tea Party
Wisdom Awards to celebrate accomplishments and experiences of Black LGBTQ+ older adults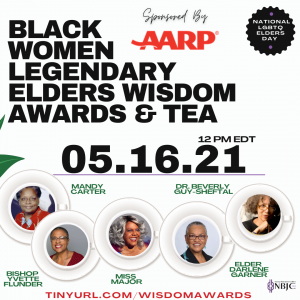 On Sunday, May 16, at 12 p.m. (ET), the National Black Justice Coalition (NBJC) and AARP will host the virtual Black Women Legendary Elders Wisdom Awards ceremony and virtual tea party in commemoration of National LGBTQ+ Elders Day. The honorees include (in alphabetical order):
Guests can register and leave their own reflections and gratitude for the awardees here. The deadline to request American Sign Language and Spanish Language interpretation during registration is May 12th. There will be surprise, special guest presenters as well as music curated by DJ Likwuid. 
"The work that our Black LGBTQ+ and same gender loving elders have built and what they have continued to accomplish over the course of their lifetimes thus far cannot be overlooked or understated," said David J. Johns, executive director of the National Black Justice Coalition. "These individuals risked their lives to live as their authentic selves before pride month and nationally awarded television shows like RuPaul's Drag Race or Pose were a remote possibility or the faintest twinkle in anyone's eye, including members of our community. We owe our culture, liberation and pride to each of them and the sacrifices they have made along the way."
"This event was created to be the Black LGBTQ+ equivalent of Oprah Winfrey's Legends Ball, an opportunity for legendary icons to be given their flowers directly from the generation of soon to be legendary icons that ran alongside and shared/taken the baton with them in the work to achieve dignity, equity and liberation for the Black LGBTQ+/SGL community. As a beneficiary of both generation's advocacy, I am thrilled that NBJC and AARP are able to "give them their flowers while they are able to smell them." Each of these women have personally impacted my life as a Black same gender loving woman and non-binary person. The trails they blazed, the glass ceilings they left cracks in or shattered, and the doors they opened and brought us through, are what made it possible for legacy LGBTQ+ rights organizations to be led by Black LGBTQ+/SGL women today and be made accountable to our community at large. I could not be prouder to be lifted by their shoulders and to follow in their footsteps," said National Black Justice Coalition Deputy Executive Director, Victoria Kirby York. 
"I am honored to be a part of this event and represent AARP for so many reasons, but primarily as a testament of the power of one person being true to themselves and not bending. I am honored because individually and collectively these women paved the way for women like me to be able to show up in this world as authentically as I possibly can, and to be able to make a career out of doing work that supports all LGBTQ people so they can live out their lives with dignity and respect," said Cassandra Cantave, Senior Research Advisor and PRISM SEERG Chair-Elect, AARP. 
 In addition to celebrating the accomplishments, experiences and wisdom of Black lesbian, gay, bisexual, transgender, queer+ and same gender loving women (LGBTQ+/SGL) older adults, the event will also advocate to advance policies that:
Protect Black LGBTQ+ older adults and their dignity as they age in families, care facilities, senior living communities and more; and  

Work to decriminalize and remove the stigma associated with being Black, LGBTQ+, and an older adult.  
MORE ON NBJC'S POLICY AGENDA HERE: https://nbjc.org/nbjc-policy-agenda/