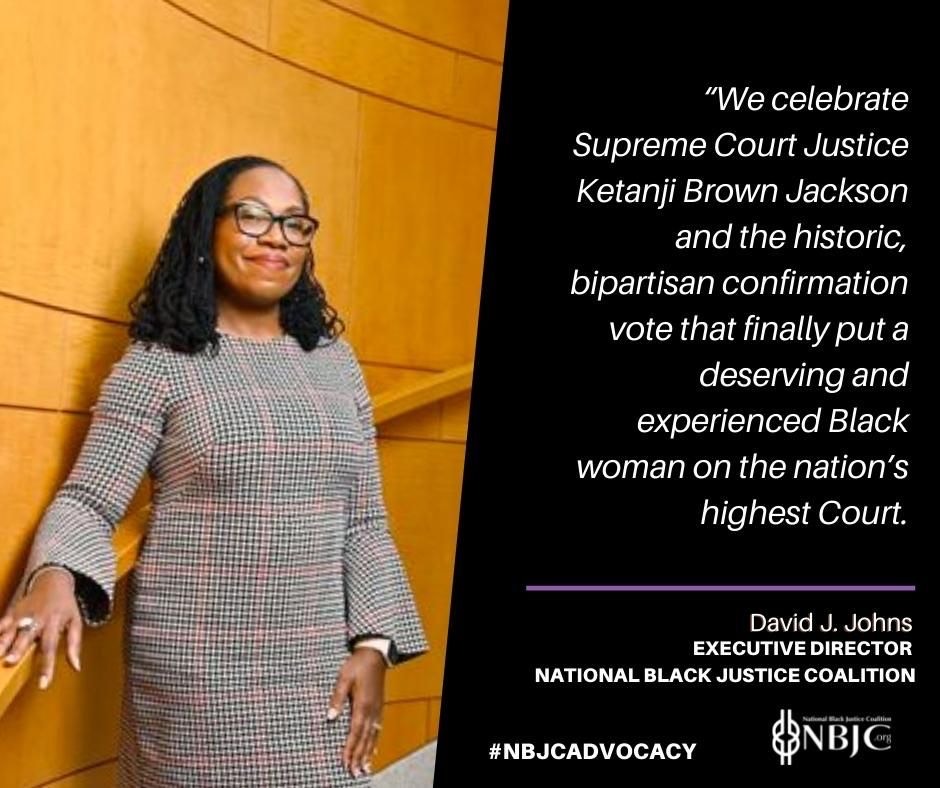 National Black Justice Coalition Celebrates Supreme Court Justice Ketanji Brown Jackson
Black LGBTQ+ Civil Rights Group Says Having a Black Woman on the U.S. Supreme Court is Long Overdue
WASHINGTON, DC — Statement from David J. Johns, executive director of the National Black Justice Coalition, a leading Black LGBTQ+ civil rights organization, on the historic confirmation of Justice Ketanji Brown Jackson, the first Black woman nominated to the U.S. Supreme Court: 
"We celebrate Supreme Court Justice Ketanji Brown Jackson and the historic, bipartisan confirmation vote that finally put a deserving and experienced Black woman on the nation's highest Court.
"With her appointment to the bench, Justice Jackson shatters the too-high glass ceiling Black women have long bumped up against in the judicial branch of government and elsewhere. 
Justice Jackson has the educational, lived, and professional experiences that make her a critically important addition to the U.S. Supreme Court, especially during this moment in history. Justice Jackson understands how the law affects everyday people's lives and the importance of a legal and constitutional commitment to justice and equity.  We urge those who believe in civility, equity, and strengthening our country to call and thank the members of the U.S. Senate who voted to confirm her, today. 
"We celebrate Justice Ketanji Brown Jackson. Pauli Murray, our ancestors, and our children are beaming with pride as what was once seemingly impossible has become a reality."