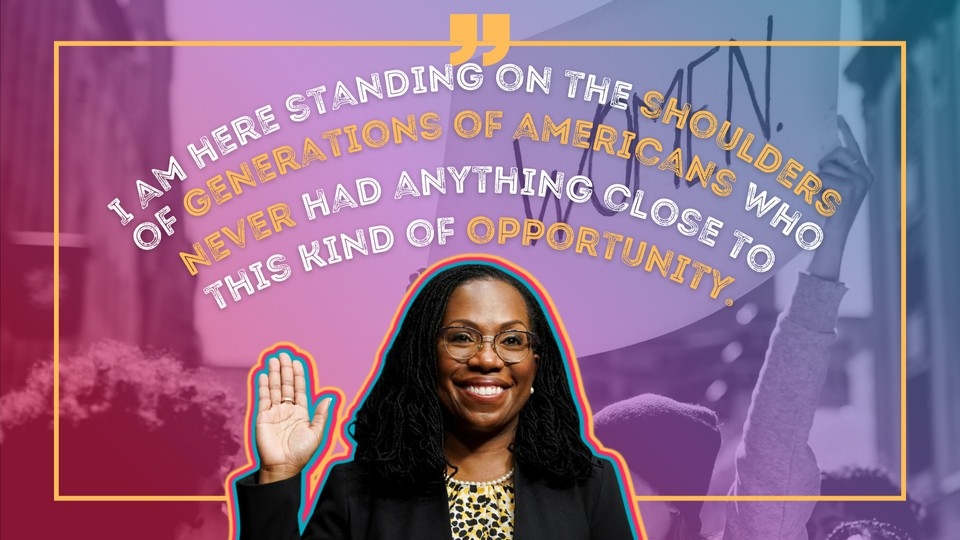 NBJC Celebrates the Historic Swearing In of the Nation's First Black Woman SCOTUS Justice
Victoria Kirby York, Deputy Executive Director of the National Black Justice Coalition, discusses the momentous occasion of the swearing-in of Supreme Court Justice Ketanji Brown Jackson, the first Black woman to serve on the nation's highest court. 
"As a m/other* to a young Black girl, Supreme Court Justice Ketanji Brown Jackson's swearing-in is historic and transformative. Her appointment gives credibility to the message I share with my daughter each day: no matter what detractors say, you can achieve greatness in any career you desire. 
However, listening to Justices Roberts and Breyer read oaths referencing the constitution's mandate for equal treatment under the law during the ceremony made last week's Dobbs decision even more painful. What good are oaths if they do not inform the decisions of those sworn to live by them?" 
The Dobbs ruling clarifies that most U.S. Supreme Court justices do not see females and some intersex people as equal to males or full citizens.  The constitutional oath of office for members of the U.S. Supreme Court includes the commitment to "support and defend the Constitution of the United States against all enemies, foreign and domestic." State laws aimed at unequal treatment in reproductive health care, rights, privacy, and decision-making of males, females, and intersex people are unconstitutional. Lawmakers who insist on passing anti-abortion laws are domestic enemies of our constitution. By ceding their constitutional power to prevent states from enacting unequal application of laws, the supporting justices have committed treason.  
We welcome U.S. Supreme Court Justice Ketanji Brown Jackson with joy, hope, and anticipation of the brilliant opinions she will author. Unfortunately, her colleagues have welcomed her with decisions that profoundly impact who she is and the communities conspiring for her and our country's success.  We hope that Justice Brown Jackson reminds her colleagues that unenumerated rights were given in past court precedent to protect enumerated rights. Integration, marriage equality, sexual intimacy, privacy, discrimination protections, and more were granted to provide equal protection under the law when individual states sought to target particular communities and people. The U.S. Supreme Court has a duty reflected in its oaths of office to mitigate and prevent the harm caused when states attack the most marginalized and excluded among us. If there was a time that we needed the U.S. Supreme Court to flex its power to curtail state attempts to marginalize and exclude us from public life – it's now.
We look forward to Supreme Court Justice Brown Jackson leading the way to redirect the court in what Chief Justice Roberts said today was their "common calling."
 *The term "m/other" describes a parent shaped by both their womanhood and other gender identities and/or expressions