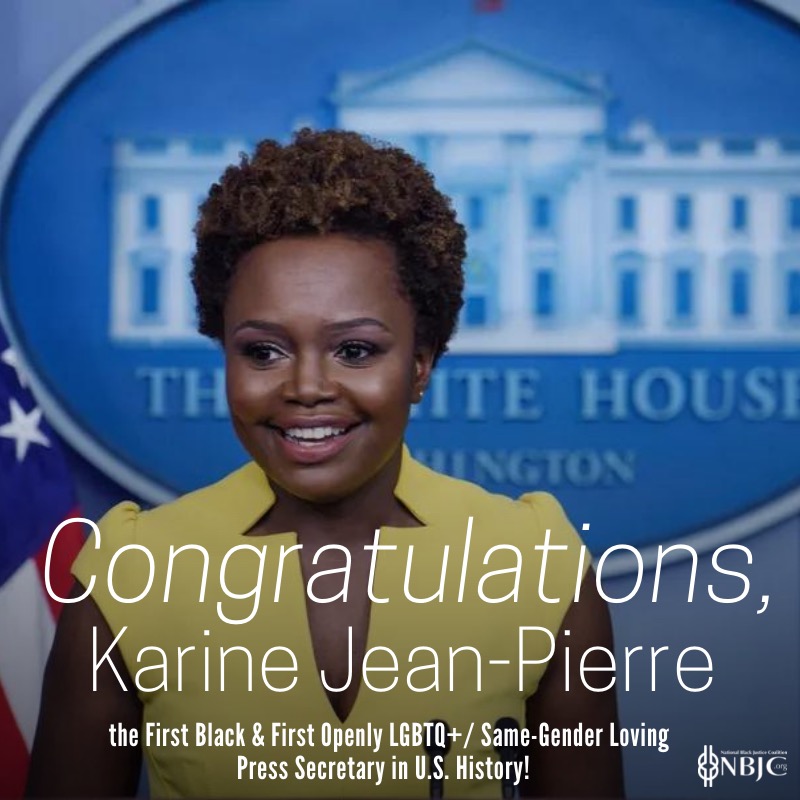 Black LGBTQ+ Civil Rights Group: Karine Jean-Pierre Makes History Twice as New White House Press Secretary
National Black Justice Coalition Celebrates First Black and First Openly LGBTQ+/SGL Person to Serve as the Voice of the White House
WASHINGTON, DC — Moments ago, it was announced that Karine Jean-Pierre would become the new White House press secretary when Jen Psaki departs her role next week. Karine will be the first Black person and first openly LGBTQ+/SGL person to serve in this position.
In celebration of her appointment to the role, Dr. David J. Johns, executive director of the National Black Justice Coalition, a leading Black LGBTQ+/SGL civil rights organization, issued the following statement: 
"The White House Press Secretary represents the voice of the President of the United States and the American people, and for the first time in our nation's history, that voice will be the voice of a person who is both Black and openly same-gender loving. It's about time – and we celebrate this moment. 
"Congratulations Karine Jean-Pierre on busting through two glass ceilings, with grace and aplomb. We celebrate you.
"Karine Jean-Pierre is a long time member of the National Black Justice Coalition Family, and we could not be more proud of her. We know that she will represent our nation as brightly as she has represented our communities over the years in every role she has served. Her lived experiences are a compliment to the rich and nuanced professional experiences she has had throughout her career.
"Make no mistake – at a time Black people, and members of the LGBTQ+/SGL community are under attack – having a brilliant, Black, openly same-gender loving woman as the voice of the White House and our nation sends a clear signal to all – that our nation is better when we embrace who we are. 
"Thank you Karine."