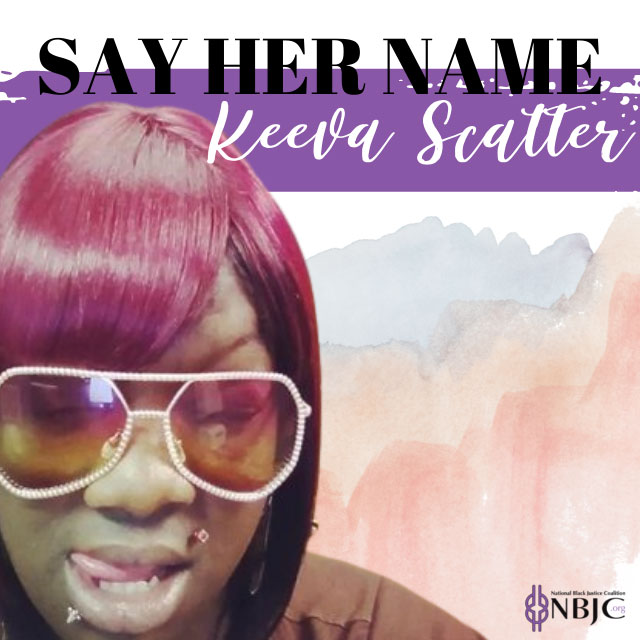 The National Black Justice Coalition Mourns the Death of Keeva Scatter
BATON ROUGE, LA- The National Black Justice Coalition (NBJC) mourns the loss of Keeva Scatter, a 34-year-old Black transgender woman. Scatter was found dead from a gunshot wound in Baton Rouge, Louisiana, on October 15, 2021. There is little personal information that has been publicly shared about Keeva. She was also deadnamed and misgendered by local media, which has likely played a role in the slow-moving investigation. 
"It breaks my heart to learn about the loss of another sister in 2021, which was recorded as the deadliest year on record for the trans community," said Victoria Kirby York, Deputy Executive Director. "We have been shown time and time again not enough is being done to end the disproportionate amounts of violence Black women face once and for all. I applaud and appreciate the Louisiana chapters of Moms Demand Action and Students Demand Action for speaking out on this death and drawing much-needed attention to this epidemic of violence. As they pointed out, thoughts and prayers are not enough. We need more. Action must be taken by lawmakers, law enforcement, and community members to protect the transgender community and Black women overall.  We have an opportunity to make this year better for the transgender, nonbinary, and gender-nonconforming communities." 
Everytown found that since January 2017, 74% of transgender homicides have been with a gun. 75% of all transgender gun homicide victims were Black women. Stricter gun laws could lead to less gun deaths and violence committed in the heat of a moment. Common sense safety provisions include addressing loopholes that would prevent known domestic abusers from being able to obtain a gun, ensuring complete and universal background checks, and violence intervention programs. 
The Baton Rouge Police Department asks anyone with information on the death of Keeva Scatter to contact the Violent Crimes Unit at 225-389-4869 or Crime Stoppers at 225-344-7867. 
Learn more about reducing gender-based violence here and here. 
Look here to learn more about changing local laws and increasing protections for trans and non-binary community members. 
The NBJC Stolen Lives list of trans and non-binary individuals lost to violence and hate can be found here.