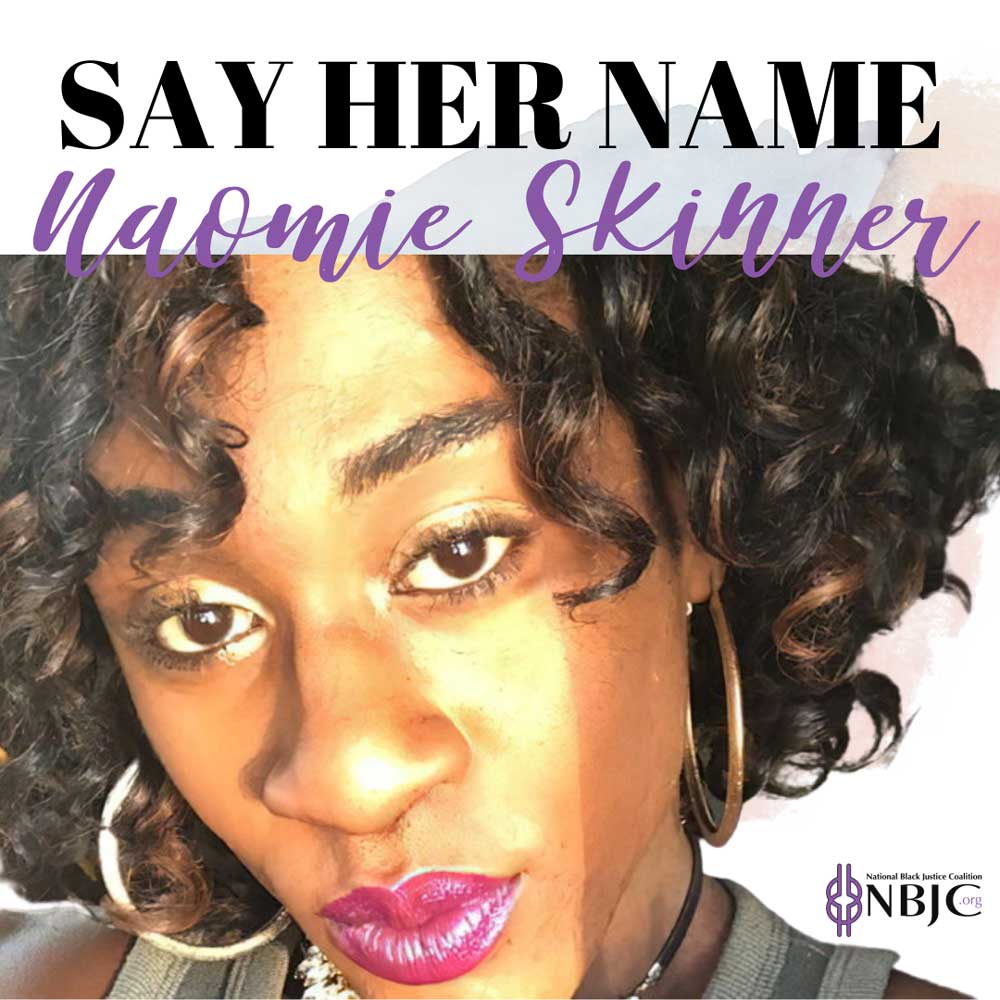 The National Black Justice Coalition Mourns the Death of Naomie Skinner 
DETROIT, MI- The National Black Justice Coalition (NBJC) mourns the loss of Naomie Skinner, a 25-year-old Black transgender woman killed in Detroit, Michigan. On February 12, 2022, her boyfriend fatally shot her in the neck after an argument and dragged her body out of an apartment and into a hallway before fleeing. 
He has been arrested and charged with second-degree murder, tampering with evidence, and felony firearm. He is being held on a $500,000 bond, must wear a GPS tether if released, and has a probable cause conference scheduled for February 22nd. Friends have described Naomie as a loyal person with a good sense of humor. 
Victoria Kirby York, Deputy Executive Director of the National Black Justice Coalition, explained:
"My thoughts and prayers go out to Naomie's family members, friends, and loved ones during this time of loss.
"Each time I learn about a stolen sibling, I am devastated. Interpersonal violence is a significant cause of death for transgender, nonbinary, and gender-nonconforming people. This is why NBJC continues to push for the re-authorization of the Violence Against Women Act. This act prevents and responds to the domestic violence, sexual assault, and dating violence experienced by cisgender and trans women by authorizing new programs, changing federal firearms laws, and establishing new protections to promote housing stability and economic security. Re-authorizing this historic piece of legislation is one thing lawmakers can do to bring us closer to ending the epidemic of violence against the trans community." 
"In order to prevent additional deaths, accountability through thorough investigations is critical. NBJC is grateful that the Detroit Police Department and Emergency Medical Services used accurate descriptions and names of Naomi to identify and hold her killer accountable. Accurate death reports and investigations of transgender deaths should be the norm in police departments across the country. Using accurate names, photos, and gender of transgender and gender non conforming lives stolen increases the likelihood that media reports on the case accurately and that the case will be solved quickly sending the message that transgender lives are as important as any other life," 
 Naomie Skinner is the 3rd transgender person to be killed in 2022. All three victims this year have been Black transgender women. 
Naomie's family has started a GoFundMe to raise money to bring her remains from Detroit to Kentucky "so she can have the service she deserves and give everyone a chance to celebrate her fabulous life." You can donate HERE. 
The Network/La Red's 24-hour hotline provides confidential emotional support, information, referrals, safety planning, and crisis intervention for LGBTQ+/SGL community members who are being abused or have been abused by a partner. If you or someone you love needs support, call the hotline at 617-742-4911. 
Learn more about reducing gender-based violence here and here. 
Look here to learn more about changing local laws and increasing protections for trans and non-binary community members. 
The NBJC Stolen Lives list of trans and non-binary individuals lost to violence and hate can be found here.