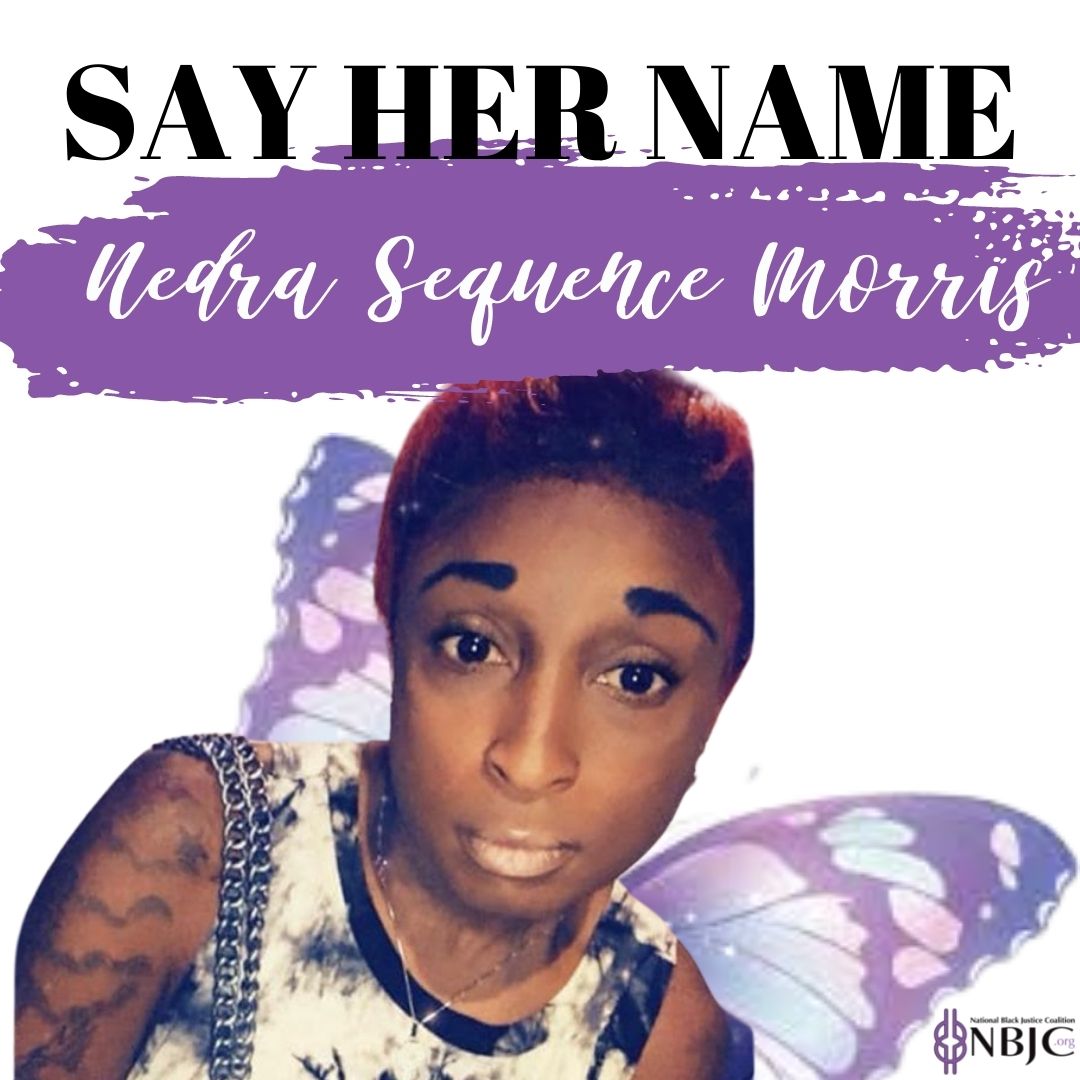 The National Black Justice Coalition Mourns the Death of Nedra Sequence Morris 
OPO-LOCKA, FL- The National Black Justice Coalition Mourns the death of Nedra Sequence Morris, a 50-year-old Black transgender woman. Morris was shot and killed on May 14, 2022, in Opa-locka, Florida. According to her family, Morris was killed at an unknown location and then dumped at an intersection. 
About a hundred people, family and friends included, gathered at the site where her body was found for a vigil. Morris was described as strong, feisty, and opinionated. Tatiana Williams, Morris' friend and co-founder of Transinclusive Group, said, "when these deaths happen and people that are working in the police department or in the community, they don't know how to advocate for us. So a lot of times, these cases go cold." 
"My heart is breaking, and our community is hurting," said Victoria Kirby York, Deputy Executive Director. "My thoughts and prayers go out to Nedra's loved ones during this time of immense loss. The killing of Nedra, the ten people in Buffalo, and 21 people in Uvalde is a stark reminder of the gun violence that has become an everyday occurrence. Gun violence disproportionately impacts marginalized communities, including Black trans women. More must be done to protect our community, our babies, and those most vulnerable to this violence, from the fear that they will be killed simply for living while Black and trans. This death comes on top of the legislative attacks on the LGBTQ+/SGL community in Florida. Attacks that will most likely only lead to more violence and loss for the community. We are fighting a war on all fronts, and we need more people to join us." 
Nedra Sequence Morris is the 14th transgender, nonbinary, or gender-nonconforming person to be killed in 2022. She is the second Black trans woman killed in Florida this year. 
The police are investigating the death of Nedra Sequence Morris. They are currently looking for a 2017 Jaguar F-PACE that was seen leaving the scene. Anyone with information is asked to call Miami Dade Crime Stoppers at 305-471-TIPS. 
"We urge the Miami Dade Police Department to follow investigative best practices of using Nedra's name, feminine pronouns, and most recent and regularly seen as photos to gather tips that will help determine who took her life. In order to stop these heinous, inhumane, and heartless crimes from happening, we must hold murderers accountable," concluded Kirby York. 
Learn more about reducing gender-based violence here and here. 
 Look here to learn more about changing local laws and increasing protections for trans and non-binary community members. 
The NBJC Stolen Lives list of trans and non-binary individuals lost to violence and hate can be found here.