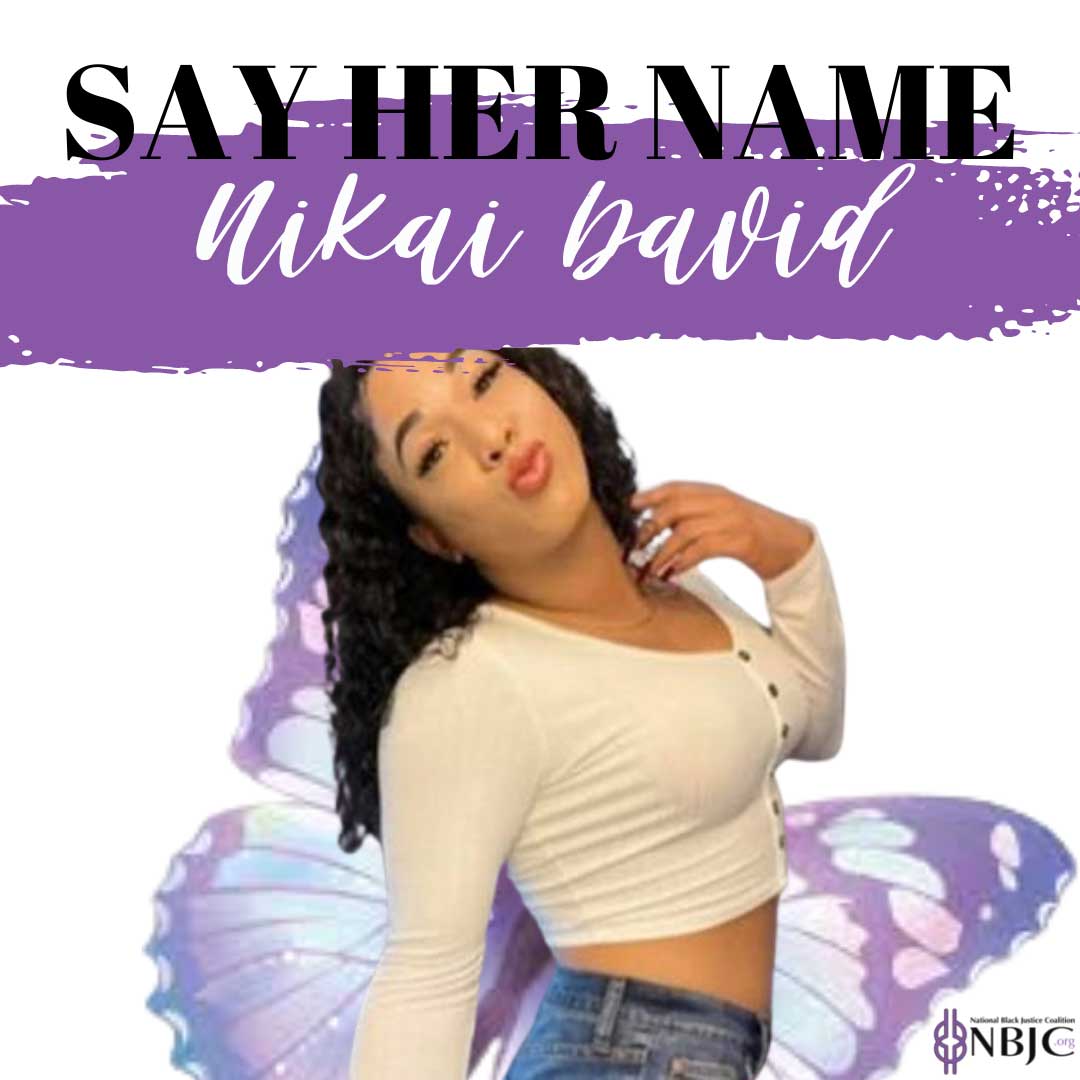 The National Black Justice Coalition Mourns the Death of Nikai David 
OAKLAND, CA- The National Black Justice Coalition (NBJC) mourns the death of Nikai David, a 33-year-old Black transgender woman. She was shot to death in Oakland, California, early on the morning of December 4, 2021, just a week after she celebrated her golden birthday. Nikai was a model and aspiring social media influencer who dreamed of opening a clothing boutique.  A friend described her as a really sweet, happy, fun person. 
"I am heartbroken to hear about the killing of Nikai," says Victoria Kirby York, Deputy Executive Director. "At least 50 trans, nonbinary, or gender-nonconforming people have been killed this year, and we still have three weeks left in the year. My hope for 2022 is that people will start giving this epidemic the attention it desperately needs to stop it. We have lost too many siblings, and we will continue to lose more if action is not taken. Everyone deserves to live without the fear of violence because of their identity. Everyone deserves to feel protected.  All of us must stand with the transgender community, listen to their needs, and respond to those needs in whatever way we can." 
"As a mother bearing witness to these beautiful Black women and teenage girls being murdered so young, I can't help but think of the pain and loss their mothers must feel. Even those that struggled with accepting and affirming their children feel the overwhelming grief of lives stolen due to stigma, prejudice, shame, and fear. 
2021 is the deadliest year on record for the transgender, nonbinary, and gender-nonconforming community. Most of those killed this year have been Black trans women like Nikai David. 
The Oakland Police Department's Homicide Section asks that anyone with information on the death of Nikai David call 510-238-3821 or the department's tip line at 510-238-7950.  
Learn more about reducing gender-based violence here and here. 
Look here to learn more about changing local laws and increasing protections for trans and non-binary community members. 
The NBJC Stolen Lives list of trans and non-binary individuals lost to violence and hate can be found here.