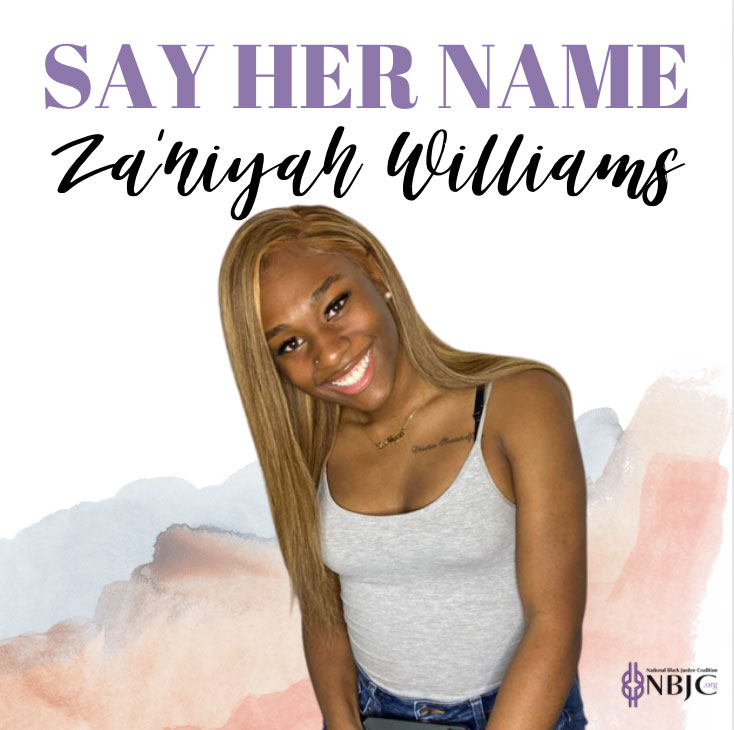 The National Black Justice Coalition Mourns the Death of Za'niyah Williams, A Black Transgender Woman Killed in a Hit-And-Run Car Crash in Houston Texas
HOUSTON, TX- The National Black Justice Coalition (NBJC) mourns the loss of Za'niyah Williams, a 21-year-old Black transgender woman. She died after a hit-and-run car crash on December 20, 2021, in Houston, TX. She was unidentified and misgendered by police and media outlets before her loved ones were able to identify her. Loved ones describe Za'niyah as "a very sweet and smart young lady" who "always ripped the runway when she dressed up." She was an aspiring lawyer who would have started college this month and was preparing to celebrate her birthday in Miami.  
"I am saddened to hear about the loss of another sister in 2021," said Victoria Kirby York, Deputy Executive Director. "It is devastating to see the number of people we lost last year increase especially since it was already the deadliest year on record for the transgender, nonbinary, and gender-nonconforming community. We must ensure this year is not a repeat of last and that work is actually done to end this epidemic of violence and protect the trans community. Too many of our siblings have been murdered only for the police to do nothing. That is why NBJC calls on the Harris County Sheriff's Office to thoroughly and properly investigate the death of Za'niyah Williams and ensure those responsible are held accountable. We will check back on the progress on this investigation in a few months to ensure it is moving forward." 
53 transgender, nonbinary, or gender-nonconforming people were killed in 2021. A majority of those killed were Black trans women like Za'niyah. 
The Harris County Sheriff's Office asks that anyone with information on the death of Za'niyah Williams call 713-221-6000 and reference case number 2112-07879. 
Learn more about reducing gender-based violence here and here. 
Look here to learn more about changing local laws and increasing protections for trans and non-binary community members. 
The NBJC Stolen Lives list of trans and non-binary individuals lost to violence and hate can be found here.