The National Black Justice Coalition Mourns the Loss of Danika "Danny" Henson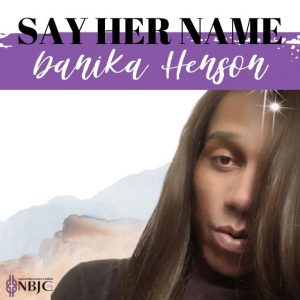 BALTIMORE, MD — The National Black Justice Coalition (NBJC) mourns Danika "Danny" Henson, a 31-year-old Black transgender woman shot and killed in Baltimore on Tuesday, May 4.  That same day, Sophie Vasquez, a 36-year-old Latinx transgender woman, was shot and killed in Brookhaven, Georgia; Whispering Wind Bear Spirit, a 41-year-old non-binary Indigenous person, died of gunshot wounds in York, Pennsylvania.  
In the days following Danika Henson's death, friends, family, and members of the Baltimore Safe House hosted a candlelight vigil and balloon release in her honor. She is lovingly remembered as a good and sweet person with a big heart. 
"The violence against trans people, especially Black trans women, seems never-ending," said Victoria Kirby York, Deputy Executive Director of the National Black Justice Coalition. "Our community is constantly in a cycle of mourning and seeking accountability, often without reprieve or anything that comes close. The lack of proactivity from elected officials and law enforcement at the national, state, and local levels is deeply concerning. We stand in solidarity with Danika's family as they mourn her loss and will continue to sound the alarm on what is rapidly becoming the deadliest year on record for trans people in the United States.  We also stand in solidarity with the loved ones of Sophie Vasquez and Whispering Wind Bear Spirit" 
 Danika Henson is one of 26 trans or gender non-binary people killed in 2021 — a significant increase from 14 in May 2020. She is one of 15 Black trans women murdered in 2021. 
The Baltimore Police Department is investigating Danika Henson's death.  They ask anyone with information to contact detectives at 410-396-2100 or Metro Crime Stoppers at 866-7Lockup.  
Learn more about reducing gender-based violence here and here. 
To learn more about changing local laws and increasing protections for trans and non-binary community members, look here. 
The NBJC Stolen Lives list of trans and non-binary individuals lost to violence and hate can be found here.