The National Black Justice Coalition Mourns the Loss of Jahaira DeAlto
DeAlto is one of at least 23 transgender people killed in 2021
CONTACT: Anna Zuccaro | anna@unbendablemedia.com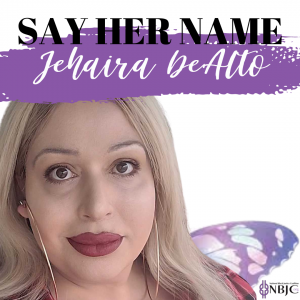 BOSTON, MA — The National Black Justice Coalition (NBJC) mourns the death of Jahaira DeAlto, a 42-year-old transgender woman of color, who was killed on May 2, 2021 in Boston, Massachusetts after suffering fatal stab wounds.
Jahaira was an avid member of Boston's ballroom community, a fierce advocate for transgender rights, and survivors of domestic and sexual violence. Groups of Jahaira's friends, family and community members have paid tribute to her through social media and local media. 
"We are heartbroken for Jahaira's friends, family and loved ones," said David J. Johns, executive director of the National Black Justice Coalition, "This gruesome and disturbing instance of violence and hatred is not an isolated incident or coincidence. Trans women of color are under attack. It's our job as allies to demand justice.
"Specifically, we need governments to prosecute existing cases of homicide against trans people of color, and to open more investigations for the cases that are currently unsolved. We need state, local, and federal governments to create programs that provide training and investigation incentives for law enforcement, medical professionals and front line responders to stop deadnaming, misgendering, and using outdated pictures of victims which only delays investigations and prevents accountability. Lastly, we urge the Department of Justice to appoint a task force with the authority and resources required to solve violent hate crimes against LGBTQ+ people with a special focus on transgender people alongside investigations into local police departments with a history of ignoring crimes against our community."
Last year, Jahaira tweeted:
"I am the mother who raised the children whose rainbow sparkled too brightly and blinded their birth moms. I cherished what they discarded. I took on earthly assignments for the moms who'd earned their Heavenly reward. For their babies who still needed raising. I did that. #thread
— Jahaira M. DeAlto (@JahairasMission)"
While Jahaira DeAlto's suspected killer has been arrested and arraigned on murder charges, NBJC and Boston's LGBTQ+ community continues to grieve her death.
Learn more about reducing gender based violence here and here. 
To learn more about changing local laws and increasing protections for trans and non-binary community members, look here. 
The NBJC Stolen Lives list of trans and non-binary individuals lost to violence and hate can be found here.