The National Black Justice Coalition Mourns the Loss of Keri Washington
Washington is one of at least 23 transgender people killed in 2021
CONTACT: Anna Zuccaro | anna@unbendablemedia.com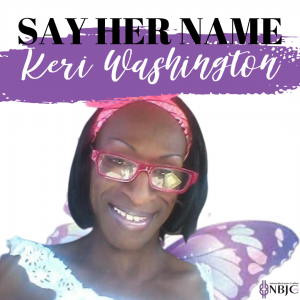 CLEARWATER, FL  — The National Black Justice Coalition (NBJC) mourns the loss of Keri Washington, a 49-year-old Black transgender woman found dead in Clearwater, Florida. Washington was found dead Saturday morning in the back of an apartment building according to local media.  Irresponsibly, many members of the media have misgendered her and used a different spelling of her first name, which will invariably delay any chance at ensuring those responsible are held accountable. No additional reports or details on Washington's death have been made available at this time.
Washington's friends have paid tribute to her on social media, saying she went by the nickname "Bobo." "Rest easy Keri Washington aka Bobo we love U," "Bobo was the real deal slay queen."
Washington is one of at least 23 trans people killed in 2021.
"This harrowing epidemic of violence and hate against trans people, especially Black trans women, is getting worse by the day, yet our government, at every level, has yet to acknowledge or address the issue," said David J. Johns, executive director of the National Black Justice Coalition. "While Washington's killer has been identified, he is still at large. This is a problem, especially when we consider the mental health stress that trans people endure as a result of this violence and the lack of accountability associated with it.  NBJC mourns and honors Keri's life, which was cut short at the hands of violence and hate.
"We must prosecute existing cases of hate crimes against Black trans people, people of color and LGBQ+ people, and open more investigations; we must start providing incentives and training for law enforcement, medical professionals and front line responders to not deadname, which only delays investigations and prevents accountability. We are sick with grief over the volume of loss this week. We urge the federal government, specifically the Department of Justice, to appoint a task force dedicated to address these issues specifically as well as open investigations into agencies that routinely choose not to investigate crimes against our community."
Police are currently investigating Washington's death as a homicide. Anyone with additional information is encouraged to call Clearwater police at 727-562-4242.
Learn more about reducing gender based violence here and here. 
To learn more about changing local laws and increasing protections for trans and non-binary community members, look here. 
The NBJC Stolen Lives list of trans and non-binary individuals lost to violence and hate can be found here.