The National Black Justice Coalition (NBJC) Mourns the Loss of Tiara Banks 
CONTACT: Anna Zuccaro | anna@unbendablemedia.com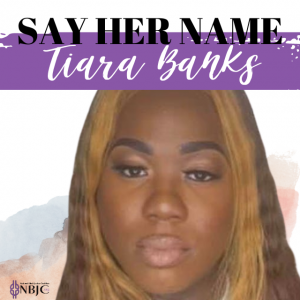 Chicago, Illinois —The National Black Justice Coalition (NBJC)  grieves the murder of Tiara Banks, a 24-year-old Black transgender woman. Banks was shot and killed while sitting in her car at the 12000 block of South Indiana Avenue in Chicago's Southside on April 21st, 2021. Howard Brown Health, a midwest LGBTQ+ Health center, helped identify Banks after WGN TV did not release Banks' name. 
"Black trans women deserve to live without the fear their life will be cut short because of violence. They, like everyone else, deserve a chance to thrive, to find joy and purpose," said Victoria Kirby York, NBJC Deputy Executive Director. "The stigma and violence against the trans community must end. We all must demand action from local, state and federal law enforcement and lawmakers. Inclusion of transgender, intersex, and nonbinary people at the intersections of other marginalized identities within national and local crime data sets along with prohibition of deadnaming, misgendering, and using pictures not reflective of how they presented in life, are crucial to effectively investigating transgender deaths. Policies must be passed that will work to protect the trans community from the violence and discrimination they currently face." 
Banks marks the 17th transgender individual and 12th Black transgender woman killed in 2021. Moreover, Banks is the second known transgender victim in the city of Chicago this year. The number of transgender victims within the first four months of this year shows the appalling amount of transphobia and more specifically misogynoir plaguing our nation. Black trans women are 71% of this year's victims thus far. 
Anyone with information on the death of Tiara Banks can submit an anonymous tip here: https://new.tipsubmit.com/en/create-report/anonymous/ChicagoPD. If you wish to support Banks' family with funeral expenses please contact Higgins Family Funeral Home at (773)-366-3663. 
 To learn how to reduce gender-based violence, look here and here. 
To learn more about changing your local laws to increase protections for trans and non-binary community members, look here. 
The NBJC Stolen Lives list of trans and non-binary siblings lost to violence and hate can be found here.