The National Black Justice Coalition Celebrates Biden/Harris Executive Orders on Expanding Health Care Access and the Removal of the Global Gag Rule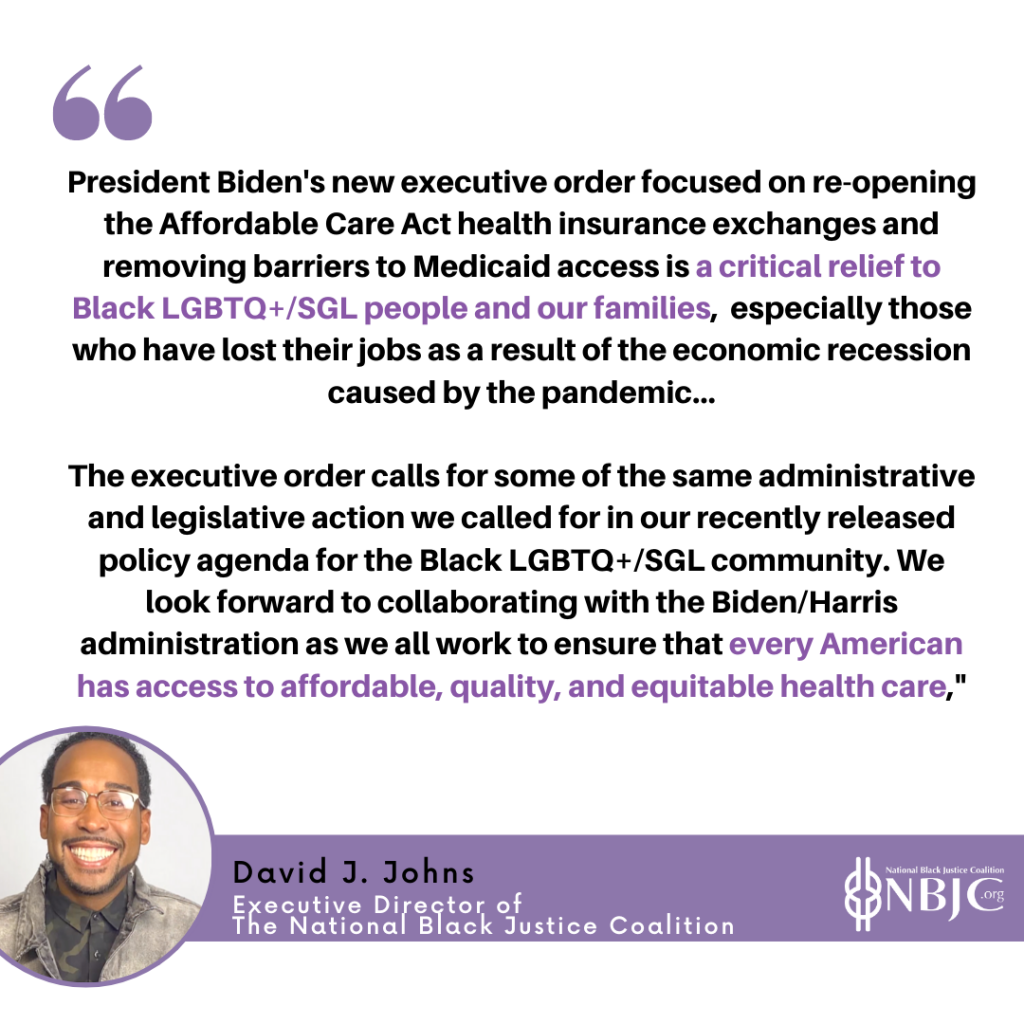 WASHINGTON, DC — The National Black Justice Coalition (NBJC) celebrates White House executive orders on the expansion of health care access and the removal of the global gag rule.
Yesterday, President Joe Biden signed an executive order to strengthen access to affordable and quality health care. The order seeks to reverse the previous administration's attacks on Medicare and the Affordable Care Act (ACA) and to strengthen the ACA so millions of Americans will continue to have access to health care — which is especially critical during a global pandemic. The Department of Health and Human services will open a special enrollment period from February 15- May 14 2021, on HealthCare.gov, giving Americans who need health care the opportunity to sign up.
"The crisis caused by the novel coronavirus has shed a bright light on what Black people and researchers who study health disparities or understand the importance of intersectionality theory have known for a long time— that stark racial inequities exist in health care and are exacerbated when responses are not democratized. President Biden's new executive order focused on re-opening the Affordable Care Act health insurance exchanges and removing barriers to Medicaid access is a critical relief to Black LGBTQ+/SGL people and our families,  especially those who have lost their jobs as a result of the economic recession caused by the pandemic," said David J. Johns, Executive Director of the National Black Justice Coalition.
This executive order will direct government agencies to re-examine policies that undermine protections for people with pre-existing conditions, which includes conditions related to COVID-19, ones that make it difficult to enroll in Medicaid and the ACA, and those that reduce the affordability of coverage or financial assistance of Medicaid and ACA.
"The executive order calls for some of the same administrative and legislative action we called for in our recently released policy agenda for the Black LGBTQ+/SGL community. We look forward to collaborating with the Biden/Harris administration as we all work to ensure that every American has access to affordable, quality, and equitable health care," concluded Johns. 
The president signed another executive order yesterday, focused on protecting women's and female bodied health at home and abroad.  This order protects and expands access to reproductive health care, directs the Department of Health and Human services to take immediate action to consider rescinding anti-abortion regulations under its Title X family planning program and rescinds the global gag rule that bars international non-profits that provide counseling or referrals for abortion from receiving US funding. This will help ensure women, LGBTQ+ people, low income citizens and Black, Indigenous, and other people of color, have access to care they have too often been denied.
"Too often, the unique and often overlooked challenges faced by Black women and girls, non-binary female bodied people, and transgender men are absent from conversations about health care and Title X regulations limiting abortion access," said Johns.  "It's important for us to be mindful of the many ways that Black women and girls, non-binary female bodied people, and transmen are often denied access to life-sustaining medical care because of assumptions and stereotypes that exist in the medical industrial complex, especially when it comes to reproductive health care. These important actions will go a long way in shifting conversations about and approaches to ensuring that every member of our community has access to the care they need and deserve."
Having access to affordable, quality, and easily accessible health care, that includes reproductive health care, is extremely  important especially during a global pandemic that continues to have a massive impact on our country. The steps taken by the Biden-Harris administration are essential, and hopefully we will see a continued effort by those in power to make health care in this country the best it can be for all who live here.