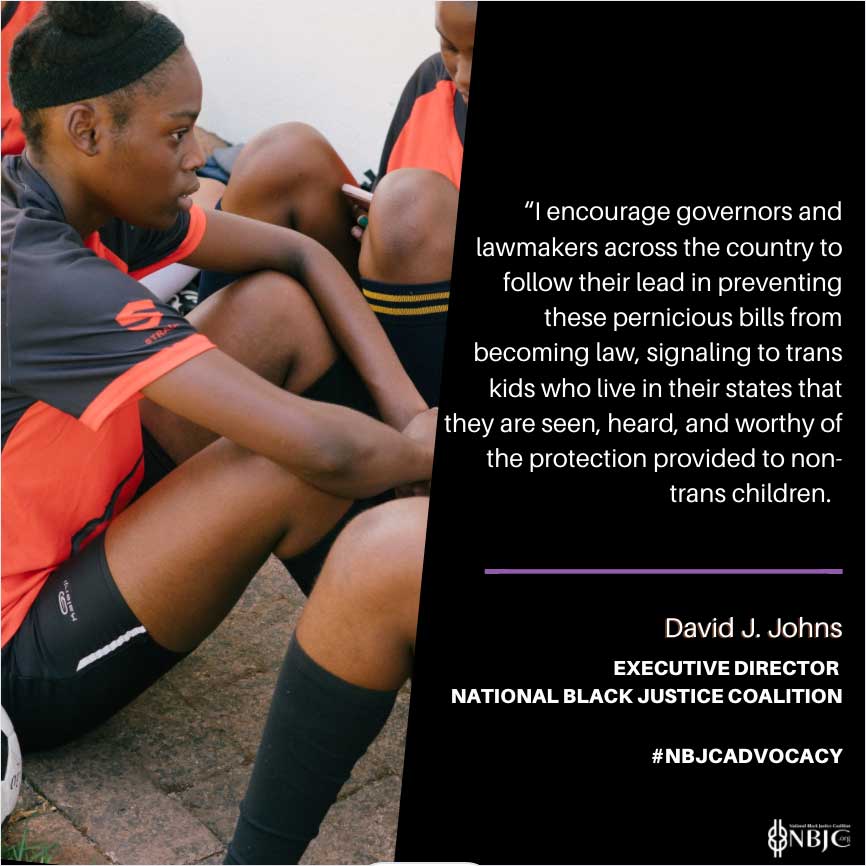 The National Black Justice Coalition Applauds Indiana and Utah Governors  for Vetoing Anti-Trans Sports Bans 
The National Black Justice Coalition (NBJC) applauds Indiana Governor Eric Holcomb and Utah Governor Spencer Cox for vetoing anti-trans sports bans in their states this week. Gov. Cox stated in his veto letter that "rarely has so much fear and anger been directed at so few" as out of the 75,000 high school kids participating in sports in the state, only 4 were trans, and only one trans student was playing a girls sport. He noted the high rate of suicide attempts among trans youth and that even a little connection and acceptance can reduce suicidality significantly. Gov. Eric Holcomb signaled support for the bill but said in a letter that he found no evidence the problem his state's bill sought to fix existed and that the Indiana High School Athletic Association has said it has had no trans girls finalize a request to play on a girls' team. 
Indiana lawmakers could override the governor's veto with a simple majority in the House and the Senate. The bill passed both chambers earlier this year with veto-proof majorities. In Utah, leaders in the legislature have already called a veto override session. The Utah House speaker said he anticipates that his caucus has enough votes to override Cox's veto. It is unclear whether the Republican governors' pragmatic decisions and remarks will be persuasive to lower ballot members of their party.
"I celebrate Governor Cox and Governor Holcomb for standing up against harmful legislation targeting children and truth," said David Johns, Executive Director of the National Black Justice Coalition. "I encourage governors and lawmakers across the country to follow their lead in preventing these pernicious bills from becoming law, signaling to trans kids who live in their states that they are seen, heard, and worthy of the protection provided to non-trans children. As Gov. Cox aptly noted in his veto letter, life outcomes improve when trans kids receive affirmation and acceptance. All kids should receive affirmation and acceptance; it's just that simple. Lawmakers must focus on how to increase affirmation and acceptance, listening to the needs of all of our babies instead of further marginalizing any of them further. I hope that lawmakers in Indiana and Utah take the time to reconsider their position on these bills and let the vetoes stand." 
The Human Rights Campaign found that in 2021 a record 147 anti-trans bills were introduced in 34 states, with 12 states enacting anti-LGBTQ+ bills. To remain updated on legislation that seeks to improve outcomes for our community, check the Power and Policy section on nbjc.org and follow us across social media @NBJCOnTheMove.