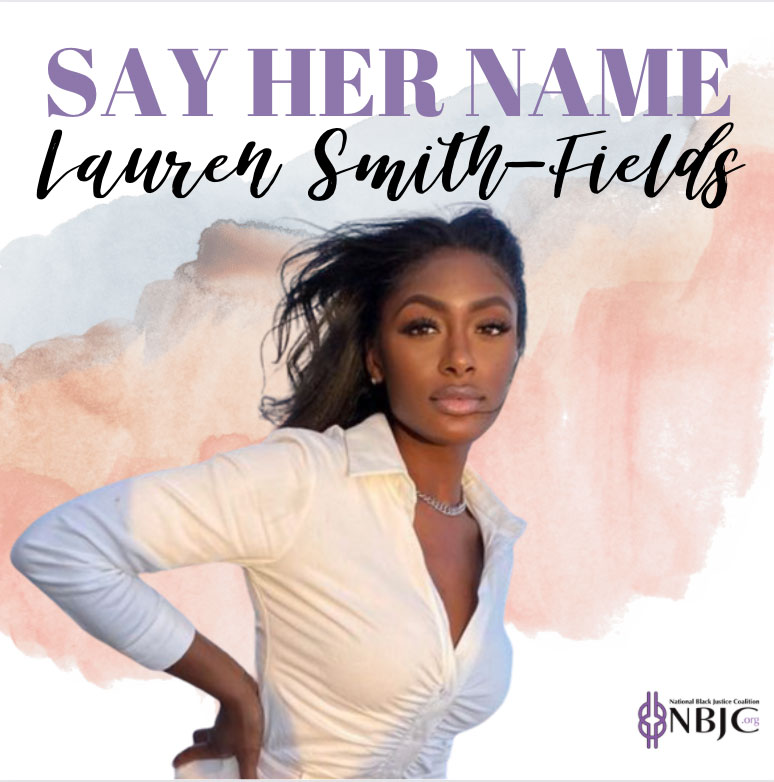 The National Black Justice Coalition Calls for Answers in the Death of Lauren Smith-Fields
CONNECTICUT — Lauren Smith-Fields, a 23-year-old Black woman found dead on December 12, 2021, joins the over 1,100 Black women who were murdered last year. The list includes nearly 50 transgender women, femmes, and masculine of center Black women like Irene Chavez whose lives were stolen while in police custody.
The Bridgeport Connecticut Police Department told Shantell Fields, the mother of Lauren Smith-Fields, to "stop calling," when looking for answers to how and why her daughter was found dead. Shantell Fields learned of her daughter's death from Smith-Fields' landlord and not law enforcement. The department chose not to investigate her white Bumble date, who reported her death, because he "seemed like a nice guy." Law enforcement made this decision in spite of data showing homicide is one of the leading causes of death in the United States for women under 44 and that half of these women were killed by a current or former male intimate partner. T
That officers chose not to closely examine the scene of Lauren's death, despite evidence including a blood-stained sheet, a used condom, and pills not known to be used by Smith-Fields being found in her apartment is beyond baffling.
Victoria Kirby York, National Black Justice Coalition Deputy Executive Director, said: 
"We will not stop calling on behalf of our missing and murdered sisters. Instead, we demand police departments across the country "Start Answering." Start answering with thorough, transparent, and accurate investigations. Start answering with innovative solutions when cases go cold. Start answering with accountability for those who committed the crimes. Any parent whose child has been murdered or gone missing would never stop looking for answers, and neither will we." 
If law enforcement refuses to do their jobs equitably and for everyone, they should lose their jobs. If police departments refuse to do their jobs equitably and for everyone, the police department must change how their work is being done." 
Each year, Black and indigenous women and femmes are murdered and go missing with very few updates, seldom any media coverage, and only a handful of solved cases. Black women are the victims of homicide more than any other race of women. The American Medical Association has named the number of murders of Black transgender women an epidemic. Every day, 4 Black cisgender women are murdered, according to Black Femicide – US. The numbers continue to climb, yet, police departments choose to lead below standard investigations to find, communicate, and act upon the truth.  The lives of Black women and girls (cis and trans) matter too!  
The National Black Justice Coalition encourages anyone with information regarding this incident to contact either Detective-Sergeant Joseph Morales at 203-581-5219 or the Bridgeport Police TIPS line at 203-576-8477. We urge everyone desiring the answers to what led to her death and for more sensitive family outreach policies to contact the Bridgeport Police Department at 203-581-5111 and flood their social media using the following hashtags #JusticeforLauren #StartAnswering #WeDemandAnswers until the case has been sufficiently investigated, solved, and closed.