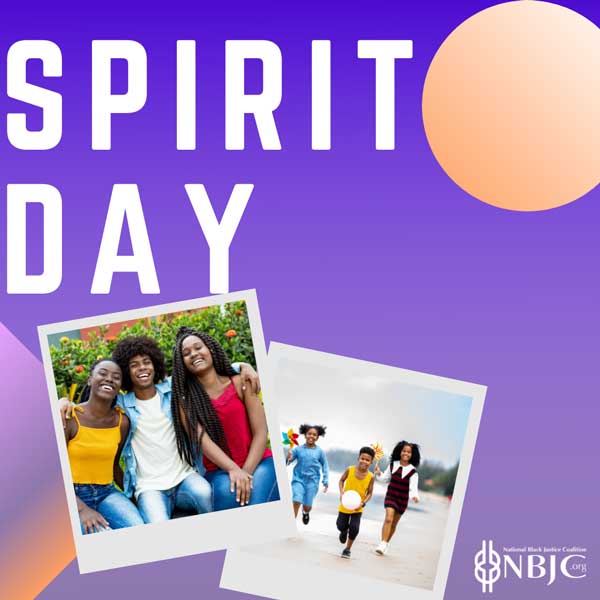 National Black Justice Coalition Commemorates Spirit Day
WASHINGTON, DC — Today, October 21, is SPIRIT Day, the world's most prominent and most visible LGBTQ+ anti-bullying campaign and awareness day. It is a day when millions of people wear purple to show their support for lesbian, gay, bisexual, transgender, queer+, and same-gender loving (LGBTQ+/SGL) youth and unite against bullying. The name "spirit day" and the color purple come from the Gilbert Baker Pride Flag, where the purple stripe represents the spirit of the LGBTQ+ community. 
Canadian teenager Brittany McMillan started sprit Day in response to a rash of widely publicized bullying-related suicides of gay students in 2010, including Tyler Clementi.
In commemoration of Spirit Day, David Johns, executive director of the National Black Justice Coalition, the nation's leading civil rights group at the intersection of Black and LGBTQ+ identities, issued the following statement: 
"LGBTQ+ youth disproportionately face bullying and harassment simply for being themselves. With over 80% of LGBTQ+ students facing harassment in the past year – this Spirit Day, we are reminded of the crucial and pressing work to end bullying."
Members of National Black Justice Coalition's Young Adult Advisory Council (YYAAC) released the following statements:
"Spirit Day recognizes the hardships LGBTQ+  youth often face and calls us to stand in solidarity with those of us who have been isolated because of our identities. I appreciate being a leader with NBJC because it allows me to engage with this isolation and trauma that Queer identified/SGL people face and provide just as much relief and care. This is why I am inviting people to read the toolkit and replicate this model of care in your own communities." – Justin Calhoun, member of NBJC's YYAAC
"Spirit day means freedom from adversity, from being targeted, and the ability for all of us to live our fullest and most genuine lives. NBJC has given me community and the ability to recognize that the power within me is beyond measure. On this Spirit Day, I encourage everyone to reach out to the young people in their lives, queer or not, because we all need someone, and you could be that someone." – Monet Umana, member of NBJC's YYAAC
"My invitation to people on Spirit Day is to reach out to the queer people you love and lift them up, give them their flowers, and let them know how much you care about them. Being queer, trans, and Black can be incredibly isolating—do what you can to counteract that feeling, and then take those practices forward with you—not just on Spirit Day but every day." – Sage Grace Dolan-Sandrino, member of NBJC's YYAAC 
The National Black Justice Coalition has put together a toolkit providing guidance around Spirit Day. The group also released a "Words Matter: Gender Justice Toolkit" last year to combat gender-based discrimination and violence, an LGBTQ/SGL Terminology Work Book, as well as a report on the crisis of Black youth and mental health in partnership with the Congressional Black Caucus Foundation.