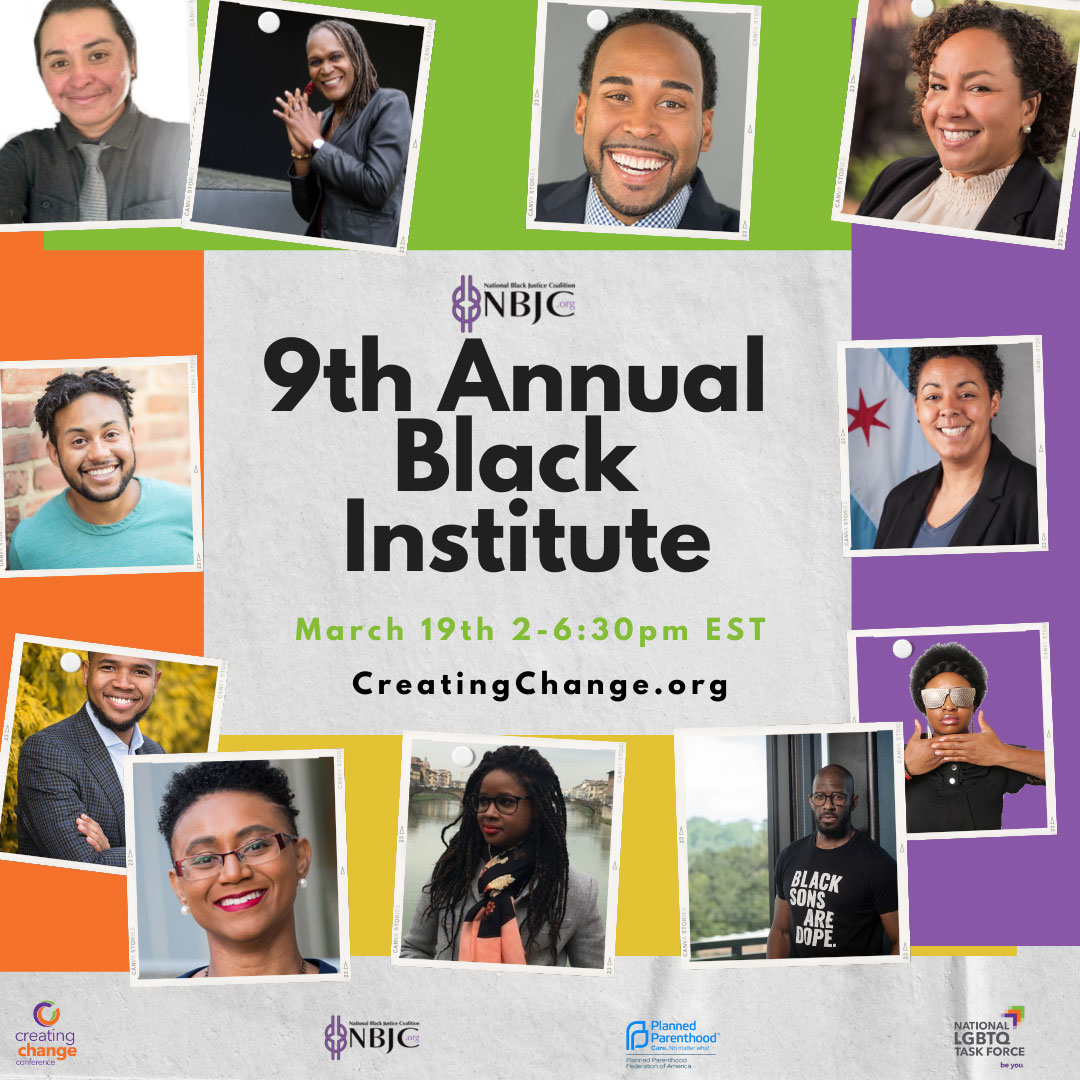 03/19/22 2 PM ET: Leading Civil Rights Group Hosts 9th Annual "Black Institute" at Creating Change Remixed Virtual Conference
"National Black Justice Coalition Features Black LGBTQ+ Elected Officials and Organizers Ahead of the 2022 Midterm Elections"
LOCATION: The Black Institute will take place on Saturday, March 19th, 2:00 – 6:30 pm EST, Virtually. You can register at www.creatingchange.org 
FOR PRESS, PLEASE RSVP by contacting Brett Abrams at brett@unbendablemedia.com.
FOR ATTENDEES AND PARTNERS, please register at http://creatingchange.org.  
SUMMARY: The Black Institute is a space for all Black LGBTQ+/SGL people to get balm, reflection, joy, movement building, skill-building, and shared knowledge designed to strengthen the national Black LGBTQIA+/SGL movement in the United States ahead of this year's midterm elections. This year's institute will be a space where new tools and models of healing, advocacy, and organizing are shared, birthed, and spread along with an in-depth session with Black LGBTQ+/SGL elected officials in NBJC's Good Trouble Network.
The panel featuring Black LGBTQ+/SGL elected officials will be moderated by former Mayor of Tallahassee and Florida's Democratic Party Gubernatorial Nominee Andrew Gillum and includes:
Andrea Jenkins, President of Minneapolis City Council
Gabriel Acevero, Maryland State Representative
Maria Hadden, City of Chicago Alderman
Shay Franco-Clausen, Santa Clara Valley Open Space Authority
AUDIENCE: Attendees will consist of Black Lesbian, Gay, Bisexual, Transgender, and Queer+/Same Gender Loving (LGBTQ+/SGL) activists, advocates, clergy, academics, artists, students, and parents from across the country.