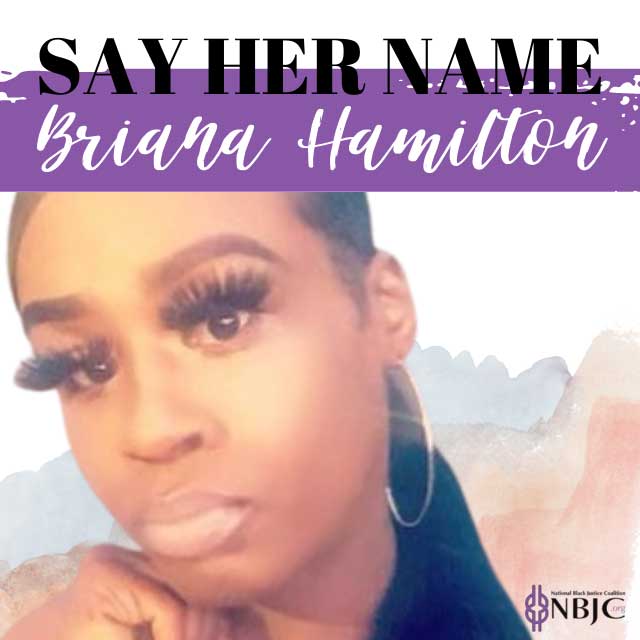 The National Black Justice Coalition Mourns the Death of Briana Hamilton 
CONTACT:
Anna Zuccaro | anna@unbendablemedia.com 
CHICAGO, IL– The National Black Justice Coalition (NBJC) mourns the loss of Briana Hamilton, a 25-year-old Black transgender woman. She was shot and killed in the Gresham neighborhood of Chicago, Illinois on September 17, 2021. Briana's mother said that she was an amazing person who "was loved by many" and "touched so many people's hearts with her presence." 
Briana was misgendered and dead named by news outlets reporting on her murder, which delayed community awareness and possibly the proper investigation. 
"I am deeply saddened to hear about the loss of Briana, to hear about another young trans life stolen" said Deputy Executive Director, Victoria Kirby York. "When will there be action taken to end this epidemic of violence? When will there be action taken to protect those in our community who are the most vulnerable? I am once again encouraging lawmakers to introduce and pass legislation that will work to protect the trans community and make their safety a priority. All of us can put pressure on lawmakers to ensure the work gets done and stand with our trans brothers, sisters, and nonbinary siblings. We can also advocate alongside trans people by fighting against the transphobia present in our communities and families, as it only further perpetuates the violence we see." 
Briana Hamilton is the 37th transgender, nonbinary, or gender-nonconforming person to be killed in 2021. A majority of those killed have been Black trans women. Briana is the fourth transgender woman to be killed in Chicago this year. 2021 is on track to surpass 2020 as the deadliest year on record for the trans, nonbinary, and gender-nonconforming community.    
Briana Hamilton's family has set up a go fund me to help cover funeral expenses, which you can donate to HERE. 
Learn more about reducing gender-based violence here and here. 
To learn more about changing local laws and increasing protections for trans and non-binary community members, look here. 
The NBJC Stolen Lives list of trans and non-binary individuals lost to violence and hate can be found here.