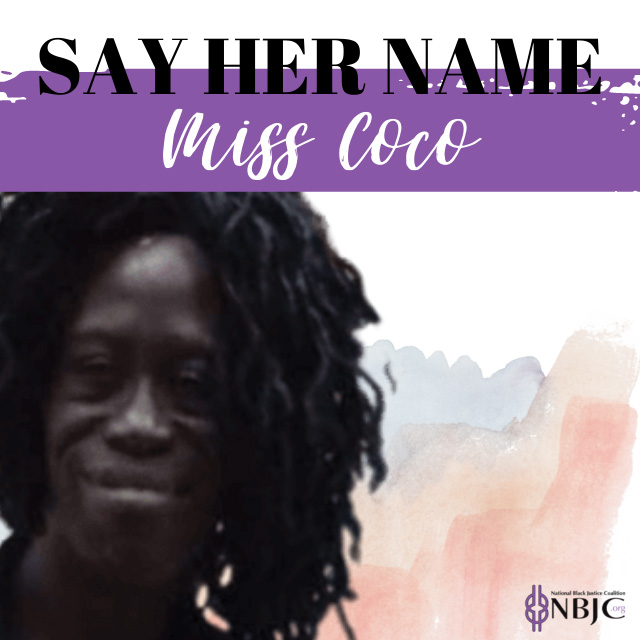 The National Black Justice Coalition Mourns the Death of Miss CoCo
DALLAS, TX– The National Black Justice Coalition (NBJC) mourns the death of Miss CoCo, a 44-year-old Black transgender woman. Miss CoCo was shot and killed at a homeless encampment in downtown Dallas on the night of August 7, 2021. She was often seen at encampment areas with others who experienced housing instability. Nu Trans Movement, Inc described Miss CoCo as a "happy person" with a "big, bubbly personality" who was "proud to be living her truth."
The suspect and motive, in this case, remain unclear, The Dallas Police Homicide Unit is currently investigating the death as a hate crime;however, gender identity is not a protected characteristic under the Texas hate crime law. 
"It is devastating that the epidemic of violence against trans people in this country persists," said NBJC Deputy Executive Director Victoria Kirby York. "Life after life has been stolen this year, but the problem is still being ignored. We can not accept the current violence as a norm. It is past time for lawmakers, law enforcement, and community members alike to take action on this issue, and start protecting the trans community. 
"This epidemic shows us the devastating effects of transphobia and how prevalent anti-trans beliefs remain in our country. We must examine the biases we hold that contribute to transphobia and push back against transphobia in every way possible, which includes fighting anti-trans legislation." 
Miss CoCo is one of 34 transgender or non-binary people to be killed in 2021, that we know of. A majority of those killed have been Black transgender women. 2021 is expected to surpass 2020 for the most trans people killed in one year. This year has also seen more than 120 anti-trans bills introduced across the country in state legislatures.  
Anyone with information on the death of Miss CoCo is asked to contact Detective Frank Serra at 214-671-4320 or frank.serra@dallascityhall.com, or Crime Stoppers at 214-373-8477. Please refer to the case number 141396-2021. 
Learn more about reducing gender-based violence here and here. 
To learn more about changing local laws and increasing protections for trans and non-binary community members, look here. 
The NBJC Stolen Lives list of trans and non-binary individuals lost to violence and hate can be found here.