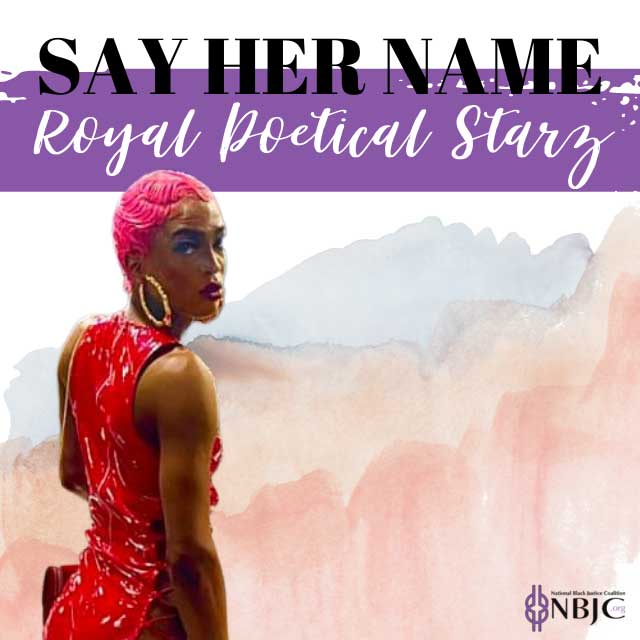 The National Black Justice Coalition Mourns the Death of Royal Poetical Starz 
CONTACT: Brett Abrams | brett@unbendablemedia.com 
MIAMI GARDENS, FL- The National Black Justice Coalition (NBJC) mourns the loss of Royal Poetical Starz, a 26-year-old Black transgender woman. Starz was shot and killed in her car in Miami Gardens, Florida, on October 2, 2021.  She has been described as having an "infectious smile and a bigger than life personality" that "brightened every room that she walked into" and as the type of person who "would go out of her way to help others when they needed it the most." Starz was a singer that produced many recordings.  
There was a delayed awareness about Starz being killed because the police misgendered and deadnamed her in their press release. There was also a lack of communication from police to the LGBTQ+/SGL community. 
"This week, we were already mourning the loss of one trans sibling, Mel Groves, and now we find out about another life stolen senselessly," said Deputy Executive Director Victoria Kirby York. "40 trans, nonbinary, or gender nonconforming lives have been stolen this year, and we still have over two months left in the year. This epidemic has taken too many lives and has been ignored for far too long. The trans community is hurting. We have to stand with them and work to ensure they have the protection they need. We have been and must continue to demand action from elected officials at all levels of government, law enforcement, and the media regarding the violence. We cannot sit by and let more people be murdered, especially when we have the power to do something about it."       
Royal is one of more than 40 transgender people killed in 2021, the majority identifying as Black transgender women like Starz. For context, Black transgender women are less than 0.8% of the Black community in the U.S. Sadly, 2021 is on track to surpass 2020 for the deadliest year on record for violence against the transgender, nonbinary, or gender-nonconforming community. These numbers and lack of action by our government mirrors the disproportionate deaths and inaction when it comes to the Black community as a whole. 
A GoFundMe has been set up to raise funds for Royal Poetical Starz funeral expenses, which you can donate to HERE. 
Learn more about reducing gender-based violence here and here. 
To learn more about changing local laws and increasing protections for trans and non-binary community members, look here. 
The NBJC Stolen Lives list of trans and non-binary individuals lost to violence and hate can be found here.