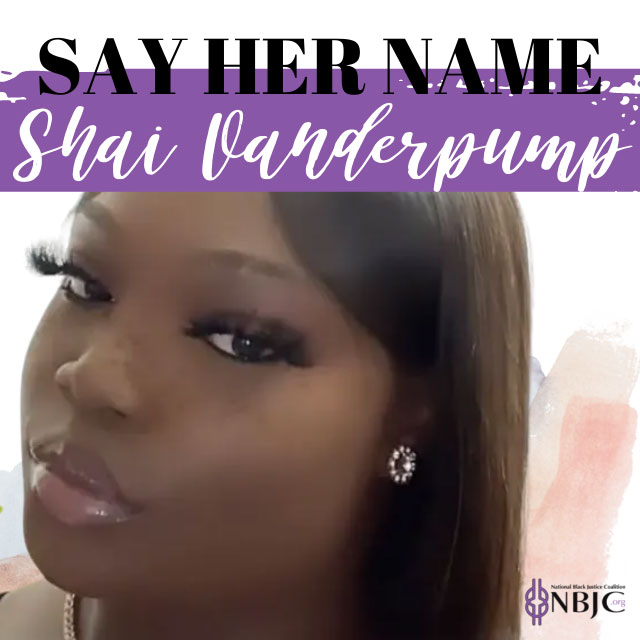 The National Black Justice Coalition Mourns the Death of Shai Vanderpump
CONTACT: Anna Zuccaro | anna@unbendablemedia.com 
Vanderpump is One of Thirty-Two Trans People Killed So Far in 2021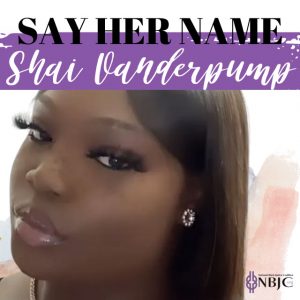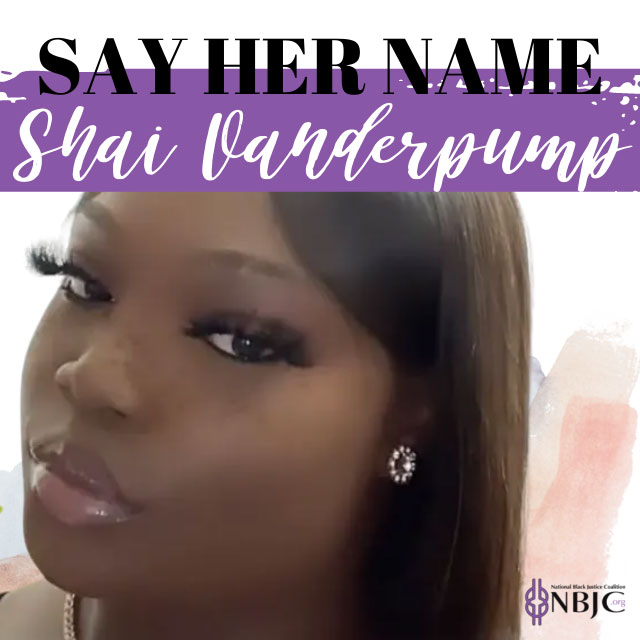 TRENTON, NJ– The National Black Justice Coalition (NBJC) mourns the death of Shai Vanderpump, a 23-year-old Black transgender woman. She was shot and killed on July 30, 2021, in Trenton, New Jersey. Shai was an LGBTQ+ advocate, described by loved ones as a beautiful person with a heart of gold. She was known for her style and love of family, and loved to "smile and see everyone happy and smiling." 
36-year-old, Daniel L. Smith, has been arrested and charged with her murder. 
"It is absolutely devastating to have another young, Black, transgender woman stolen from us too soon," said Victoria Kirby York, NBJC Deputy Executive Director. "This epidemic of violence has continued for far too long, without enough action being taken to address it and protect the lives of some of the most vulnerable in our community. What we have seen are attacks on the community in the form of anti-trans legislation across the country, that does nothing more than further the discrimination and oppression the trans community already faces."
According to NBJC, Shai Vanderpump is the 32nd trans person to be killed in 2021. A majority of those killed this year have been Black transgender women. 
"We all must fight to protect the trans community and work to end this epidemic. Legislation needs to be codified to help prevent violence and prioritize the safety of the trans community.  All of us have to fight against the transphobia and misogyny that fuels this violence and stigma, that is present and too often accepted in our communities," added Kirby York.   
The Mercer County Prosecutor's Office is currently investigating if there was a potential bias motivation in this case. Those with information are asked to call Detective Dave Petelle at 609-989-6406 or email mchtftips@mercercounty.org. 
Learn more about reducing gender-based violence here and here. 
To learn more about changing local laws and increasing protections for trans and non-binary community members, look here. 
The NBJC Stolen Lives list of trans and non-binary individuals lost to violence and hate can be found here.