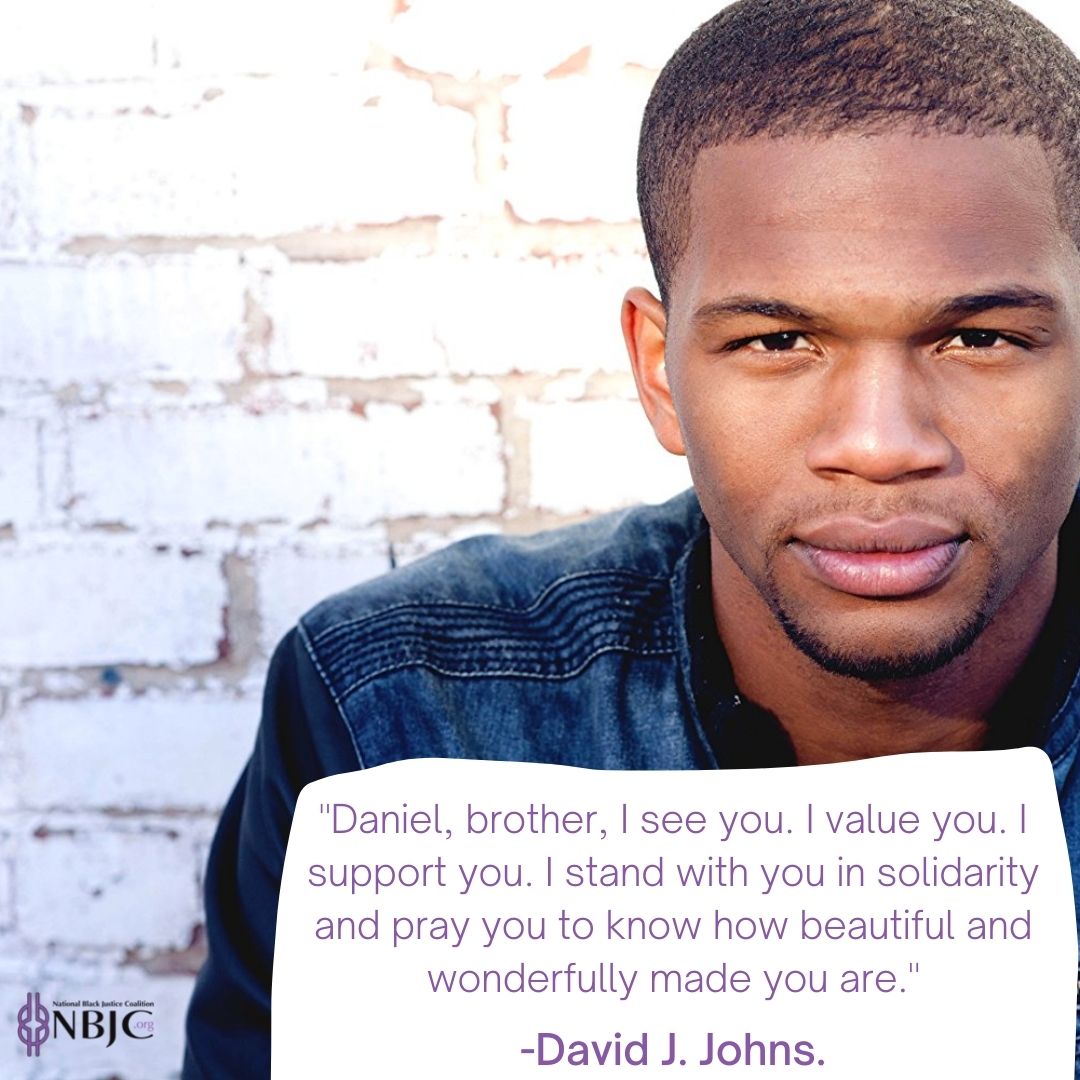 The National Black Justice Coalition Supports Daniel Lee Bellomy
The National Black Justice Coalition (NBJC) stands in solidarity with actor and recording artist Daniel Lee Bellomy after being asked invasive questions about his dating life and sexuality. While appearing on a podcast, Bellomy was repeatedly questioned about his dating life and pressured to reveal how he identified and labeled himself. After some time of questioning, Bellomy asserted to the podcast host he was not going to talk about his sex life. 
"Few people will know the public pressure of having to explain or justify who you are and how you show up in the world, including in love. Even fewer will know what it's like to be pressured to "Invite In," in the face of ignorant, uninformed, clout chasers who haven't interrogated their own privilege," said Executive Director David J. Johns. "Daniel Lee Bellomy should have the freedom and support to live and love in ways that make him feel seen, safe, and valued. We should want the same for everyone.
"Shame on the bully pretending to be a journalist who demonstrated a wanton disregard for Daniel and a flagrant inability to conduct a civil interview. Shame on his sidekick, who sat and watched the exchange silently. Shame on the comment thugs who think bandwagon queer shaming is cool—it has never been. Daniel, brother, I see you. I value you. I support you. I stand with you in solidarity and pray you know how beautiful and wonderfully made you are," added Johns. 
NBJC's "Inviting In" campaign disrupts traditional power dynamics that don't center the lived experiences of lesbian, gay, bisexual, transgender, queer+, and same-gender loving (LGBTQ+/SGL)  people and reminds us no one is entitled to information about the lived experiences of others. Instead of being expected to come out, our community members might invite in people who have proven themself to be trustworthy, compassionate, and understanding by sharing parts of themselves that are important. 
Learn more about "Inviting In" by downloading NBJC's "Inviting In" Toolkit HERE.