The National Black Justice Coalition Mourns the Death of Bianca "Muffin" Bankz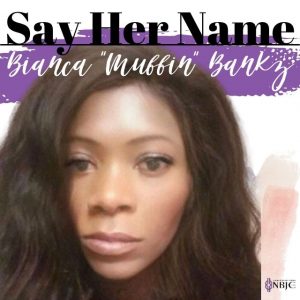 WASHINGTON, DC — The National Black Justice Coalition (NBJC) mourns the tragic loss of Bianca Bankz.
Bianca Bankz, affectionately called "Muffin," was found dead in her Atlanta apartment on January 17, 2021. Bankz, a 30-year-old Black transgender woman, had just moved into her new apartment before being killed, by a man, inside her home. When the authorities were called, they found the bodies of Bankz and her killer both dead from gunshot wounds. The Atlanta Police Department ruled the tragedy a murder-suicide, with the man who killed Bankz shooting her first before turning the gun on himself. 
"Not only are we in danger in public, but we can't even feel safe in our homes," said Sage Dolan-Sandrino, NBJC Monica Roberts Fellow.  "As a young Afro-Cuban trans and queer woman I often wonder what allows me to stay alive.  I've been the victim of numerous trans-related crimes and expressions of violence. 
"When I was 15 years old, I was physically and verbally attacked in front of a crowd of  20 laughing classmates. At just 13, I was attacked, along with a  fellow trans sister,  while walking home at night. I fear for my safety every time I leave the house. Reading about the stolen lives of my siblings affirms my fear.  Bianca's murder is indicative of the hate and disregard that so many people have for trans lives — hate that has been normalized. 
"It should be lost on no one that there is so much work that we need to do to address the many layers of transphobia that impact our community.  Not only did Bankz' attacker murder her, after entering her home, but he also chose to take his life. This trauma and tragedy that is disproportionately experienced in our community must end." 
The Trans Housing Coalition, which helped Bankz secure her first apartment, held a vigil in her honor on Friday, January 29.  The vigil drew a large crowd of friends and chosen family who gathered to remember a well-loved woman, known for her love for makeup and blueberry muffins. 
Jesse Pratt Lopez, the founder and co-director of the Trans Housing Coalition, spoke at the vigil saying, "Trans lives are sacred. We're not a fetish and we're not disposable. We are culture creators, fashion designers. We are makeup artists. We're each other's mothers and sisters." Lopez continued, "the epidemic of violence against trans women, especially Black and Brown trans women, must end… Black trans women matter, period." 
You can engage directly with the Trans Housing Coalition here.  To learn how to reduce gender based violence, look here.
The NBJC Stolen Lives list of those lost to violence and hate can be found here.
Contact: Cabot Petoia, 828-899-9239, clpetoia@gmail.com