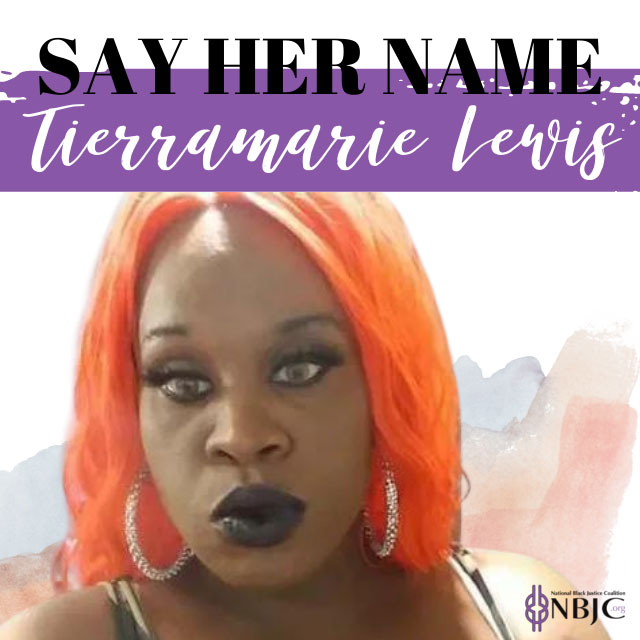 The National Black Justice Coalition Mourns the Death of Tierramarie Lewis
CONTACT: Anna Zuccaro | anna@unbendablemedia.com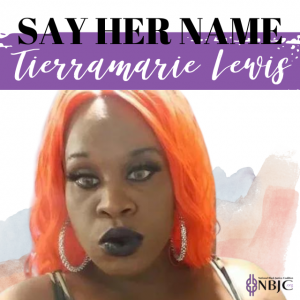 CLEVELAND, OH — The National Black Justice Coalition (NBJC) mourns the stolen life of Tierramarie Lewis, a 36-year-old Black transgender woman. Tierramarie was shot and killed in Cleveland, Ohio on June 12, 2021. She was misgendered and deadnamed in police reports. Local media barely covered the case, which led to a lack of public awareness surrounding her death. 
Tierramarie moved to Cleveland last year seeking treatment programs for addiction and employment outside of sex work. She was a member of the Trans Wellness group at the LGBT Community Center of Greater Cleveland. Loved ones and employees at the center said Tierramarie was a "spirited girl" who "shined such a light" and "only gave kindness."
A remembrance event will be held on Thursday, August 12, 2021, in Tierramarie's honor. 
Duane Lunsford, a 25-year-old from Cleveland, has been arrested and charged in this case with aggravated murder and felonious assault. 
"Too many Black trans women have had their lives stolen senselessly this year, and yet almost nothing has been done to stop this violence, so it continues," said Victoria Kirby York, Deputy Executive Director of NBJC.
"Ending the epidemic of violence against the trans community and holding those who commit these crimes accountable should be a top priority for all lawmakers, police officers, state attorneys, and community members. 
"Elected officials should codify legislation that prioritizes the physical safety of trans people rather than arguing over the merits of legislation that further marginalizes and alienates the trans community." 
Tierramarie Lewis is one of 33 transgender or non-binary persons killed in 2021 on record. A significant majority of those killed were Black transgender women. 
NBJC continues to call on Congress, state, and local governments to introduce and pass legislation in honor of TransGriot's Monica Roberts that would fund mandatory training on culturally competent, results-oriented investigations that lead to solving crimes efficiently while preventing more deaths from happening in the first place. 
NBJC also calls on state governments to make it easier for transgender and nonbinary people to be able to legally change their names and sex – including a third sex option such as 'x' –  on state identifications. Adding a line for gender on state identification with man, woman, transgender, and non binary as options would also be meaningful. These actions would decrease the misgendering and deadnaming in police and media reports, which facilitates unsolved investigations, which, in turn, emboldens future killers.
Learn more about reducing gender-based violence here and here.
To learn more about changing local laws and increasing protections for trans and non-binary community members, look here. 
The NBJC Stolen Lives list of trans and non-binary individuals lost to violence and hate can be found here.