The National Black Justice Coalition Mourns the Loss of Tiffany Thomas
Thomas is one of at least 23 transgender people killed in 2021
CONTACT: Anna Zuccaro | anna@unbendablemedia.com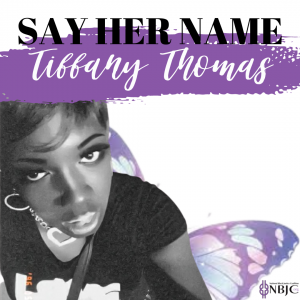 DALLAS, TX  — The National Black Justice Coalition (NBJC) mourns the death of Tiffany Thomas, a 38-year-old Black transgender woman. Thomas was found shot to death early in the morning on April 24, 2021, at a car wash in Dallas, Texas. Loved ones described her as funny, stylish and having a big heart. Dallas police and news organizations have deadnamed and misgendered Thomas, which could have negative implications on the investigation and conviction of the perpetrator of the crime.    
"For too long members of the trans, non-binary, intersex, and gender-nonconforming community have been the target of violence, discrimination, and oppression simply for living their lives as their authentic selves," said Deputy Executive Director of the National Black Justice Coalition, Victoria Kirby York. "This epidemic of violence must stop. Transphobia, transmisogyny, and misogynoir are pervasive in our country and why we continue to see trans lives cut short. Everyone from elected officials, to media outlets, law enforcement, and community members need to take action. We need legislation that will protect the trans community from discrimination, and ensure investigations into any suspected hate crimes and related deaths, We need policies and training that will prevent the misgendering and deadnaming of trans murder victims. 
"Too often, police departments fail to investigate hate and domestic violence related murders of transgender women. This does Tiffany, her family, and friends a massive disservice. As we grieve Tiffany's memory and extend our deepest condolences to her loved ones, we demand that our government acknowledge this moment and take action immediately."
According to NBJC, Thomas is the 20th transgender individual and 14th Black trans woman to be killed in 2021 in just four months. This disproportionate number of deaths warrants urgent attention from the highest level of the federal government, state governments, and from local community leaders.    
The Dallas Police are currently investigating Tiffany Thomas' death as a homicide and are asking anyone with information on the case to contact the police at 469-475-6004 or Crime Stoppers at 214-373-8477. 
To learn how to reduce gender based violence, look here and here. 
To learn more about changing your local laws to increase protections for trans and non-binary community members, look here. 
The NBJC Stolen Lives list of trans and non-binary siblings lost to violence and hate can be found here.