National Black Justice Coalition and Cartoon Network Launch Gender Identity Comic Strip Celebrating Gender Diversity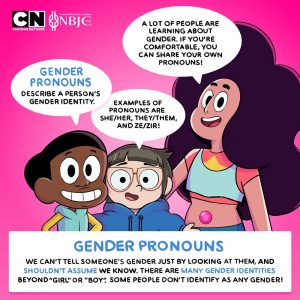 Contact:
Cabot Petoia, 828-899-9239, cabot@megaphonestrategies.com
Shai Vaz, 347-266-2561, shai@megaphonestrategies.com
WASHINGTON, DC—The National Black Justice Coalition (NBJC) is excited to announce the latest installment in its ongoing collaboration with Cartoon Network. On Monday, December 14, Cartoon Network released a comic strip highlighting the power and importance of respecting gender identity through the use of gender pronouns. The comic was designed by members of the NBJC Youth and Young Adult Action Council (YYAAC) with artist Steven Lowe (@steeeeevn), a team of talented creators from Cartoon Network Studios, and leadership from NBJC's director of education programs and research, Dr. Kia Darling-Hammond.
This collaboration grew out of Cartoon Network's commitment to meaningfully engage with organizations serving the LGBTQ+/SGL community and is a part of the network's continued support for NBJC.
On December 1, Gallery Nucleus launched an online art show benefiting NBJC that features art centered around community. Created by Cartoon Network Studios and Warner Bros. Animation artists, the artwork can be purchased through December 31.
Roughly 150,000 teenagers identify as transgender in the United States, and an as-yet-uncounted number of children as young as three years old are transgender or gender nonconforming, as well. In fact, each year the number of self-identifying transgender people grows, suggesting that the more accepting society becomes, the easier it is for people to be their whole selves unapologetically. In light of this trend, this new comic strip is timely and important in its ability to increase awareness about pronouns and how to use them.
"At the heart of our work at NBJC is affirmation of the dignity and beauty of our Black transgender, gender nonconforming, nonbinary and other gender-expansive siblings," said Dr. Kia Darling-Hammond, NBJC's director of education programs and research. "This comic strip advances our goals by showing what it looks like to treat people with respect, while finding a sense of common humanity. Our hope is that this strip's audience, of all ages and backgrounds, will feel inspired to begin volunteering their own gender pronouns, respect those of others, and normalize awareness of the existence of people across the gender universe. We believe that recognizing and celebrating gender expansiveness will move us closer to a world where we can all be healthy, happy, and whole."
Sage Grace Dolan-Sandrino, one of three of NBJC's YYAAC members who worked on the project, says that "Visibility and representation on a wide scale is exactly what we need to ensure the safety and appreciation of our queer youth. For many of us, seeing ourselves reflected in fictional worlds allows us to envision a place for ourselves in the real world. Cartoon Network's partnership with NBJC will play an integral role in saving and improving the lives of young queer kids across not only the nation, but the world."
NBJC's YYAAC member Tyler Miles adds that "Part of the excitement of this project is that we are engaging a topic that young people almost always have experience with, but don't often have the space to discuss. Whether these youth identify as transgender, gender nonconforming, cis, or the multitude of identities therein, this comic is a radical act of trust and care to reach all youth who are beginning to, or have already, thought critically about gender. They are heard, they are seen, they are accepted, and they are loved."
"This comic was created to embrace and acknowledge the role of selfhood and inclusion." says NBJC's YYAAC member Justin Calhoun. "This partnership between NBJC and Cartoon Network is an act of visibility that centers the needs of queer youth to ensure that they are not only accepted, but also thriving!"
NBJC is proud of what we have accomplished together, with Cartoon Network and other creatives, and are excited for young people to see themselves reflected in this work. Join feature characters Craig, Chloe, and Stevonnie as they meet new friends Kam and Alex while learning about gender, respect, and belonging.