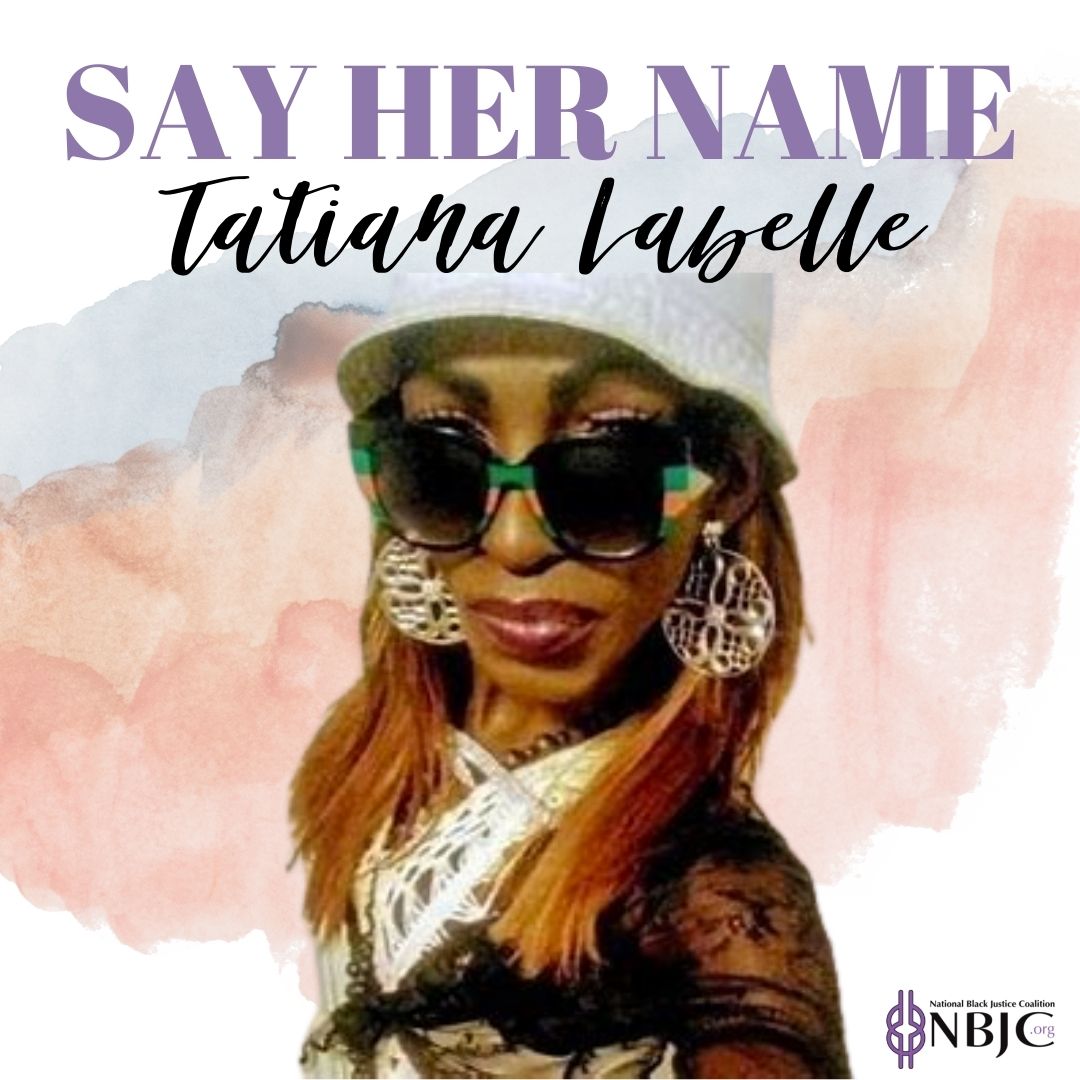 The National Black Justice Coalition Mourns the Death of Tatiana Labelle 
CHICAGO, ILLINOIS – The National Black Justice Coalition (NBJC) mourns the murder of Tatiana "Tee Tee"  Labelle, a 33-year-old Black transgender woman from Chicago, Illinois.  She was last seen alive on March 13, 2022, on the south side of the city, and on Friday, March 18th, she was found dead in someone's trash can. Her death has been ruled a homicide, and it has been determined that she was beaten to death.  
Tatiana's sister said that "it is heartbreaking for someone to beat her to death and throw her in the trash like she was garbage" and that she loved her sister and would like for her and her family to have justice. 
Victoria Kirby York, Deputy Executive Director at the National Black Justice Coalition, issued the following statement: 
"I am deeply saddened by the news of the loss of another one of our sisters. Especially when it comes shortly after we learned of the death of another sister near Chicago, trans activist Elise Mallary, this is extremely concerning. I call on law enforcement in the city to swiftly solve both deaths, hold those responsible accountable, and show the trans community in the city that they are seen and will be protected." 
"As I have noted repeatedly, action must be taken to end this epidemic of violence. Our trans, nonbinary, and gender-nonconforming siblings are screaming for help. Communities across the nation must work to end the transphobia and misogynoir that leads to fatalistic violence and inaction. We must prevent this year from being another record-breaking year for violence against the community.." 
Labelle is at least the 8th transgender person to be found dead in 2022, with the majority identifying as Black transgender women, despite representing less than 0.8% of the Black community nationally. 
Chicago police have security video of the area where Labelle's body was found, but no arrests have been made. Contact the Chicago Police Department at 312-746-6000 to ensure accountability in the death of Tatiana Labelle. 
Learn more about reducing gender-based violence here and here. 
 Look here to learn more about changing local laws and increasing protections for trans and non-binary community members. 
The NBJC Stolen Lives list of trans and non-binary individuals lost to violence and hate can be found here.