THE NATIONAL BLACK JUSTICE COALITION ANNOUNCES INAUGURAL MONICA ROBERTS FELLOWSHIP FOR BLACK TRANS LEADERS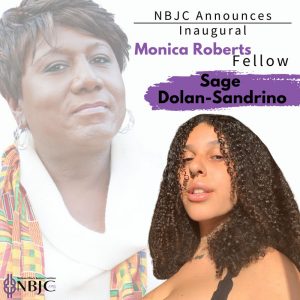 WASHINGTON, DC — The National Black Justice Coalition (NBJC) announces its inaugural fellow named in honor of the iconic activist, writer, and Trans Griot, Monica Roberts. 
The National Black Justice Coalition is excited to welcome Sage Dolan-Sandrino as our inaugural Monica Roberts Fellow. Sage is an Afro-Cuban trans artist, photographer, creative, and activist whose transition in early adolescence was met by resistance from her school administrators. Undaunted, Sage chose to live in her truth and to become an outspoken advocate for other lesbian, gay, bisexual, transgender, queer+, and same gender loving (LGBTQ+/SGL) youth. She has since founded a digital zine, TEAM MAG, which showcases the works of other creatives of color in the LGBTQ+/SGL community, and become a national ambassador for intersectional social justice. 
An accomplished innovator, Dolan-Sandrino was among Teen Vogue's 20 under 20 list and part of BET's Future 40 list for 2020. In 2019, she was named the Kennedy Center for Performing Arts' inaugural Social Practice artist. She has experience on President Barack Obama's White House Advisory Council for Transgender Youth, the Advisory Board of Gucci's "Chime for Change" campaign, The NBJC Black Trans Advisory Board, and its Youth and Young Adult Action Council, as well.
"Sage both embodies and enacts Monica Roberts' commitment to celebrate, highlight, and honor the lives of gender nonconforming, nonbinary, and trans people," said Dr. Kia Darling-Hammond, director of education programs and research at the National Black Justice Coalition. "Sage's dedication to seeking and amplifying stories that would otherwise be overlooked, her refusal to let trans death go unremarked or misrepresented, and her insistence that we see the community in its vibrant fullness is powerful. We are tremendously excited to welcome Sage to our team."
Monica Roberts was a trailblazing transgender activist, writer, and founder of the award-winning publication, TransGriot. TransGriot highlighted the accomplishments, hardships, and histories of the trans community. Born in Houston, Texas on May 4, 1962, Roberts began to transition in the early 1990s while working as a flight attendant and writing an LGBT column in Louisville, KY. Roberts' extensive and groundbreaking work for the trans community made her an LGBTQ+/SGL icon. Roberts was a founding member of the National Transgender Advocacy Coalition, recipient of the coveted Human Rights Campaign John Walzel Equality Award, the Susan J. Hyde Award for Longevity in the Movement, and the Virginia Price Pioneer Award. Roberts passed away on October 5, 2020, due to complications from a pulmonary embolism. Her work and legacy have changed the world. Journalism will never be the same, and neither will we. NBJC is dedicated to helping her work live on through this eponymous fellowship.
Dolan-Sandrino will begin her fellowship work with NBJC on February 1, 2021, advancing its advocacy, communications, and community work. For more information about NBJC's programs and resources, please visit nbjc.org. 
###
For Immediate Release: Friday, January 29, 2021 
Contact: Cabot Petoia, clpetoia@gmail.com, 828-899-9239