The National Black Justice Coalition Grieves the Death of Aidelen Evans
Aidelen Evans is the Thirteenth Known Transgender Person Murdered This Year
CONTACT: Anna Zuccaro | anna@unbendablemedia.com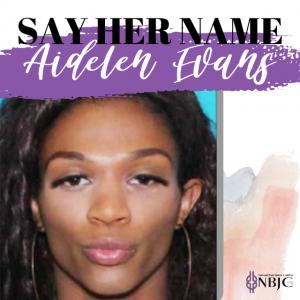 Port Arthur, Texas– On March 18th, 2021, Aidelen Evans, a 24-year-old Black transgender woman, was found dead in a canal near Savannah Avenue in Port Arthur, Texas. Due to police and news reporters' misgendering her, Evans' death remained unknown to the community until March 27th. Evans was also unhoused, which limited the investigation. Community official Dee Dee Waters and other members of the local community have gathered to celebrate Evan's life and mourn her death. Police are still unsure of her cause of death. 
Victoria Kirby York, Deputy Executive Director of the National Black Justice Coalition responded,
"We grieve the loss of Aidelen Evan's life. She was young with what should have been decades of life ahead of her. Time after time, local law enforcement and subsequently news reporters take away the opportunity for loved ones and community members to be able to bury their loved ones with dignity after experiencing some of the most horrific ways to die. 
"We demand that those who took jobs to protect and inform the public do so for everyone – regardless of their chosen name and despite their legal name. In order to do this, we need state officials to make it easier for transgender and non-binary people to change their names and gender markers on their license/state identification cards. Additionally, Aidelen was one of the many members of our community experiencing homelessness – another factor that likely resulted in her dehumanizing treatment in life and in death. Our leaders must do better.  Our communities must do better." 
Evans is the 8th Black Transgender woman killed this year, a 400% increase from this time in 2020. Moreover, the thirteen total deaths thus far in 2021 are more than double 2020's rate at this time. According to NBJC's Stolen Lives List, 2020 was the deadliest year on record for the transgender and nonbinary community. 
Police are offering up to $1000 for anonymous tips and information that lead to solving the case. Call 833-TIPS (8477) or text "BMT" followed by your tip information to CRIMES (274637) from your mobile phone.
To learn how to reduce gender-based violence, look here and here. 
To learn more about changing your local laws to increase protections for trans and nonbinary community members, look here. 
The NBJC Stolen Lives list of trans and nonbinary siblings lost to violence and hate can be found here.