The National Black Justice Coalition Grieves the Death of Kyree Sanders 
Kyree Sanders is the Eleventh Transgender Person Murdered in the US This Year; 2021 is on Track to Be the Deadliest Year on Record for Trans People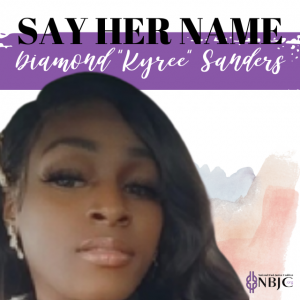 The National Black Justice Coalition (NBJC) mourns the death of 23-year-old Black trans woman Kyree Sanders (who was known to some as Diamond). Kyree was shot early in the morning on March 3, 2021, in Clifton, Ohio near the Clifton Colony Apartments. She was taken to the hospital for her injuries but later died. The police are currently investigating the shooting but have not said if they have any suspects or leads. 
"We should not have to keep track of Black trans people whose lives are stolen–period.  Instead we should be giving them their flowers–celebrating their many contributions to the culture, our community and the country.  Since we don't have that luxury we try to keep a tally it is never lost on me that last year, 2020, was the deadliest year on record when thinking about the stolen lives of Black trans members of our community, in part because this year we're on track to outpace last year's loss," said David J. Johns, executive director of the National Black Justice Coalition. "Much more must be done to stop the violence that Black trans and gender-non conforming members of our community are experiencing, NOW!"  
Sanders is the tenth known transgender person to face a violent death in 2021. Nine out of the ten people killed this year have been Black or Latinx and eight out of ten of the victims have been transgender women. Kyree is also yet another example of gun violence against a member of the trans community. The high number of deaths this early in the year prove that not enough is being done to protect members of the trans community from violence and oppression. Those in positions of power at the local, state and federal level must work to pass legislation that will protect members of the trans, nonbinary and gender-nonconforming community and work to end the epidemic of violence that has continued for far too long. 
Anyone with information on the death of Kyree Sanders is asked to call The Cincinnati Police Department Homicide Unit at 531-352-3542.  
Learn more about how to reduce gender based violence here and here. 
Learn more about advocating for local policy changes here.
View the NBJC Stolen Lives list of the TGNC community lost to violence and hate here.