The National Black Justice Coalition Honors National Black HIV/AIDS Awareness Day; Releases Toolkit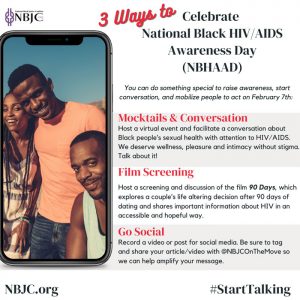 WASHINGTON, DC — Ahead of National Black HIV/AIDS Awareness Day (NBHAAD) on February 7, the National Black Justice Coalition (NBJC) has released a toolkit that includes information about testing, treatment, and tips for reducing the stigma that surrounds HIV/AIDS.
Observed annually on February 7th, NBHAAD aims to address the disproportionate impact of HIV/AIDS in the Black community.  According to the Center for Disease Control, the Black community has been disproportionately impacted by the epidemic since it was introduced in the late 1980s.  
In spite of the medical, scientific, and social advancements in HIV/AIDS management and mitigation, Black people still account for the highest proportion of Americans living with HIV, receiving new HIV diagnoses, and being diagnosed with AIDS, each year. In 2018, Black people accounted for 42% of new HIV diagnoses while being less than 13% of the total population in the US and dependent areas.  The number of Black cis women living with HIV is the highest among cisgender women of all races/ethnicities. 
"This Black History Month follows a significant shift in political leadership that we hope will lead to a renewed focus on ending HIV transmission, increasing support for people living with HIV, and reducing stigma," says David J. Johns, executive director of the National Black Justice Coalition. "National Black HIV/AIDS Awareness Day (NBHAAD) is an opportunity for Black people — and those who profess to love us — to recommit to addressing the disproportionate impact that HIV/AIDS continues to have throughout diverse Black communities. 
"We hope this toolkit will help everyone participate in this critically important effort.  We know that coordinated and concerned efforts to address a crisis make meaningful breakthroughs in democratized health care possible, we're witnessing in the response to the novel coronavirus.  This NBHAAD my hope is we celebrate Black History Month by committing to doing things that we know will dramatically improve lived experiences and life outcomes for all Black lives."
NBJC's National Black HIV/AIDS Awareness Day toolkit includes guidance on ways to start conversations about HIV/AIDS, including the use of social media, hosting events like a "Mocktails & Conversation" chat, hosting a screening of the film 90 Days, and even writing an article or an OpEd. It also includes shareable facts about how HIV/AIDS affects Black communities, as well as medications that help curb the virus' effects and transmission. Finally, it encourages readers to prioritize their holistic health, which includes sexual health, stating "we all deserve pleasure and intimacy without stigma" and "you deserve to be well."
Find free testing sites and information about PrEP, PEP, and condoms here and learn more by reading the NBJC NBHAAD toolkit. Social media graphics for NBHAAD can be downloaded here.