The National Black Justice Coalition Mourns the Death of Dominique Jackson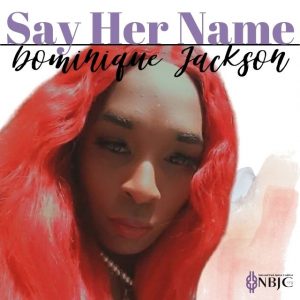 WASHINGTON, DC — The National Black Justice Coalition (NBJC) mourns the loss of Dominique Jackson.
Dominique Jackson, a 30-year-old Black transgender woman, was found dead inside her car on January 25, 2021. Jackson had crashed into a utility pole after being shot on Rose Street in Jackson, Mississippi. A search for Jackson began when Jackson's Aunt, Madison King, made a Facebook post saying that Jackson had been missing for three days.
A beacon in her community, Jackson is noted as the Mother of the Hause of Redd and founder of The Ladi Redd, Inc. She is remembered by her friends and family as a vibrant, confident, and resilient woman poised for success. After Jackson was announced dead, King made a statement, via Facebook saying, "get your rest now for your hands have served their purpose in this life and I will always love and miss you my niece, my baby."  
"The loss of Black trans lives continues to break my heart," said Sage Dolan-Sandrino, NBJC Monica Roberts Fellow.  "Every week we lose another sibling to senseless violence. In vile attempts to increase their proximity to cis-normative and white-supremacist norms, our attackers and murderers subject us to unimaginable harm. Dominique was a mother, a sister, a leader, and a necessity to our community." 
"Although I never met Dominique, I am sure she was exactly who I needed when I was young and transitioning–a light source, an example of who I could become, proof that there was a future for me. Trans women have fought for EVERYONE throughout history, yet we are still being murdered by the same people who we liberated. We give our lives in ways no one should ever be expected to, only to be met with constant hate, discimniation, violence, and disenfranchisement.  Trans women deserve better. There is a war on our lives at hand and no one is sending soldiers to our aid."    
This tragedy makes Jackson the fourth known trans person killed in 2021, the second Black trans woman killed in 2021, and the 11th homicide in Jackson, Mississippi thus far, this year.  The epidemic of trans death continues, and it is up to members of our community, as well as elected and appointed leaders, to ensure that there are legislative protections and social practices that will end the epidemic of violence that disproportionately impacts Black trans people, especially women.  Each of us has the opportunity to fight the transphobia and to ensure that every environment is welcoming, affirming, and nurturing of rights of trans, non-binary and gender-nonconforming people.  
At this time, there are no suspects.  Community members are encouraged to call Crime Stoppers at 601-355-TIPS(8477) with any pertinent information regarding the case.
To learn how to reduce gender based violence, look here.
The NBJC Stolen Lives list of those lost to violence and hate can be found here.
Contact: Cabot Petoia, 828-899-9239, clpetoia@gmail.com