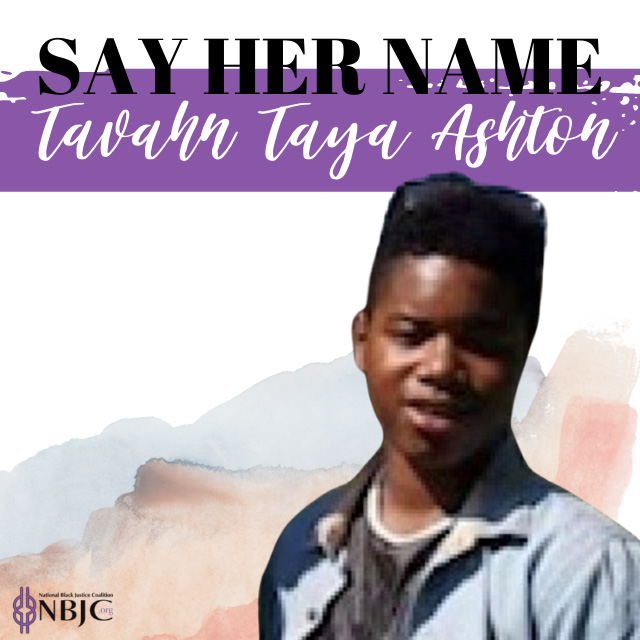 The National Black Justice Coalition Mourns the Death of Tavahn Ashton
SUITLAND, MD – The National Black Justice Coalition (NBJC) mourns the loss of Tavahn Ashton, a 20-year-old Black transgender woman. Known as Taya by friends and loved ones, Ashton was shot and killed in her apartment on Saturday, July 17, 2021. 
Although motives for the shooting are currently unknown, police do not believe that Ashton's killing was random and are searching for a suspect. 
This Wednesday, July 21, friends, family, and community members will hold a vigil and release balloons in Taya Ashton's honor.
"It is disheartening to see the life of another Black transgender woman stolen from us too early and without any reasonable explanation. At just 20 years young, Taya Ashton was just beginning her life," said NBJC's Executive Director, David J. Johns. "Not enough has been done to address the epidemic of violence facing the transgender community. In fact, there have been more policy attacks and physical incidents of violence in recent months.  Like Ashton, most Black trans women victims have been killed by a firearm–a problem we have yet to address through policy or in practice. 
"We must fight to pass legislation that expands safety, prevents violence, and provides the trans community with the justice they deserve–including accountability in moments like this. We must also fight to eliminate the transphobia that is too often tolerated or used as an excuse for bias, stigma, and hate crimes.  Each of us has to answer the call to ensure our trans siblings can live in a world without fear of being a victim of this epidemic. The question is what are we going to do?" 
According to NBJC, Taya Ashton is at least the 31st transgender or non-binary person to be killed, that we know of, in 2021. The majority of those murdered this year have been Black transgender women. 
The Prince George County Police Department is asking anyone with information on the death of Tavahn Ashton to call 301-516-2512, or if they wish to remain anonymous, contact Crime Solvers at 1-866-411-TIPS or online at www.pgcrimesolvers.com. 
Learn more about reducing gender-based violence here and here. 
To learn more about changing local laws and increasing protections for trans and non-binary community members, look here. 
The NBJC Stolen Lives list of trans and non-binary individuals lost to violence and hate can be found here. 
# # # 
FOR IMMEDIATE RELEASE: Monday, July 19, 2021
CONTACT: Anna Zuccaro | anna@unbendablemedia.com