The National Black Justice Coalition Mourns the Loss of Samuel Edmund Damián Valentín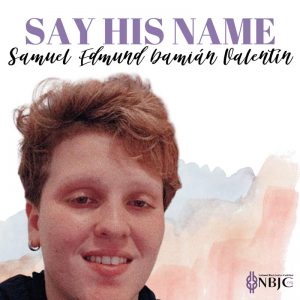 WASHINGTON, DC — The National Black Justice Coalition (NBJC) is deeply saddened to learn of the death of Samuel Edmund Damián Valentín.
Samuel Edmund Damián Valentín, a transgender man, was found dead on a highway in Trujillo Alto, Puerto Rico about five miles from San Juan, PR on January 9. When a motorist discovered his body, it was clear that he had been shot several times. 
Valentín, who just turned 21 years old in November, leaves behind several friends and family who have begun to fill his social media pages with messages of love and calls for justice. 
"At just 21 years young, Samuel was barely beginning his life. He should be with his loved ones, pursuing joy while getting on with the business of building his future," said NBJC's Executive Director, David J. Johns. "Even in death, Samuel has been subjected to the violence of a society that fails to make space for the fullness, beauty, and diversity of trans life. Each of us has to answer the call to change society, to expand safety, to prevent the violent theft of another one of our trans siblings."
An investigation into Valentin's death is still ongoing, but reports made by the local police have consistently misgendered Valentín. In an interview with Primera Hora, Puerto Rico Para Tod@s' spokesperson Pedro Julio Serrano explained the history of Law Enforcement and misgendering of victims. "One of the most serious problems we have with the Police and the Department of Justice is that they do not identify LGBTQ + people in their incident reports. 
"Almost every time an LGBTQ + person is murdered, it is the community itself that identifies them. The police and Justice fail to comply with their protocols and it even seems that they want to ignore, make invisible and minimize the serious problem of the wave of homophobic and transphobic violence that haunts us like never before, " said Serrano. (Read Primera Hora's full article here.)
The Transgender Law Center records Valentín's death as the seventh trans or gender-nonconforming person killed in Puerto Rico since February 2020, and the second transgender or gender-nonconforming person killed in 2021. 
Transgender and gender-nonconforming people continue to be the victims of heinous crimes. It is crucial to demand action from our elected officials to bring justice to all the lives that have been stolen. As the Biden administration makes moves to protect the LGBTQ+ community from discrimination it must create legislation that will put an end to the epidemic of violence currently facing the trans community.   
To learn more about changing your local laws, look here. 
To learn how to increase safety and inclusion, look here. 
The NBJC Stolen Lives list of those lost to violence and hate can be found here.
###
For Immediate Release: Tuesday, January 26, 2021 
Contact: Cabot Petoia, cabot@megaphonestrategies.com, 828-899-9239
Shai Vaz, shai@megaphonestrategies.com, 347-266-2561