The National Black Justice Coalition (NBJC) Mourns the Loss of Natalia "Smüt" Lopez 
Lopez is the 18th Transgender Person Killed in 2021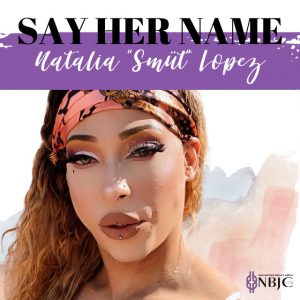 CALIFORNIA — The National Black Justice Coalition (NBJC) mourns the death of Natalia "Smüt" Lopez, a 24-year-old Black and Puerto Rican transgender woman from San Jose, California. 
Lopez was found on April 23, 2021, when her boyfriend called 911 saying she was injured and he was responsible. She was taken to the hospital where she succumbed to her wounds and her boyfriend was taken into custody. Lopez was a drag performer who has been described by friends and family as a firecracker with a beautiful soul who brought "energy, fierce looks and a personality that shined bright like a diamond" everywhere she went. A remembrance and celebration of life was held in her honor on April 24, 2021. 
"We mourn the tragic killing of Natalia "Smüt" Lopez. As the 18th recorded transgender person killed this year, her tragic killing is yet another example of the epidemic of violence facing the transgender community. This should not be happening," explained Victoria Kirby York, deputy executive director of the National Black Justice Coalition. "With 2021 well on track to be the deadliest year on record for transgender people in the United States – it is incumbent upon all of us to take action to stop these killings, to protect members of our beautifully diverse community. Our country needs to treat this like the epidemic it is. That includes introducing legislation that will protect trans, nonbinary and gender-nonconforming people from the marginalization, violence, and oppression they currently face. We need law enforcement officers to thoroughly investigate the murders of transgender people and ensure they are respecting the victims by not misgendering or dead naming them in their reports – and to make sure the attacks against them are prosecuted for what they are – violent hate crimes. We also need media outlets and professionals who understand the importance of reporting on the lives of trans and non-binary people in ways that respect them and the way they show up in the world; this includes respecting pronouns, names, and using current pictures. Medical professionals must provide gender-affirming care and schools must provide LGBTQ+ inclusive sex education to minimize "trans panic" moments. Instead of passing laws that allow transgender people to be seen as disposable beginning as kids, we need lawmakers prohibiting the use of the "trans panic" defense. Each of us must treat the transgender people in our lives with dignity, respect, and compassion. Together we can create a country where trans people feel safe and thrive – and together we must."
According to NBJC, Lopez is the 18th transgender person and 13th Black transgender woman to be killed in 2021. At this time in 2020, there had been 11 murders of transgender people. The National Black Justice Coalition argues that the acceleration of violence requires urgent attention.
Anyone with information on the death of Natalia "Smüt" Lopez has been asked to contact the Milpitas Police Department at 408-586-2400 or the Crime Tip Hotline at 408-586-2500. 
A GoFundMe has been set up in Lopez's honor, with all funds going to her older sister Vanessa Singh. You can donate here.  
To learn how to reduce gender-based violence, look here and here. 
To learn more about changing your local laws to increase protections for trans and non-binary community members, look here. 
The NBJC Stolen Lives list of trans and non-binary siblings lost to violence and hate can be found here.