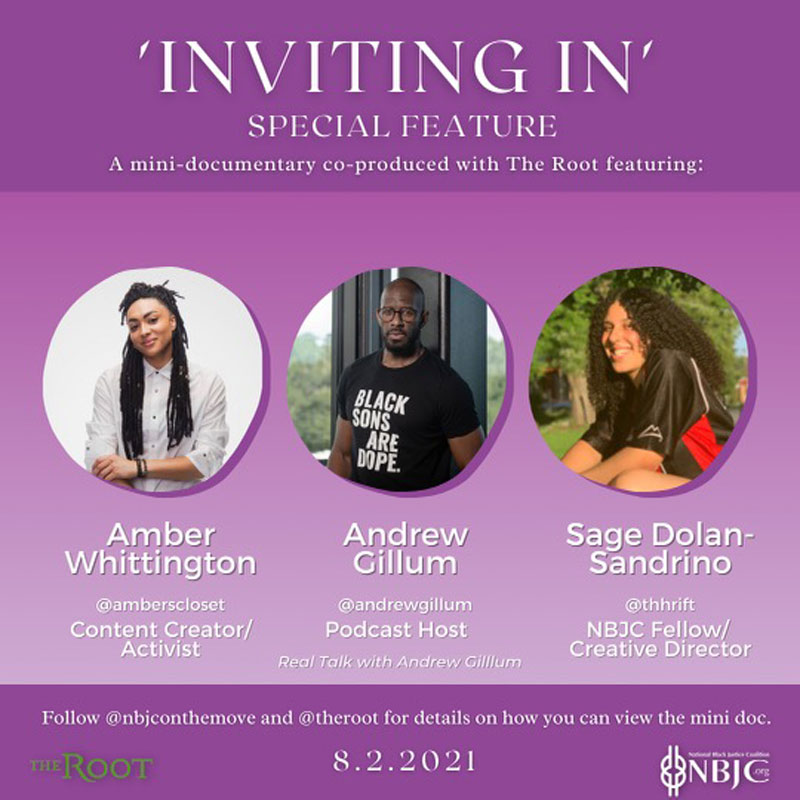 Inviting In Day 2021
On Inviting In Day, NBJC and The Root will be releasing a three-part mini-documentary on Inviting In. The documentary goes live today at 12 noon via TheRoot.com.
August 2nd is Inviting In Day. Taking place on James Baldwin's birthday, this day is a time to learn about the concept of Inviting In. Inviting In challenges the concept of coming out, disrupting traditional power dynamics that don't center the lived experiences of LGBTQ+/SGL people, and reminds us that no one is entitled to information about the lived experiences of others. "Coming out" is a very important experience, but it can also be problematic, especially for those who live in communities where policies and practices make it unsafe for them. Instead of being expected to come out, LGBTQ+/SGL people might "invite in" people who have proven themselves to be trustworthy, compassionate, and understanding, by sharing parts of themselves that are important.
To learn more about Inviting In, check out NBJC's Inviting In Toolkit.
To show your support, here are some digital assets to post with the hashtags #InvitingIn #InvitingInDay #NBJCAdvocacy  Please tag @NBJContheMove
Trailblazing writer and civil rights activist #JamesBaldwin was born today.

In his honor, The Root and the @NBJContheMove celebrate him as someone who unapologetically invited others into his full, multifaceted life as a Black gay man. #InvitingInDay #NBJCAdvocacy #InvitingIn pic.twitter.com/xffrA5HDkH

— The Root (@TheRoot) August 2, 2021